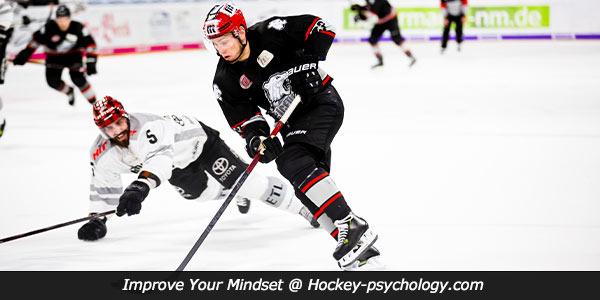 Negative Attitudes Affect Team Culture
Have you been a part of a hockey team where a couple of players with bad attitudes affected the overall attitude and performance of the team?
A bad attitude is infectious and can spread like wildfire throughout the team. Worst of all, a bad attitude hurts the overall team's mindset.
For example, if a couple of players show up late for games, you might think, "If they can come late why can't I?" Or if a player doesn't go all out in practice, then a few other players become lax during practice, drills and scrimmages.
Soon, the team becomes divided, communication problems develop and negative emotions emerge. A negative team mindset affects how you play. You may not pass the ball to players who are lax in practice. The team becomes overly concerned with packing their own stats rather than doing what is best for the team.
In an era where coaches talk about team culture, it's important to learn about the impact of a team's mindset. Team culture is adhering to norms, rules and regulations established by the team.
A positive team mindset consists of players working together towards the same objective. Instead of being concerned with personal statistics, each team member understands their role and "brings it" to every practice, training session and game.
A positive, healthy team mindset is the sum total of each player looking to improve their game, mentally and physically and contribute to the best of their ability to the team's goal.
Keep Your Team Driven Towards a Common Goal
In essence, a team's mindset is their guiding philosophy.
The 2021 Winnipeg Jets have a mindset of battling each play and improving each game. The Jets started the season with a 4-1 record and each member of the team, from coaches to players, are detailed oriented and working towards a common goal… a successful playoff run.
Jets head coach Paul Maurice has instilled in his team the mindset of continuing to compete no matter the score or how much time is on the clock.
MAURICE: "That's the most important piece for any team, that the score on the clock doesn't dictate your effort level, your compete level. Maybe more important than all of it is your belief. That's the foundation that's most important to our team — build that belief that the next shift can be better, the next game can be better… that you're always giving yourself a chance to win."
All four of the Jet's early wins came in overtime. When you have the team mindset of battling each second, you will feel you are never out of a game.
Jets winger Blake Wheeler talked about the culture of the team after a Jets overtime victory against the Ottawa Senators.
WHEELER: "[We were] staying connected on the ice, helping each other out, giving each other easy outs, just those little things that make the game easier for everyone. We were much better in that area tonight, I think we felt good about where we stood in the game, kept clawing our way back and got some big plays at key times."
When you have a positive, healthy team mentality…
You trust your teammates more.
You believe in your teammates.
You are a more cohesive unit.
You play together as a team.
You win more games!
One team fighting together is always more successful than a bunch of individuals playing for themselves.
How to Develop a Positive Team Mindset:
A team's mindset starts building from the first meeting of preseason.
Building team cohesion and a positive mindset doesn't happen by chance; it takes work.
Many successful teams bring in mental training experts or support staff to conduct team-building exercises and get the ball rolling.
---
Accelerate Your Athletes' Learning and Boost Success!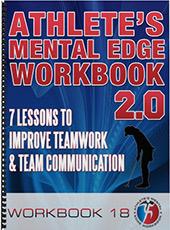 This workbook series was designed for coaches and mental coaches to use with their athletes. The Athlete's Mental Edge workbooks complement your existing mental training program – they do not replace your regular one-on-one coaching sessions.
The Athlete's Mental Edge workbooks help you:
Improve your athlete's commitment to mental training.
Accelerate your athlete's learning curve with the mental game.
Obtain feedback from your athletes about their use of mental skills in competition.
And much more!
The Athlete's Mental Edge Workbook System includes 19 Mental Edge Workbooks to help accelerate your athletes' learning between sessions and 19 Coaches' Game Plan MP3 Audio Files to help clarify the objective of the workbook.