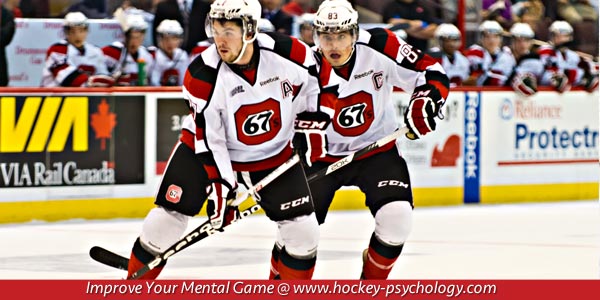 Knowing How to Contribute to Your Team
How do you define peak performance? There is some confusion around the concept of peak performance.
Peak performance is often associated with crunch-time play such as a crucial save late in the game, scoring a game-winning goal in the closing seconds, clearing a loose puck in front of your goal when the goaltender is out of position, or chasing down an opponent on a breakaway.
Hockey players often categorize only pivotal or game-changing plays as peak performance or assume you need to be an all-star to be a peak performer.
This notion implies that peak performance is only available to a few players. However, peak performance means playing at your peak or the best YOU can play, given the circumstances of the moment.
In addition, peak performance does not imply perfect performance. All hockey players make errors. Peak performers recover from their mistakes quickly and stay mentally and physically engaged in the game.
The following is a question we received from a high school hockey player, "What do I need to do to play at my peak? I seem to make big mistakes in close games."
Hockey players get into trouble when they try to do too much. When you feel you have to win the game for your team, you will attempt the risky pass or force a shot instead of finding an open teammate. When you put too much pressure on yourself, you will make uncharacteristic mistakes.
Peak performance does not imply making the flashy play. Playing at your peak means performing consistently at a high level or playing to your abilities. It is making the routine play routinely.
Peak performance is doing your job play after play, being mentally engaged shift after shift, and being prepared game after game. You can sum up peak performance as doing the ordinary extraordinarily well.
Let's follow the example of Philadelphia Flyer defenseman Cam York. York, a top prospect in the Flyers organization, was called up from their AHL affiliate to help strengthen the team's defensive play.
York is a solid defender with strong stick-handling skills. The Flyers called up York to provide strong defense and quick transitions into the offensive zone.
Through 13 games with the Flyers this season, York has done his job effectively and efficiently, recording three points (one goal, two assists) and 15 blocked shots.
Nate Leaman, York's 2021 U.S. world juniors coach, characterized York as a consistent peak performer.
LEAMAN: "Part of the real positive side of Cam's game is he can make the simple play over and over and over again. And he can make some hard plays look simple."
Leaman nails the definition of peak performance, "making the simple play over and over and over again."
Peak performance is performing your role the best you can in each game. It doesn't mean you are going to have a perfect game!
Become a Peak Performer:
The first step is to know your role on the team, "What should I be doing to contribute to the team?"
The next step is to set specific objectives, "What can I do to help my team be successful?" Lastly, take action, "What will I focus on to perform my job the best I can?"
Next, be sure to have a pregame warm up routine that helps you get physically and mentally prepared for each game. Consistent mental and physical  preparation leads to consistent performance.
Related Articles on Hockey Mental Game:
*Subscribe to The Sports Psychology Podcast on iTunes
*Subscribe to The Sports Psychology Podcast on Spotify
---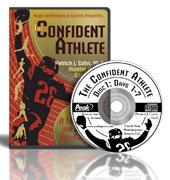 Some athletes are naturally blessed with confidence from an early age, while others struggle with it. Stable self-confidence will not only help you perform your best every day in competition, it will improve other aspects of life such as school, work, and relationships!
"The Confident Athlete" audio and workbook program is a ground-breaking system to teach you how to think like a champion and have ultimate self-confidence every time you step on the playing field, court, track, or course. Includes 14 days of confidence fueling exercises and a simple to follow workbook.
Below, you can order the digital download version or have the program shipped to you.