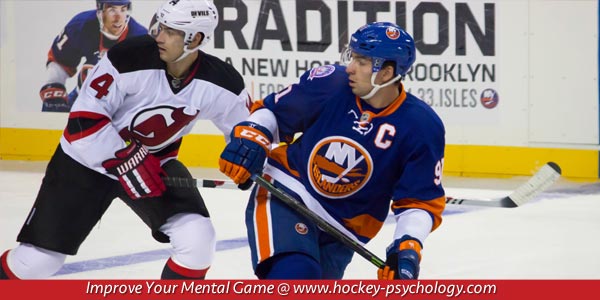 Managing Your Emotions and Thoughts in Hockey
Do you have bouts of negative thinking or doubt your skills during hockey games?
Do you allow your negative thoughts to negatively affect your play on the ice?
The term "mental toughness" is often misinterpreted in the world of sports.
Mental toughness is not the absence of negative thoughts nor does it imply that you are mentally weak if you have self-doubt during a game.
Let's be realistic for a moment… If you give up the puck in your own defensive end resulting in a goal by the other team, you think, "what a dumb pass" or, "that was a stupid play."
Those types of thoughts are natural reactions to mistakes and everyone has those types of thoughts.
Trying to repress or "bottle up" negative self-talk can increase its intensity.
Mental toughness is not denying the existence of negative thoughts or emotions.
Mental toughness is managing your thoughts/emotions, then re-focusing on what you need to do next.
Take for example, the Chicago Blackhawks 2014 semifinal series against the Los Angeles Kings… The Kings were leading the series 3-1 heading into Game 5 putting the Blackhawks on the brink of elimination…
The Blackhawks took an early 2-0 lead in the first period but the Kings scored twice and the period ended with the Blackhawks leading 3-2…
Blackhawk goalie Corey Crawford slammed his stick in frustration as he left the ice.  Crawford gave up two more goals in the second period and the Blackhawks were trailing the Kings heading into the third period 4-3.
Does Crawford's act of frustration call into question his mental toughness?
Remember, everyone experiences negative thoughts and emotions during competitions. It's a part of the game. But can you turn it around?
Mental toughness is more about your response and management of those emotions and thoughts…
And Crawford responded in a mentally tough fashion making critical 19 saves in the third period and overtime to help the Blackhawks win 5-4 in double overtime.
Blawkhawk coach Joel Quenneville recognized Crawford's mental toughness and ability to manage his emotions.
QUENNEVILLE: "He really settled down. After the fourth one [goal], he did everything we were looking for, really showed composure, and I like how he battled through it."
Crawford stated the important thing in hockey is moving past mistakes.
CRAWFORD: "Move on after every shot. It's always the next shot that's important. Never give up, in a tight game like that, our team always has a chance… Can't give up, can't give up in a game like that because like I said, we're so resilient and we have a lot of firepower to come back in games."
Try these tips to move past mistakes during games:
Tip #1: Let go quickly of a mistake and the emotions. Figure out what you need to focus on the next play.
Tip #2: Never get down or give up. Athletes who have ready-made excuses will give up easier when losing the game. Instead, focus on the reasons to make a come back and stay patient.
Improve your mental toughness with one-on-one mental coaching with Dr. Cohn.