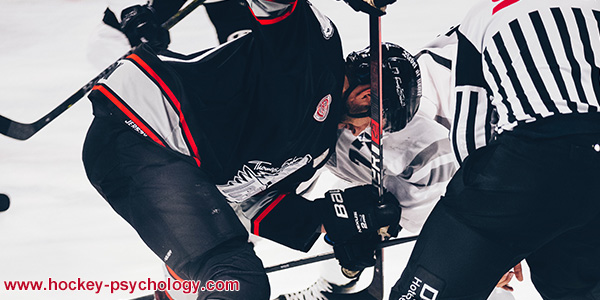 Hope to Cope With Reduced Playing Time
Do you get angry when you are not getting enough ice time?
Are you bothered when you get pulled from a game during power plays?
Do you feel slighted when a teammate plays ahead of you, especially when you feel you're a better player?
Complaining about playing time does no one any good.
From a team perspective, complaining about playing time creates division among team members.
Complaining about playing time puts a strain on your relationship with your teammates and may make you fall out of favor with your coach.
To add to the problem, complaining about playing time impacts your mindset and motivation.
When you complain frequently, it can become a habit and leads to increased negative self-talk.
Also, frequent complaining causes effort to decrease and negatively affects your potential contributions to the team.
For other athletes who complain about playing time, they might put too much pressure on themselves and try too hard when they get playing time leading to under-performance.
Research also shows that complaining affects your immune system and increases the frequency of illnesses making you unavailable for practices and games.
Complaining about playing also includes complaining about the number of minutes you play on the wrong line.
For example, if you play on line two and get pumped to line three, you may feel like a demotion…
The unique thing about team sports is that it is made up of many different athletes. If each person is not pulling in the same direction, the chances of team success decreases dramatically.
No matter if you were bumped from your preferred line, replaced in the lineup, benched or reduced in your minutes played, complaining about your playing time will never lead to peak performance.
How you handle reduced playing time is critical for both you and your team's success.
For example, reigning NHL MVP, Taylor Hall, was benched for the final 7 minutes of the second period after a miscue on the ice but Hall kept his perspective on the situation.
HALL: "Everyone has a role on this team, and whether it's big or small, you have to do your best in that role," Hall said. "Right now, especially tonight, I didn't play well, so that's what happens."
Don't fall into the complaining trap. Instead, focus on what you can do to improve your game and contribute to the success or teamwork of your program.
Coping with Reduced Playing Time
Have an honest conversation with your coach.
Ask your coach, "What can I do to improve my game, become a team player, and help the team?"
Not only will you gain more respect from your coach, you will receive helpful tips on how to improve your game.
---
Boost Your Self-Confidence And Focus With Expert Mental Game Coaching!
If you're a top performer during practice but find yourself under-performing in competition, the most likely culprit holding you back is your mental game.
Master mental game coach Dr. Patrick Cohn can help you overcome your mental game issues with one-on-one personal mental game coaching.
You can work with Dr. Patrick Cohn himself in Orlando, Florida or via Skype, FaceTime, or telephone. Call us toll free at 888-742-7225 or contact us for more information about the different coaching programs we offer!
What are our mental game coaching students, parents and coaches saying?
"Peaksports.com web site is so exciting. I researched them all and without a doubt your mental training site is the best! The vast amount of programs you provide helps athletes and coaches achieve higher levels of excellence in sports."
~Doug Bolander, Hockey Coach
"Great stuff on the hockey psychology report! Thank you very much for sharing. We are going to go through the report tonight at practice. Keep up the awesome work."
~Sean Woodhouse (Coach Woody)