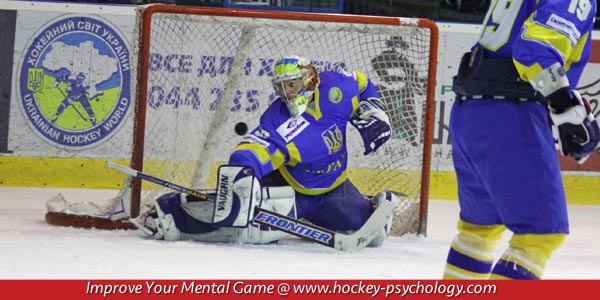 Mental Toughness to Play Under Pressure
How do you respond under pressure?
When the game is on the line, do you want to be on the ice or would you rather someone else be playing during the deciding moments of a game?
Playing your best hockey under pressure requires "mental toughness."
Mentally tough hockey players thrive when the game is on the line.
Mentally tough hockey players view tough games as a challenge and are excited to play during critical moments in a game.
Mentally tough hockey players look for ways to tilt the balance of the game in the favor for their team.
Imagine a game is tied 3-3 in the third period… if you lack mental toughness, you fear making a mistake and costing your team the game.
When you lack mental toughness, you will dread taking a shift and play cautiously because you lack the confidence in you abilities.
When you lack mental toughness, you feel anxious and play it safe… You allow the other team to dictate the flow of the game.
When you lack mental toughness, you give the other team the advantage by not playing aggressively.
Brent Moran, goaltender, is a 17 year-old prospect reading himself for the 2014 NHL Entry Draft. Moran is ranked third among North American netminders by the NHL Central Scouting Service.
Moran is in his second year with his junior team, the Niagara IceDogs and showcased his mental toughness throughout this year's playoffs:
"I love having the pressure on me and being a game-changer."
Moran rose to the challenge of the playoffs playing in all seven of his team's playoff games and compiling some impressive statistics (2.86 GAA/ .921 Save Percentage):
"I loved the excitement and pressure of being a goalie. It seems like the team depends on you and counts on you and I liked that feeling."
So how did Moran manage the pressure of the playoffs?  For one, Moran treated the playoffs just like any other game:
"I think that in terms of getting prepared, I tried my best to prepare the same way."
Another key to Moran's great playoff performance and ability to manage pressure is his consistent pre-game routine:
"I think that everyone has their own routine, but physically I try to warm up my body with some stretching – especially dynamic stretching. I don't do anything too special physically, but to get prepared mentally I read a lot of my mental training books between periods and before the games, so I feel like that helps me get focused for the rest of the game and keeps me in the zone."
Moran credits his mental toughness and work ethic as the reason he was able to raise his game to the next level:
"In the long run, the person with a good work ethic will always beat the person with only talent."
To develop mental toughness, try these tips:
View pressure situations as challenges. Challenges are like obstacles courses. The fun is in finding ways to rise above the challenges.
You should have an use a consistent pregame routine to help you mentally prepare for games instead of focusing on failing or not playing your best.
Improve your mental toughness with one-on-one mental coaching with Dr. Cohn.