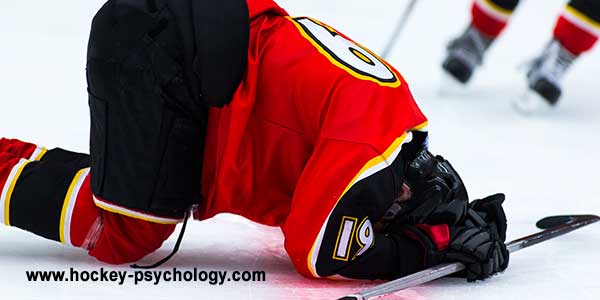 Why Top Seeded Teams Lose
Athletic success requires a combination of things including physical prowess, technical skills, and mental skills. No one part contributes to optimal performance more than mental toughness.
Mental toughness is the ability to persist, resist and assist.
Persist – Mental toughness helps you persist despite the pressure of competition, adversity, injury, reduced playing time, missed opportunities, losses and mistakes.
Resist – Mental toughness facilitates not giving into fear, doubts, anxiety, negative thinking and worry.
Assist – Mental toughness assists you to push the limits of your training, learn new technical skills, manage your emotions in a variety of competitive circumstances, prepare fully for competition, and maintain a positive perspective.
Mental toughness also helps you perform well under pressure, improve weaknesses in your game, focus on the things you can control, find new ways to raise your game, rise to athletic challenges, be tenacious and accomplish your goals.
With all these proven benefits of mental toughness, why would any athlete neglect mental toughness training?
Mental toughness was the key to 2019 NHL playoff victory for the Columbus Blue Jackets over the Tampa Bay Lightning.
The Lightning were heavily favored to win and were the highest-scoring team in the league by 20 goals this year, 30 more goals than the Blue Jackets scored this season.
In addition, the Lightning tied an NHL record with their 62 regular-season wins compared to the Blue Jackets who won just 47 games.
The Blue Jackets, who were the eighth seed, won the first playoff series in five attempts sweeping the Lightning in four games. The Blue Jackets won Game 1, 4-3, despite being down 3-0 after the first period. The next three games, the Blue Jackets outscored the Lightning 15-5.
Blue Jackets coach John Tortorella was impressed with his team's effort but, more importantly, he was impressed with his team's mental toughness.
TORTORELLA: "I'm happy for [our players] because they played as a team, and they had a tremendous amount of will. That's mental. That's not a talent, that's not physical skills, that's mental toughness. And that's what I'm thrilled about."
The reality is that skill and talent don't always win… Sometimes, the team with more mental toughness comes out on top.
Mental Toughness gives you the extra push and that decisive edge to play hard no matter who you are playing, no matter where you are playing and no matter when you are playing.
Mentally tough athletes view games as challenges and opportunities to bring your game to the next level.
Improve Your Mental Toughness:
Mental toughness is both a mindset and habit. Mental toughness is grown by challenging yourself instead of backing down.
Consider these challenges as mental tests. In school, to do well on a test, you need to study beforehand and free your mind from distractions when taking the test.
To pass these mental tests in hockey, you need to prepare (practice hard, scout your opponent and be mentally prepared for the opening face off) and focus on your strengths and plan for the game.
Start by reminding yourself of your strengths and talents. Fuel your confidence before each game. And no matter if you make mistakes or are down in the game, tell yourself that you're the same player with mad skills.
---
Boost Your Confidence in Hockey!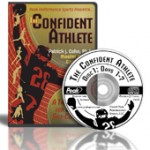 If you're an athlete who struggles with self-doubt, loses confidence, or cant take "practice confidence" to competition, The Confident Athlete is for you!
Self-confidence is what separates champion athletes from the rest of the competitors…
You can tap into my knowledge and experience to learn how to bring ultimate confidence to competition!
The Confident Athlete CD and workbook program consists of 2 audio CD's that include 14 days of confidence fueling exercises and a simple to follow workbook that guides you through the 14 days, helps you apply the strategies and customizes the exercises to your personal needs.
Remember, confidence is a choice you make. You have to make a conscious effort to proactively seek confidence building thoughts and behaviors. Confident Athletes are proactive when it comes to confidence!
Learn more about one of our most popular CD programs in The Confident Athlete Series…
The Confident Athlete: A 14-Day Plan For Ultimate Self-Confidence
Take control of your mindset and performance today!
What are mental game customers saying about our confidence boosting program?
"My son finished the entire Confident Athlete Program. The CD Program helped TREMENDOUSLY. He used it to keep positive thoughts flowing. He was able to focus on his fight instead of on his negative thoughts. He fought at his very best. We are thankful to God for leading us to your web site. The CONFIDENT ATHLETE was perfect."
~Wanda, Sports Parent
"I enjoyed 'The Confident Athlete' very much. I particularly liked the format, the ease of the program, and the 2 CDs that accompanied the workbook – 10-20 minutes a day was simple to adhere to and put in my busy schedule. I love the part about confidence with grace, and what I want to portray and feel the minute I step foot into Los Angeles for nationals. I love the affirmations, the relaxation techniques, and just the entire perspective of the program."
~Sarah, US National Aerobic Gymnastics Team
"I first purchased The Confident Athlete to see how the program went and immediately saw results. I then purchased the rest of the confident athlete series and have noticed a dramatic improvement in my level of play or should I say consistency. I currently play NCAA Division 1 baseball for Lamar University, and even my coaches have noticed a change in the way that I approach the game. My attitude and confidence at the plate."
~Tylor Prudhomme
(Listen to his success story)
Disclaimer
*Testimonials found on this site are examples of what we have done for other clients, and what some of our clients have said about us. However, we cannot guarantee the results in any case. Your results may vary and every situation is different. No compensation was provided for these testimonials.