Why Do You Need Mental Toughness as a Hockey Player?
The answer is quite simple… You need mental toughness because things rarely go exactly as planned.
As a child, you probably dreamed of achieving great success in sports.
Maybe you dreamed of winning the gold medal in the Olympics… Or striking out the side in the bottom of the ninth inning to become World Series champions… or being ranked #1 in your sport.
Chances are your dreams never included going through the adversity and hard times that you will absolutely face during your journey as an athlete.
Think of some things you faced during your athletic career: injury, being benched or cut from a team, equipment malfunctions, losing a game you should have won, etc.
No great athletic feat has ever been accomplished without some degree of adversity.
So when tough circumstances hit, you need mental toughness to see you through to the other side.
Mental toughness is a combination of attitude, patience that keeps you moving forward past obstacles in the direction of your goals.
Mental toughness is the ability to maintain your focus and determination no matter what happens to you.
Columbus Blue Jackets 19-year-old rookie defenseman, Zach Werenski, is the type of mentally tough athlete who does not allow mistakes to throw him off his game.
Werenski mentally approaches each game one shift at a time no matter the last game, the score, the last shift or the crowd.
WERENSKI: "I'm just going out there and playing hard, playing my game and sticking to the system. Some nights things aren't going to go your way, but it's about sticking to the game plan and playing hard every shift, trying to make the next right play. I think it's been working for me."
In a game against the Anaheim Ducks, Werenski was having an off game with several turnovers and bad passes. Instead of packing it in and writing off the game as a bad day, Werenski kept battling and scored the winning goal in overtime.
Columbus head coach, John Tortorella, acknowledged the mental toughness of Werenski after their victory.
TORTORELLA: "As 19-year-old, [Werenski's] mental approach and mental toughness of not letting anything bother him is beyond his years. That's really solid with him. He's going to have some tough nights, and I thought he struggled tonight, but he's going to go back out there. He's built a little bit differently that way."
Mental toughness helps you not get flustered and frustrated when you are not at your best because you know, at any moment, you can make the play that turns things around.
When the going gets tough, the mentally tough keep going.
Strategy for Mental Toughness:
Write out some scenarios that could happen to you during a season. Consider injuries, losses, critical mistakes late in a game, losing streaks, playing a rival, etc.
After a significant amount of thought, how will you respond to each situation?
–What will you focus on?
–What will you tell yourself?
–How will you keep your emotions in check?
Start developing your mental toughness coping responses so you'll be prepared to respond to adversity and other challenges!
Click here to learn all of my focus-boosting secrets!
---
Improve Concentration in Sports!

If you're an athlete who is frequently distracted, loses focus in competition, or wants to lean more about how to focus better under pressure, check out The Focused Athlete!
The Focused Athlete CD and workbook program is a step-by-step plan to boost concentration and overcome distractions in sports.
Learn more about one of our most popular CD programs in The Confident Athlete Series…
The Focused Athlete: A 14-Day Plan For Superior Concentration
What are customers saying?
"I Love The Entire Program"
"I enjoyed 'The Confident Athlete Series' very much. I particularly liked the format, the ease of the program, and the 2 CDs that accompanied the workbook – 10-20 minutes a day was simple to adhere to and put in my busy schedule. I love the part about confidence with grace, and what I want to portray and feel the minute I step foot into Los Angeles for nationals. I love the affirmations, the relaxation techniques, and just the entire perspective of the program."
~Sarah, US National Aerobic Gymnastics Team
"Gives Me the Edge Over My Competitors"
"I just finished 'The Confident Athlete Program'. Improving confidence is a never ending process. I think that confidence boosting is an awesome area. Having a daily mental plan for mental "work outs" can turbo charge anyone's confidence level…. Studying almost all of Dr. Cohn's mental game materials gives me a real EDGE over my competitions and most importantly – a boost in my daily life."
~Radek Sefcik, peaksports.com member
---
Add More Value To Your Mental Training Programs!
This workbook series was designed for coaches and mental coaches to use with their athletes. The Athlete's Mental Edge workbooks complement your existing mental training program. Each of the 15 workbooks in the Athlete's Mental Edge System teaches your athletes a specific mental skill to improve their performance.
Athlete's Mental Edge Workbook System
What are coaches saying?
"Workbooks Provide a Great Framework for Doing Workshops"
"I am really pleased with the Athlete's Mental Edge workbooks – they are fitting in really well with my coaching! I find they offer a great framework for doing workshop sessions. I have also used the workbooks with a few individual athletes – for the younger ones (12 and under). They are giving a good structure and framework to our sessions. The workbooks have worked well with all of them!"
~Kerri Morgan, Mental Game Coach
"The Mental Edge Program is Awesome"
"I'll start by saying that the Mental Edge Workbook program is awesome. It put all the pieces together for my mental work with soccer players."
~Eitan Azaria, Mental Coach for Soccer
---
Boost Your Self-Confidence And Focus With Expert Mental Game Coaching!
Master mental game coach Dr. Patrick Cohn can help you overcome your mental game issues with personal coaching.
You can work with Dr. Patrick Cohn himself in Orlando, Florida or via Skype, FaceTime, or telephone. Call us toll free at 888-742-7225 or contact us for more information about the different coaching programs we offer!
What are our mental coaching students saying?
"We Had a Great Season and Finished 2nd in the State"
"Dr. Cohn, we had a great season. We finished second in the State Tournament. We scored 163 points, which is 11 more than we scored the year we won the state tournament. We had three individual state champs. We really improved our mental preparation in the post season. The kids bought in and really worked at it. We will definitely need you again next year. Hopefully, you can help us reach our goals next year."
~Coach Jim Bird, Head Coach Osceola High School
---
Free Hockey Mental Game Repor
t!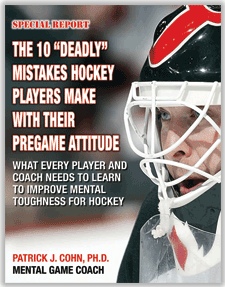 Download our free hockey report and discover "The 10 'Deadly' Mistakes Hockey Players Make With Their Pregame Attitude."
You'll learn:
–How your mind can be your best or worst asset on the ice.
–One strategy that can help you boost your pregame confidence.
–The top mental game skills you need to master to boost your confidence and performance in games and much more!
Discover if you are making one or more of these "costly" mental game mistakes before games:
The 10 "Deadly" Mistakes Hockey Players Make With Their Pregame Attitude