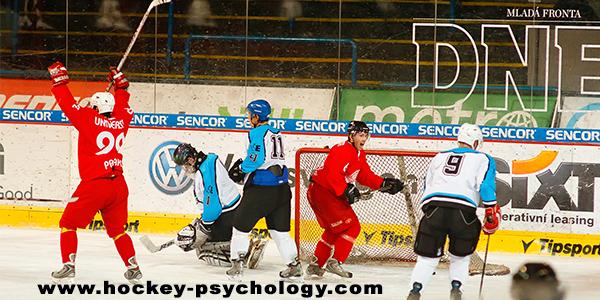 Having a Strong Mindset until the Final Buzzer
Have you ever played a game where your team lost the lead, despite having a big lead, and allowed the opposing team to mount a comeback late in the game?
Falling apart late in a game is a result of a faulty mindset. Some hockey teams playing with a big lead believe they have already won the game, well before the final whistle.
Imagine your team was playing a team with a winless record. You had a 4-goal lead after the second period. Your team was dominant in the first two periods, so you saw this game as an easy win.
With a four-goal lead and less than 20 minutes remaining in the game, you believed your team would surely win. You thought, "What are the chances they will make a comeback? They are down by four."
Then, your team gave up a breakaway after an ill-advised pass. You thought, "No big deal. One goal is nothing, we are still up three."
Your opponents were fighting for loose pucks, aggressively forechecking, and scored another goal off a rebound. You felt a little bit of a let down from your team. Minutes later, your team gave up the puck in the defensive end and the goalie let in an easy goal.
You could feel the frustration build as your teammates started getting on each other's backs. Three minutes remaining in the game and your team let in the tying goal.
A game you thought was a victory, was in jeopardy. Your team's mentality was the reason for letting up and not closing out the game.
When you have a big lead late in a game, it is important to have a "Close Out" mentality.
A "Close Out" mentality is when you maintain the same competitive, aggressive mindset throughout the game. You battle every second of each period.
If the opposing team scores a couple of goals, you don't panic. You regain your focus and composure. Instead of pointing the finger at your teammates, you communicate effectively and work together as a team to finish out the game.
The Pittsburgh Penguins suffered a collapse in a game against the New Jersey Devils with 10 games remaining in the 2021 season. The Penguins gave up six goals in the third period and barely pulled out a 7-6 victory.
After the game, Penguins winger Evan Rodrigues commented on the near collapse by the Penguins.
RODRIGUES: "We just took our foot off the gas pedal. That was really it. The [Devils] have a lot of skill on that team, and we turned it into a run and gun game, and they start capitalizing. Yeah, it's not something that you like to see happen, but it's a bit of a wake-up call."
When you have a "Close Out" mindset, you will have little need for a wake-up call.
If your mindset is to close out the game strong, you need to be focused on playing strong instead of focusing on the next game in the schedule.
Developing a "Close Out" Mindset:
When you have a big lead late in the game, you may be tempted to coast and play more defensively.
This is the time your want to try to stretch your lead and continue to play the game game that got you into the lead.
Remind yourself and your teammates, "Put the pedal to the metal and close out!" Challenge yourself to finish the game strong.
---
Related Articles on Hockey Mental Game:
---
The Confident Athlete: A 14-Day Plan for Ultimate Self-Confidence
"The Confident Athlete" is a ground-breaking system to teach you how to think like a champion and have ultimate self-confidence every time you step on the playing field, court, track, or course.
"The Confident Athlete" consists of 2 audio CD's (or digital download) that include 14 days of confidence fueling exercises and a simple to follow workbook that guides you through the 14 days, helps you apply the strategies, and customizes the exercises to your personal needs.
Below, you can order the digital download version or have the program shipped to you.