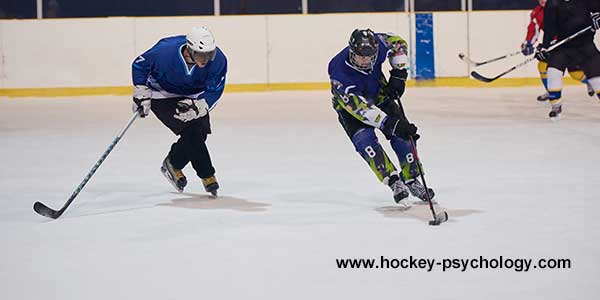 Learning to Manage Your Worries
The lessons you learn from hockey can be applied to real life situations… Just as real life lessons can be applied to circumstances you experience in hockey.
These valuable lessons can help hockey players get to the next level, just as they can push people to achieve their personal goals and success in various areas of life.
Success is never smooth sailing. In hockey and in life, you will hit some speed bumps, roadblocks and obstacles. For some hockey players, tough circumstances lead to fear and increased worry.
Excessive worry affects both the body and mind, potentially leading to: muscle tension, illness, injury, low confidence, doubts, negative self-talk, inability to focus and under-performance.
In terms of hockey, if you are playing goal and are worried about giving up a goal to lose the game, you will be anxious, agitated, unable to focus clearly on the action on the ice, tense and tight. All these factors contribute to making saves more difficult.
Worry doesn't improve your game or improve your ability to overcome obstacles. Worrying about tough circumstances only serves to generate increased levels of worry, anxiety and panic.
Consider the following:
* No one has ever worried themselves to a hockey championship
* No one has ever worried themselves to more ice time during games
* No one has ever worried themselves to a much improved game
Worrying about your circumstances only makes matters worse in your personal life as well.
No greater example of personal worry exists than in today's present state of the widespread COVID-19.
COVID-19 has disrupted the everyday lives of all people. School closings, quarantines, work layoffs, depleted savings, mounting bills and all kinds of uncertainty have made most people feel like they are losing control. Surely, you can relate to the increased worry that COVID-19 has caused in your life.
In fact, you may be experiencing greater amounts of worry than ever before due to the life altering COVID-19.
While the coronavirus deserves serious attention, worrying about all the 'what ifs' surrounding the virus has physical and emotional consequences.
Worry has increased among many NHL players as their season hangs in the balance due to COVID-19. Washington Capitals' defenseman John Carlson has held worry at bay by focusing on the things he can control, such as maintaining his fitness.
CARLSON: "All I'm thinking about is trying to keep myself in the best shape I can with the circumstances and whatever the rest of the season holds. I'll worry about that when I lace the skates up again."
One lesson to be learned is that you have the power to minimize worry inside and outside the hockey rink.
With the increase of downtime due to the coronavirus, now is a good time to work on your ability to prevent excessive worry.
How to Manage Worry
The first step in managing your worry is to gain some insight into how you respond to challenging circumstances.
Answer the following questions:
1. What circumstances cause you to hit the panic button?
2. What specific thoughts or feelings increase your level of anxiety?
3. What physical symptoms do you experience when you worry excessively?
4. How has excessive worry affected your game in the past? How does your game change?
These questions will help you understand your underlying fear. Then, you can address it head on by rationalizing with yourself or your athletes.
---
Learn Mental Game Strategies to Boost Your Confidence in Sports!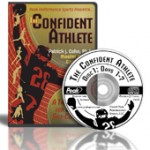 If you're an athlete who struggles with self-doubt, loses confidence, or cant take "practice confidence" to competition, The Confident Athlete is for you!
Self-confidence is what separates champion athletes from the rest of the competitors…
You can tap into my knowledge and experience to learn how to bring ultimate confidence to competition!
The Confident Athlete CD and workbook program consists of 2 audio CD's that include 14 days of confidence fueling exercises and a simple to follow workbook that guides you through the 14 days, helps you apply the strategies and customizes the exercises to your personal needs.
Remember, confidence is a choice you make. You have to make a conscious effort to proactively seek confidence building thoughts and behaviors. Confident Athletes are proactive when it comes to confidence!
Learn more about one of our most popular CD programs in The Confident Athlete Series…
The Confident Athlete: A 14-Day Plan For Ultimate Self-Confidence
Take control of your mindset and performance today!
What are mental game customers saying about our confidence boosting program?
"My son finished the entire Confident Athlete Program. The CD Program helped TREMENDOUSLY. He used it to keep positive thoughts flowing. He was able to focus on his fight instead of on his negative thoughts. He fought at his very best. We are thankful to God for leading us to your web site. The CONFIDENT ATHLETE was perfect."
~Wanda, Sports Parent
"I enjoyed 'The Confident Athlete' very much. I particularly liked the format, the ease of the program, and the 2 CDs that accompanied the workbook – 10-20 minutes a day was simple to adhere to and put in my busy schedule. I love the part about confidence with grace, and what I want to portray and feel the minute I step foot into Los Angeles for nationals. I love the affirmations, the relaxation techniques, and just the entire perspective of the program."
~Sarah, US National Aerobic Gymnastics Team
"I first purchased The Confident Athlete to see how the program went and immediately saw results. I then purchased the rest of the confident athlete series and have noticed a dramatic improvement in my level of play or should I say consistency. I currently play NCAA Division 1 baseball for Lamar University, and even my coaches have noticed a change in the way that I approach the game. My attitude and confidence at the plate."
~Tylor Prudhomme
(Listen to his success story)