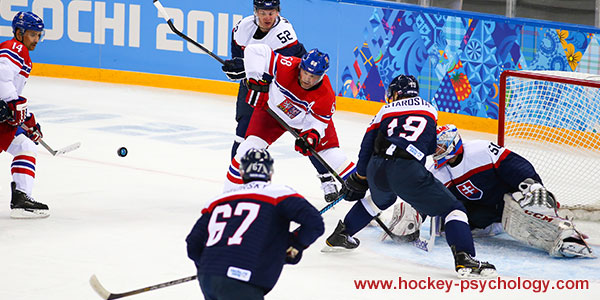 How the Tampa Bay Lightning Overcame Adversity
Do you think losing can lead to winning? Can obstacles lead to next level performance? Do you think adversity can be beneficial?
The answer to these three questions is both yes and no.
Losing, obstacles, and adversity are just circumstances. It is not your circumstances that affect your future but your mindset and your response which shape the eventual outcome.
Take the current adverse situation, the coronavirus pandemic has affected athletes throughout the world are facing.
The coronavirus has set into motion a number of challenging circumstances such as, social distancing, quarantining, inadequate practice facilities and equipment, lack of training partners and cancelled games/ season.
The adversity created by the coronavirus is just a circumstance. When you are faced with adverse circumstances, your mindset will determine your response and the effects of your response.
A negative mindset to the coronavirus will produce thoughts such as:
"I will never get back in shape." "This season is a total loss."
"Why even work out, if there are no games happening in the near future?"
When you respond in a negative manner, you will not look for ways to effectively process your circumstances, find new outlets to utilize your time, stay diligent in your schoolwork and continue training for hockey.
When you respond with a positive mindset, you can learn from the pandemic adversity and apply those lessons to hockey. When you learn from adversity, no experience is wasted.
Throughout your hockey career, you will experience various forms of adversity: conflict with coaches, unfair referees, critical family members, arguments with teammates, slumps, critical losses, injuries and getting cut from a team.
Remember adversity is just a circumstance and your response will shape your future.
For example, a tough playoff loss is really just a loss. A negative mindset forces you to view the situation as unfair or unfortunate. This negative response about the tough circumstance or loss can cause you to:
Doubt your abilities, "I just don't have what it takes."
Trigger negative thoughts, "I always choke under pressure."
Affect your preparation for the next game, "Since our team is going to lose, why should I even work hard in practice. My hard work never pays off."
Become more nervous during games, "What if I mess up again?"
Interfere with your focus, "If I make another mistake, coach will bench me."
Trigger negative emotions, "I always get so nervous and tense throughout the entire game."
Lead to a self-fulfilling prophecy, "I knew before the game even started that I was going to be the reason we were going to lose."
As you can see, the loss doesn't necessarily lead to another loss, but your negative mindset and negative response increase the likelihood of more losses.
When you change your mindset, it changes your response to adversity to a more self-enhancing response.
During the 2018-19 season, the Tampa Bay Lightning won 62 out of 82 games, heading into the playoffs with the best record in the NHL. Even though the Lightning were favored in the first round, Tampa Bay lost the series 4-0 to the Columbus Blue Jackets and were knocked out of the playoffs.
Lightning defenseman Kevin Shattenkirk stated that Tampa Bay really didn't face much adversity last season and were ill-prepared when adversity struck in their losses in Game 1 and game 2 in the first round of last year's playoffs. This year was a different story for the Lightning as they struggled in the early part of the season.
SHATTENKIRK: "I think this year we went through some challenges early on. I think once we got over the fact we are a different team [from last year] and it's a different season–we aren't going to win 62 games this year, we were able to settle in and play our game. I think the journey of kind of working through some tough times this year and tough stretches, and finding our game at the end of it, is going to be good for us in the long run."
Adversity is temporary. There may be degrees of severity, but your response to adversity impacts how the process turns out
A positive mindset and response to adverse circumstances can motivate you to improve playing under pressure, spend more time developing mental skills, prepare better for the next game, work harder with a more effective focus in practice and maintain confidence during your season.
Changing Your Perspective about Adverse Circumstances
Be aware of your thoughts and self-talk. When you find negativity creeping in, say to yourself, STOP. How can I use this situation to my benefit?
Changing your self-talk requires awareness, positive perspective, and positive actions.
Modifying your self-talk helps you change your perspective under adversity.
---
Improve Concentration in Sports!
If you're an athlete who is frequently distracted, loses focus in competition, or wants to learn more about how to focus better under pressure, The Focused Athlete is for you!
Concentration and the ability to focus under adversity is what championship athletes do best.
It only takes one distraction to enter your mind for you to lose a critical point, miss a putt, or lose a second off your lap time. You cannot afford to let distractions run wild in your mind and cause you to make errors at critical times in the game!
The Focused Athlete is a complete system to teach you how to focus like a champion and harness the power of a zone focus every tie you step on the playing field, court, track or course in practice and games!
This workbook and CD program consists of 2 audio CDs that include 14 days of focus boosting exercises and a simple to follow workbook that guides you through each of the 14 days, helps you apply strategies, and customizes the exercises to your personal focus challenges.
You'll Discover:
How to quickly identify distractions that sabotage your concentration and how to quickly refocus after distractions.
How to use pre-shot routines before shots or serves to help you be more task-focused instead of worrying about results.
How to use pregame routines to help you harness the power of zone concentration before competition.
Learn more about one of our most popular CD programs in The Confident Athlete Series…
The Focused Athlete: A 14-Day Plan For Superior Concentration
What are customers saying about our mental game programs?
"As a result of reading and implementing 'The Confident Athlete Series,' I am once again enjoying golf and letting bad shots roll off my shoulders and appreciating my good shots without attaching expectations. Thanks Dr. Cohn!"
~Stu Blasius, P.G.A. Golf Professional
"Your response to the throwing problem in front of the coach covers so many situations in life…that is the beauty of playing sports…the life learning experiences. Keep up the good work…you are the best mental coach."
~Bill Brennan, sports parent