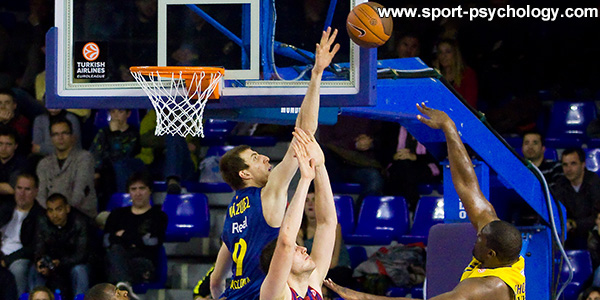 2 Mental Game Tips To Break Free Of A Slump
Getting out of a slump is a mentally draining task for most athletes.
Slumps are frustrating and can leave some athletes at a loss for how to break out of their performance lull.
It feels like no matter what you do, nothing improves. You feel trapped.
When a slump takes over your mind, its mystique grows. The slump gains importance.
At this point, the slump can become overwhelming, deplete your motivation and lessen the very effort needed to break out of that slump.
Slumps happen in all sports…
If you find yourself in a slump, the right mindset can get you back on track quickly.
Your mindset affects both your focus and your response to events.
When you are in a slump, it is tempting to focus on results. Focusing on the results compounds the problem and keeps you stuck in slump mode.
Breaking out of a slump requires that you do something different… attack the issue from a different angle… approach competitions from a different mindset.
After a 3-game mini-slump, BYU Men's Basketball team broke out with back-to-back wins by staying focused on their preparation and their game rather than the slump itself.
BYU forward Yoeli Childs talked about the mindset needed to turn things around.
CHILDS: "We've got to play harder… We need to figure out what we can do individually, each guy, to make our team a little bit better. I don't think we're too far off. Every guy, especially myself, needs to find a way to give more. We're not broken but we obviously have a problem right now. You can't lose three in a row. But we're not broken. We're going to figure it out. We're going to grind and get there."
What about BYU's mindset?
First, the team knew they could right the ship. Too many athletes feel that they are "broken" or that there is something wrong with them during a slump.
Next, BYU understood they needed to "play harder" and focus on what each athlete could improve upon to move forward. The team was focused on improvement, slight adjustments, not the slump itself.
Finally, BYU was committed to grinding it out and finding a way to break out the slump.
If you find yourself in a slump, then you need examine your mindset and how you stay stuck and how to get back on track quickly.
Try these two tips for a "Slump-Busting" Mindset
Avoid generalizing based on the past few games. It doesn't matter what happened in the last five competitions or even the last one. Focus on the next opportunity for success.
Don't wait for your performance to magically come around! You have to improve your thinking to improve performance.
Remember that slumps are always temporary. You will eventually come out of the slump.
How long it takes you to get out of the slump is up to you, so why not make it happen today?
Boost Your Self-Confidence And Focus With Expert Mental Game Coaching!
If you're a top performer during practice but find yourself under-performing in competition, the most likely culprit holding you back is your mental game. In fact, many athletes struggle with the same problem….
Master mental game coach Dr. Patrick Cohn can help you overcome your mental game issues with personal coaching.
Meet with us via Skype, phone, FaceTime, or GoTo Meeting. With today's video technology, we are able to connect with athletes and coaches all over the globe.
Mental toughness coaching helps serious athletes like you to uncover the beliefs and attitudes that keep you from performing to your potential. You'll learn mental game strategies to perform at your peak more often, overcoming performance plateaus and lack of consistency
Call us toll free at 888-742-7225 or contact us for more information about the different coaching programs we offer!
What are our mental coaching students saying?
"Michelle had the best weekend of soccer she has ever played. I'm not just saying this because you have been working with her (I promise!). She was relaxed, did not get frustrated with herself or teammates, never once 'shut down' and actually smiled a couple of times. Numerous parents noticed a difference in her composure and attitude. A college coach sent an email last night expressing interest–commenting on her level of play during the weekend. Thanks again for EVERYTHING…Michelle is in a very good place right now!"
~Diana, Michelle's Mother

"After your session, Mason had a game. He had the best game so far! He hustled, shot, no goals but two assists but he was cool with it because his focus was on shooting and not scoring (finally), defended well with his hands – finally put it all together. It was fun to watch and you could tell he felt really good about it."
~Kelly, Lacrosse mom

"Peaksports.com website is so exciting. I researched them all and without a doubt your mental training site is the best! The vast amount of programs you provide helps athletes and coaches achieve higher levels of excellence in sports."
~Doug Bolander, Hockey Coach

"Thanks for all your help Dr. Cohn. You can rest assured that all our work came in very handy when I successfully qualified for the European Tour. I'm very happy and extremely thankful to you for helping me achieve this massive goal of qualifying for the European Tour! Thanks a lot again."
~Alex Rocha, European Tour Player