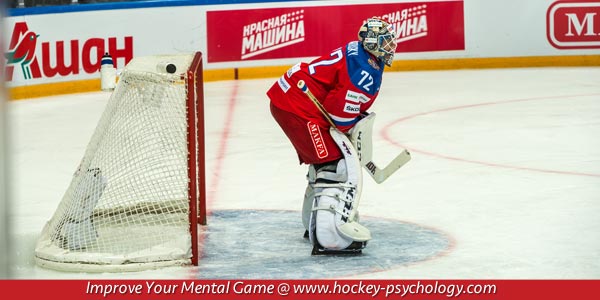 The Importance of Pregame Mental Preparation in Hockey
Do you (or your players) struggle to get into the ebb and flow of the game? Do you feel like you are just going through the motions? If so, you may need to boost your game time intensity.
Many players struggle maintaining their intensity in the opening minutes of the game. Intensity deals with how psyched up or pumped you are during a game. Some players need to psych up before a game, feeling energized and excited, to focus their best. Other players prefer to be more relaxed and calm. How do you know what type of player you are? You'll want to think back to your best performances. Did you perform your best when you were psyched up or relaxed?
Some players and teams start off slow during the opening minutes of the game due to low intensity. They have trouble anticipating the play, feel sluggish and just go through the motions. Slow starts can be a problem if they continue throughout the game. Players can lose confidence if they are down early in the game.
Even top hockey teams experience slow starts. The Philadelphia Flyers had a slow start to the Eastern conference semifinal against the Boston Bruins. The Flyers came back from down 3-1 and 4-2 and tying the game (4-4) in the third. But, the Bruins battled back to win the game in overtime 5-4.
"Our start is going to be critical. We looked shaky with the puck. We weren't moving our legs. We weren't good on the forecheck. Maybe being away from the competitive game for over a week hurt us a little bit, but we battled back. … That's what we try to take positive out of that game," said Danny Briere of the Philadelphia Fylers.
Has your team had slow starts to the game due to lack of intensity? That's why mental preparation before games is critical.
One reason for players' lack of intensity is boredom. In order to increase intensity, you want to challenge yourself in the opening minutes. It might be to skate quickly or stay with your competitor more closely. Set challenging goals that help you boost your intensity.
You can also use the pregame warm up boost your intensity too. Give your teammates high fives. Imagine yourself playing with high energy. Use "power" words that trigger intensity such as explode or power.
Each hockey player is different in terms of their intensity level. If you feel that you need to boost your intensity, you can use the mental strategies listed above. Find out which strategies work best for you.
If you need to relax before games, you can check out "The Relaxed Athlete," which offers the top mental strategies to develop a relaxed mindset before games.
Read more about The Relaxed Athlete here: The Relaxed Athlete: A 14 Day Plan For Optimal Mental Preparation