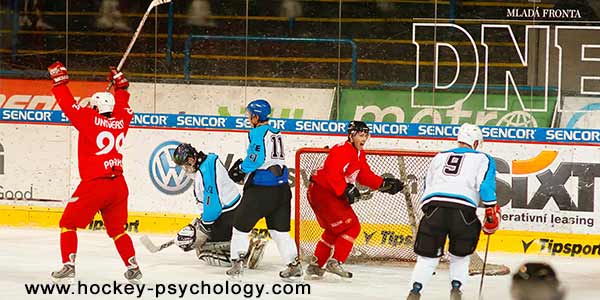 The Importance of Balancing Time for Students
Practice time is at a premium for busy student-athletes.
Student-athletes are often overwhelmed with all that is on their plate including; school, sports, family obligations, clubs, part-time jobs and trying to squeeze in a social life.
Realizing the limited amount of time, one parent, who responded to our hockey survey, asked about how to add mental training to her son's already busy schedule.
"Will a mental training program work for 16 year old boys considering their crazy schedules with school and hockey?"
We do find it difficult for athletes to fit mental training into their schedules. As a parent or coach, you observe the impact of the mind on performance.
You can see your son's acts of frustration on the ice after a mistake, such as; slamming his stick on the ice, dropping his head, yelling out in anger.
You can hear your son being overwhelmed with negativity in the car ride home after losing a hockey game. You can sense his confidence and passion for hockey dissipate as he makes excuses for not going to practice.
Given these common challenges for young athletes, a mental training program can provide a lot of benefits.
The real issue at play is not will your son benefit from mental training. Rather, does your son have the time to dedicate to a mental training program?
Consider these 3 points:
#1 Time Management – Many times, it's not a "time" issue but a time management issue. That is, how can your son manages his time to utilize that time to the best of his ability.
The reality is that a lot of time is wasted away throughout the day. While your son needs some down-time to decompress, spending hours on social media, watching TV or playing video games can snowball into more wasted time adding to stress and pressure to meet time constraints.
Learning time management is a useful skill that provides life-long benefits.
#2 Time for Mental Training – Your son can benefit from as little as 15-20 minutes of mental training a day. In a mere 15-20 minutes, your son can visualize a few successful shifts prior to bedtime. Or conduct a relaxation session after practice. Or perform a confidence exercise before school. Or even work on his focus during practice.
#3 Stress Relief – When your son learns effective time management skills, he will feel less pressure to perform all the tasks he needs to do throughout the day. This will also help build your son's confidence knowing that he can successfully complete more than he could in the past.
You Can Help Athletes Integrate Mental Training
Going back to your original question: "Will a mental training program work for 16 year old boys considering their crazy schedules with school and hockey?"
Not only will a mental training program improve your son's play on the ice, the skills learned can be applied to his life as well. So, the answer to your question is a resounding 'YES!"
Young athletes often meet with us after school, but I've worked with athletes when they are driving to practice, eating lunch, and prior to competition, for example.
And if you're a coach, your athletes will not embrace mental training unless you are taking time to work on their mental game during their regular practice.