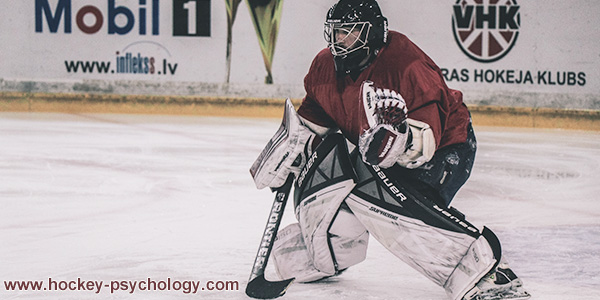 Preparing for a Ready-To-Go Mindset
Are you prepared to play when you are inserted in the line-up at the last minute?
What is your mindset when you are told you are going to play an hour before the puck drops?
If you are not prepared, anxiety can skyrocket when your coach suddenly tells you that you will be replacing a teammate during warm-up.
If you are not mentally ready to go, doubts will bounce around in your mind, "Am I ready for this?" "What if I mess up?" "How will my teammates react if I am the reason for losing the game?" "What if I don't measure up or can't play at this level?"
When you are overwhelmed, you experience an emotional overload. You feel fearful and consumed by doubt. If you are not able to work through these feelings, you will be tight and nervous on the ice. You will overthink plays on the ice and make costly errors.
You cannot be on top of your game when you're not mentally prepared to compete. Preparation is not just getting your mind right in warm up. Nor is preparation a matter of readiness the morning of the game.
Being on top of your game entails that you train and prepare every practice as if you were going to be in the lineup the next game. You should always have a ready-to-go mindset.
Even if you haven't played in a couple of games, practice, focus, hustle, and make crisp passes as if you were playing the next game.
When you are prepared, you may feel pregame jitters, but fear won't overtake your game. You will have prepared your body and mind to play your best given the circumstances.
Ottawa Senator's defenseman Jacob Bernard-Docker was just two weeks removed from being a student athlete at University of North Dakota. Bernard-Docker practiced only one time with the Senators before his number was called to play.
During morning skate, the coaching staff informed Bernard-Docker that he might be needed to play due to an injured teammate. Then one-hour before game time, Ottawa coach D.J. Smith told Bernard-Docker he would be in the lineup making his NHL debut.
Bernard-Docker commented on his opportunity and excitement prior to the game.
BERNARD-DOCKER: "It's a game I prepared my whole life for. Obviously, I'm going to be a little bit nervous, whether I find out an hour before or I find out a day before."
Bernard-Docker played 18 shifts of mistake-free hockey with two blocked shots in 15 minutes, 33 seconds.
Playing with a Ready-To-Go Mindset demands that you have the same mindset and level of preparation in practice.
How to be Mentally Ready:
Preparation matters so you need to make practice and training sessions matter. To develop a Ready-To-Go Mindset, you need to be ready to go before practice.
Treat your preparation for every game as if you are starting, not sitting.
Know what at any moment coach can insert you into the game. Focus on the action of the game, study the other team's tenancies, and Visualize yourself playing each play as your team plays.
---
Related Articles on Hockey Mental Game
---
The Confident Athlete: A 14-Day Plan for Ultimate Self-Confidence
"The Confident Athlete" is a ground-breaking system to teach you how to think like a champion and have ultimate self-confidence every time you step on the playing field, court, track, or course.
"The Confident Athlete" consists of 2 audio CD's (or digital download) that include 14 days of confidence fueling exercises and a simple to follow workbook that guides you through the 14 days, helps you apply the strategies, and customizes the exercises to your personal needs.
Below, you can order the digital download version or have the program shipped to you.