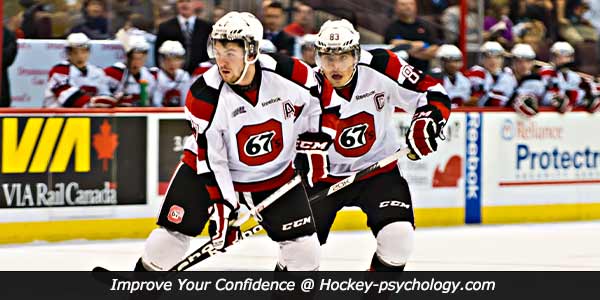 Focus on Self-Improvement
Have you ever been benched for a period of time? How did it make you feel? Angry? Frustrated? Helpless?
Being benched happens for many reasons: arriving late for a game, missing practice, being disrespectful, making mistakes on the ice or playing poorly.
You may view this slight as being unfair:
"I only missed one practice, everyone on the team has missed a practice but they weren't benched."
"The coach doesn't like me. He never liked me from day one. Now, I'm on the bench and other players who are not as good as me are getting playing time."
"I only had one bad game. Everyone makes mistakes, but coach is trying to make an example of me."
When coach benches you, it can feel unfair. If you put blame solely on your coach, you will feel powerless, hopeless, frustrated and angry.
When you have ill-feelings towards your coach or teammates, your attitude and motivation will change and your practice will suffer, making playing time harder to come by.
Regaining a sense of control and empowerment begins with looking inward. What part did you play in being benched? The first step in resolving your situation and relieving some of those negative emotions is to take personal responsibility for your part.
Take Personal Responsibility for Mistakes
When you take personal responsibility or react positively in unfavorable situations, you will grow as a person and as an athlete.
If you made mistakes during a game, watch and learn from the other players on the ice. What can you do differently? When cooler heads prevail, talk with your coach about what you could do better.
If you feel you are looking to get playing time, ask your coach what you can do to improve and help contribute to the team.
If you were late for a game, don't make excuses. Explain unforeseen circumstances (if there were any), apologize, accept the consequences and assure your coach you will do everything in your power to be on time in the future.
Your situation may not be entirely your fault, but taking responsibility for your role is the first step to rectify the situation.
Columbus Blue Jackets' center Pierre-Luc Dubois was benched early in the 2020-21 season. Dubois was the No. 3 overall pick in 2016 and led the Jackets with 49 points in 70 games last season.
Instead of complaining, Dubois kept the focus on himself.
DUBOIS: "That's a coach's decision. It's out of my control. Like I said, I can be a better player. I know that, I acknowledge that. My play hasn't been at the level that it can be at… The coach is paid to coach, and the players are paid to play, and there's not much I can control in that decision… guys get benched, and I think it's a thing they've got to learn from."
Don't allow negative emotions to hurt your motivation and confidence. Being proactive in your approach to adversity is always the best response.
How to Respond after Being Benched:
Ask yourself 2 questions:
How can I improve my mindset and physical game to be ready to play?
How can I be mentally prepared when my number is called to enter the game?
Taking personal responsibility is the fastest way to get back on the ice and grow as a hockey player.
---
Learn Mental Game Strategies to Boost Your Confidence in Sports!
If you're an athlete who struggles with self-doubt, loses confidence, or cant take "practice confidence" to competition, The Confident Athlete is for you!
Self-confidence is what separates champion athletes from the rest of the competitors…
You can tap into my knowledge and experience to learn how to bring ultimate confidence to competition!
The Confident Athlete CD and workbook program consists of 2 audio CD's that include 14 days of confidence fueling exercises and a simple to follow workbook that guides you through the 14 days, helps you apply the strategies and customizes the exercises to your personal needs.
Remember, confidence is a choice you make. You have to make a conscious effort to proactively seek confidence building thoughts and behaviors. Confident Athletes are proactive when it comes to confidence!
Learn more about one of our most popular CD programs in The Confident Athlete Series…
The Confident Athlete: A 14-Day Plan For Ultimate Self-Confidence
Take control of your mindset and performance today!
What are mental game customers saying about our confidence boosting program?
"I am a ASP world qualifying professional surfer and after beginning the 'The Confident Athlete' I had an almost instant change in attitude about my own surfing ability and my mindset going into competition. By using the Confident Athlete strategies, my confidence has done a complete 180 degrees. I won a local pro/am a few weeks back, and just had my best result of the year in one the last big events on the world circuit this last week in Brazil! It is my secret weapon!"*
~Shaun Burrell, Professional Surfer
(Listen to his success story)
"We are amazed at how much 'The Confident Athlete' program has helped my niece play her best tennis during matches. She literally made it to the farthest round of a tournament (semifinals) after finishing the CDs/workbook. We are going to do all 3 in the series."*
~Jason Bourguignon, Uncle
"I bought The Confident Athlete and I have to tell you it is one of the best investments I've ever made in sports (and I've made quite a lot!)" I am a top amateur racquetball player. I have multiple state and regional titles, and 2 national titles. Your approach and ideas have snapped me out of a slump that has lasted way too long. The sport is fun again and I am playing like my old self for the first time in a long time!"*
~Mark Davis
---
Disclaimer
*Testimonials found on this site are examples of what we have done for other clients, and what some of our clients have said about us. However, we cannot guarantee the results in any case. Your results may vary and every situation is different. No compensation was provided for these testimonials.