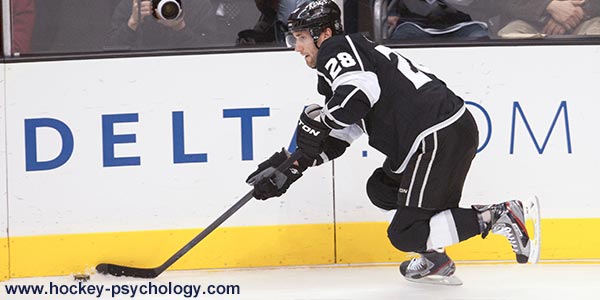 How To Prepare To Get Back In The Game
Are you prepared when an opportunity to contribute to your team arises?
Are you confident in your ability to perform when your coach puts you in the starting lineup or gives you more minutes?
Confidence is a direct result of preparation.
A hockey player contacted us from one of our surveys and commented:
"I hardly get any playing time. It's hard to be motivated in practice because I rarely play in games. But when I do play in games, I am so nervous that I don't play well."
A difficult cycle is in play. When you rarely get on the ice, you don't have the motivation to go all out in practice. Your coach notices your lack of effort and feels you haven't earned playing time.
When your coach finally gives you a chance to play, you lack confidence and become nervous. This gives the coach feedback that you may not be ready to play.
Let's change one aspect of this cycle. You still lack playing time, but your response is positive. You become more determined. You use the lack of time as motivation. You are relentless in practice. Your coach sees your high levels of work and intensity and wants to give you more opportunities to play.
When you are inserted into the lineup, you are more confident because you are prepared. Your intensity in practice has prepared you for the intensity in games. With renewed confidence, you play at a higher level.
When you are prepared, you are confident and ready to take advantage of your opportunities.
For example, New York Rangers goaltender Keith Kinkaid had spent most of the 2021 season on the taxi squad. Kinkaid was called upon to start against the Pittsburgh Penguins, his first start since November 30, 2019. Kinkaidís play kept the Rangers in the game. Kinkaid played solid hockey and made 23 saves.
Even though Kinkaid had not started an NHL in 465 days, he was prepared and ready for his opportunity.
KINKAID: "I've been hoping for a break. You hate to see the way that it happened [losing 4-2], but I plan on taking absolute control of this opportunity and prove that I belong in this league. It's an incredible opportunity. I've been waiting for this opportunity and feel really ready."
You can sense the confidence in Kinkaid's tone. Kinkaid was prepared for this opportunity; he put in the work to prove he belongs in the NHL.
You need to have the same mindset to play confidently when you are given your opportunity.
Remember, preparation feeds confidence And confidence fuels performance.
Be Prepared Mentally and Physically:
Physically, you should remind yourself to go 100% in practice. Make sure you focus on high intensity throughout practice to keep you focused.
Mentally, stay focused in practice and when sitting on the bench during games. Avoid feeling frustrated with lack of playing time as this emotion will not help you when you do get your chance to play.
Learn from watching the game. Become a student of the game when on the bench. Be ready to trust in your skills when you get the chance to play.
---
Related Articles on Hockey Mental Game:
---
The Confident Athlete: A 14-Day Plan for Ultimate Self-Confidence
"The Confident Athlete" is a ground-breaking system to teach you how to think like a champion and have ultimate self-confidence every time you step on the playing field, court, track, or course.
"The Confident Athlete" consists of 2 audio CD's (or digital download) that include 14 days of confidence fueling exercises and a simple to follow workbook that guides you through the 14 days, helps you apply the strategies, and customizes the exercises to your personal needs.
Below, you can order the digital download version or have the program shipped to you.