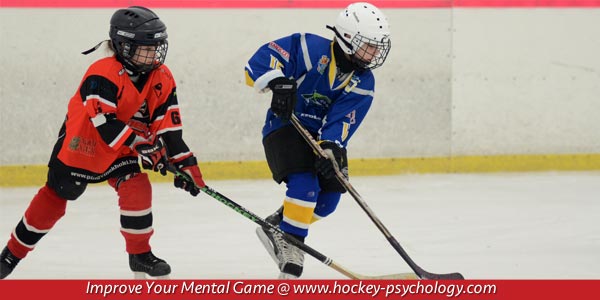 Regaining Confidence After a Bad Hit in Hockey
I receive emails everyday from sports parents and athletes asking for help with their mental game and it often is about questions on confidence. And hockey parents want help too with their young hockey players. Here is an example of a hockey psychology question I received from a hockey parent of an AA junior player:
"My son plays hockey and really enjoys the game. He has only played for two year and has made a remarkable progress and was selected for our towns "AA" team. He started the season very strong in the tryouts and the first two games He then took a really bad high hit in a game and has lost all his confidence. How can I help him to get back his confidence?"
Confidence can be fragile for many athletes. One bad hit, and boom, confidence is lost… I call this the hockey confidence roller coaster? Many players allow their confidence to be jolted by immediate results and circumstances.
What do I mean by the hockey confidence roller coaster? I am talking about the athlete who loses confidence easily or has fragile confidence based on his immediate results. With each missed shot, poor shift or big hit, confidence goes up and down depending on one's performance.
But self-confidence that goes up and down daily IS NOT true confidence. True self-confidence is stable, long-term, and lasting even under adversity or poor results. Taking one bad hit should not allow your confidence to drop drastically in my opinion.
Any hockey player can get an immediate boost of confidence from a good performance, but can you keep confidence even after a poor shift or taking a bad hit?
I don't want my students confidence to be determined my one hit, one shift, or even one game. The key is to keep your confidence even under adversity. How do you keep your confidence? First, you base confidence and years or months of practice and play, not the last game.
How do you regain lost confidence in hockey? You start by asking a question: What makes me feel confident? You don't want to focus on the bad stuff from the last game or even shift. You can always default to your base of confidence in hockey. Your confidence base comes from your abilities, practice, hard work, good coaching, fitness, and a good mental game of hockey.
Thus, to boost your confidence for hockey, you have to let go of mistakes and bad shifts and focus on what makes you a good hockey player. What you focus on, you receive!