How High Expectations Impact Your Confidence
We know a strong relationship exits between high expectations and confidence.
Having high expectations can affect your confidence–which I call the confidence-expectation connection.
When you fail to reach your expectations, confidence can take a hit when you questions your ability.
In addition, if you believe you cannot perform to others' expectation, you will experience a greater degree of pressure and anxiety during competition.
And you know what lower confidence can do to your game:
–Self-doubt
–Fearful of mistakes
—Focus on negative aspects of your game
–Under-perform during games.
The ultimate result will be a repetitive cycle of pressure, anxiety, under-performance and lower confidence.
Have you had a similar experience?
Maybe a coach has talked to you about your potential and told you that they believe you are on the verge of a breakout season.
Possibly your coach talked to you about their expectation to lead the team to victory or improved stats. Even though your coach believed in you, you just didn't share the same level of confidence in your ability.
These high expectations can cause you to feel a lot of pressure to perform. After all, you didn't want to let your coach down.
So you may focus on trying to make some of the weaker aspects of your game into strengths in attempt to rise to your coach's expectations.
Despite your desire to please your coach, game after game, your performance suffered.
Former 2012 NHL overall draft pick Nail Yakupov understands the effects of trying to live up to high expectations and the effects on confidence.
Yakupov was drafted as a teen and had the future of a franchise hoisted upon his shoulders. The expectation to perform and rescue a franchise is a difficult challenge for any player.
After four lackluster years with the Edmonton Oilers, Yakupov was traded to the St. Louis Blues.
Now, Yakupov is faced with the challenge: Will the trade serve as a fresh start or will the trade become a further blow to Yakupov's confidence?
St Louis Blues' head coach Ken Hitchcock plans to set Yakupov up to succeed and foster his confidence.
Hitchcock's plan for Yakupov is to improve his confidence by allowing him to play to his strengths.
HITCHCOCK: "We're going at it different than most people think, and that is he [Yakupov] has a skill set and we want to enhance the skill set. The stuff without the puck, it's going to take time, and we're in no hurry. We're not going to turn a player into a defensive specialist… We want to take what his strengths are and get him to really focus on that, and the other stuff is teachable, and we'll work with him… but what he does well, we want him doing it every day and having the confidence to do it."
By focusing on strengths, athletes foster confidence.
Aren't you more confident when you think about all the things you do well?
Try these tips for being a confident athlete:
Let go of strict expectations you feel others have for your performance. You cannot control the expectations of others but you can create your own personal goals to guide your athletic actions.
Focus on your talents and strengths, not shortcomings. This is a matter of knowing your strengths, maximizing your strengths and game planning to take advantage of your strengths in competitions.
Imagine how much more you could accomplish with the improved mental skill of confidence!
---
Learn 14 Days of Proven Self-Confidence Techniques!
If you're an athlete who struggles with self-doubt, loses confidence, or cant take "practice confidence" to competition, The Confident Athlete is for you!
The Confident Athlete CD and workbook program is 14 days of proven confidence-boosting techniques guaranteed to drastically build self-confidence and improve sports performance.
Learn more about one of our most popular CD programs in The Confident Athlete Series…
The Confident Athlete: A 14-Day Plan For Ultimate Self-Confidence
What are customers saying?
"I first purchased The Confident Athlete to see how the program went and immediately saw results. I then purchased the rest of the confident athlete series and have noticed a dramatic improvement in my level of play or should I say consistency. I currently play NCAA Division 1 baseball for Lamar University, and even my coaches have noticed a change in the way that I approach the game. My attitude and confidence at the plate."
~Tylor Prudhomme
"I am a ASP world qualifying professional surfer and after beginning the 'The Confident Athlete' I had an almost instant change in attitude about my own surfing ability and my mindset going into competition. By using the Confident Athlete strategies, my confidence has done a complete 180 degrees. I won a local pro/am a few weeks back, and just had my best result of the year in one the last big events on the world circuit this last week in Brazil! It is my secret weapon!"
~Shaun Burrell, Professional Surfer
---
Add More Value To Your Mental Training Programs!
This workbook series was designed for coaches and mental coaches to use with their athletes. The Athlete's Mental Edge workbooks complement your existing mental training program. Each of the 15 workbooks in the Athlete's Mental Edge System teaches your athletes a specific mental skill to improve their performance.
Athlete's Mental Edge Workbook System
What are coaches saying?
"Congratulations on your Mental Edge workbooks. I have been through the package and it looks great! The MGCP program just got a lot better. Your workbook program makes it much more tangible and easier to use the mental strategies. This is the missing link in the MGCP program!"
~Bob Simpson, MGCP
"I am really pleased with the Athlete's Mental Edge workbooks – they are fitting in really well with my coaching! I find they offer a great framework for doing workshop sessions. I have also used the workbooks with a few individual athletes – for the younger ones (12 and under). They are giving a good structure and framework to our sessions. The workbooks have worked well with all of them!"
~Kerri Morgan, Mental Game Coach
---
Boost Your Self-Confidence And Focus With Expert Mental Game Coaching!
Master mental game coach Dr. Patrick Cohn can help you overcome your mental game issues with personal coaching.
You can work with Dr. Patrick Cohn himself in Orlando, Florida or via Skype, FaceTime, or telephone. Call us toll free at 888-742-7225 or contact us for more information about the different coaching programs we offer!
What are our students saying?
"Thanks again for teaching me how to do mental game coaching with my volleyball team. We are already seeing results for just our FIRST meeting! I really enjoyed out work together in Orlando!"
~Kurt Trout, Iowa Rockets Volleyball Coach
"I felt the time spent in your seminar was very well organized. The topics were great and you had the coaches communicating in an open atmosphere. Thanks again for your time and effort and I look forward to talking with you in the future."
~Coach Dave Wannstedt, Miami Dolphins
---
Free Hockey Mental Game Repor
t!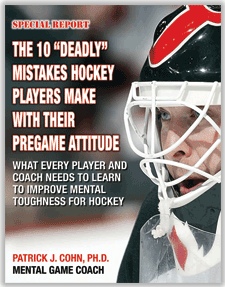 Download our free hockey report and discover "The 10 'Deadly' Mistakes Hockey Players Make With Their Pregame Attitude."
You'll learn:
–How your mind can be your best or worst asset on the ice.
–One strategy that can help you boost your pregame confidence.
–The top mental game skills you need to master to boost your confidence and performance in games and much more!
Discover if you are making one or more of these "costly" mental game mistakes before games:
The 10 "Deadly" Mistakes Hockey Players Make With Their Pregame Attitude