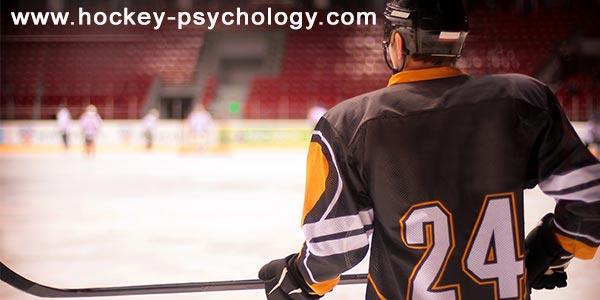 Focus on Your Talents, Not Others'
"Why can't I play consistently from game to game or even shift to shift when it seems like all my teammates can do it without any problems or setbacks?"
This question was posed by a hockey player who responded to our hockey mental skills survey.
Watching your teammates play great hockey while seeing yourself struggle from game to game is not easy to mentally process.
It's frustrating when you struggle on the ice. Your teammates seem to make the perfect pass while you have difficulty making easy passes.
In close games, your teammates seem to always make the right play but you feel you make mistakes when your team needs you most. You feel uneasy and tense on the ice.
On the bench between shifts, you are afraid to make further mistakes rand let your team down. You feel you are being judged and your heart is pounding.
You wonder why your teammates seem to always be on top of their games and you can't even piece together two strong shifts of the ice.
On the surface, consistency appears to be the primary performance issue but comparing yourself to other players is the underlying problem.
Comparison to others is problematic on several levels:
Your view of other player's performance is biased. When you compare yourself to others, you often compare yourself to the players playing flawlessly on the ice. You overlook all their errors while you amplify every little mistake you make during your time on the ice.
By comparing yourself to others, you will experience feelings of inferiority, "I'm not that good" or "I'm not as good as…" Needless to say, when you compare yourself to others, your confidence sinks.
Comparison creates the "need for perfection." When you erroneously see your teammates as perfect, you will feel you need to be perfect. You start believing that being consistent means being perfect. Your focus becomes "I can't make any mistakes."
Comparison mode causes you either play it safe or press on the ice. Either approach greatly holds you back from playing solid hockey.
Comparison generates a great deal of anxiety. Anxiety contributes to even more mistakes and prevents you from playing consistently at a high level.
Comparison to others is a recipe for under-performance and increased mistakes on the ice. Consistency issues are a direct result of comparing yourself to your teammates or players on other teams.
Consistent hockey requires confidence… confidence in your abilities and confidence to be an asset to your team. It is impossible to be confident when you are a bundle of nerves during your shifts or on the bench between shifts.
The solution to your consistency issue is to stop using others as your
measuring stick. You have a specific role on your team. Focus on your game one shift at a time and let go of the ideal that consistency requires perfection.
I suggest that your focus on your unique talents and abilities, not what your think others have! If you are going to make comparisons, compare your performance to your performance from last week because the goal should be to improve each week.
To help you better boost your confidence in hockey, check out our audio and workbook program, "The Confident Athlete":
---
Learn Mental Game Strategies to Boost Your Confidence in Sports!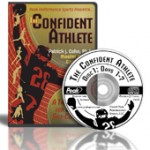 If you're an athlete who struggles with self-doubt, loses confidence, or cant take "practice confidence" to competition, The Confident Athlete is for you!
Self-confidence is what separates champion athletes from the rest of the competitors…
You can tap into my knowledge and experience to learn how to bring ultimate confidence to competition!
The Confident Athlete CD and workbook program consists of 2 audio CD's that include 14 days of confidence fueling exercises and a simple to follow workbook that guides you through the 14 days, helps you apply the strategies and customizes the exercises to your personal needs.
Remember, confidence is a choice you make. You have to make a conscious effort to proactively seek confidence building thoughts and behaviors. Confident Athletes are proactive when it comes to confidence!
Learn more about one of our most popular CD programs in The Confident Athlete Series…
The Confident Athlete: A 14-Day Plan For Ultimate Self-Confidence
Take control of your mindset and performance today!
What are mental game customers saying about our confidence boosting program?
"My son finished the entire Confident Athlete Program. The CD Program helped TREMENDOUSLY. He used it to keep positive thoughts flowing. He was able to focus on his fight instead of on his negative thoughts. He fought at his very best. We are thankful to God for leading us to your web site. The CONFIDENT ATHLETE was perfect."
~Wanda, Sports Parent
"I enjoyed 'The Confident Athlete' very much. I particularly liked the format, the ease of the program, and the 2 CDs that accompanied the workbook – 10-20 minutes a day was simple to adhere to and put in my busy schedule. I love the part about confidence with grace, and what I want to portray and feel the minute I step foot into Los Angeles for nationals. I love the affirmations, the relaxation techniques, and just the entire perspective of the program."
~Sarah, US National Aerobic Gymnastics Team
"I first purchased The Confident Athlete to see how the program went and immediately saw results. I then purchased the rest of the confident athlete series and have noticed a dramatic improvement in my level of play or should I say consistency. I currently play NCAA Division 1 baseball for Lamar University, and even my coaches have noticed a change in the way that I approach the game. My attitude and confidence at the plate."
~Tylor Prudhomme
(Listen to his success story)