How to Handle Pressure in an Elimination Series
Being on the brink of elimination in a series can increase the sense of pressure hockey players experience… With that said, pressure gets a bad rap in sports.
Pressure is not the enemy of the athlete… Pressure doesn't have to break you. The important thing when it comes to pressure is what you do with it or how you deal with it.
Why is it then, in an "elimination game," some hockey players let the pressure get to them?
Quite frankly, these players are thinking about being "eliminated." Their mind has time-traveled into the uncertainty of the future. You know the thought process, "Oh-no, what if we lose?"
The future is the anxiety zone… The place where 'what ifs' cause players to freak out.
The other mindset when faced with elimination games is, "Alright, let's get it together and play tough."
This thought process uses that sense of pressure as an ally, something that pushes you to battle for a loose puck a little more, to play a little more aggressive and to play with more grit and determination.
This mindset is concerned about the present or making plays. There is still a bit of butterflies but that adrenaline rush pushes you to play a mentally tougher game.
Your mindset prior to the game will dictate how you play the game.
In the previous example, you see how your thoughts affect your mindset. And this will dictate your performance.
When you buy into a belief, you look for evidence from the past to prove your beliefs are valid, "Last time we were down in a series we lost," "We have never beaten this team," or, "We don't play well when so-and-so is out of the line-up."
Let's examine a recent example of how a positive mindset works and gives you a competitive edge…
The Anaheim Ducks were down 2-0 in their semifinal match-up against the Edmonton Oilers. There is no doubt the Ducks were under some pressure to turn things around and they did.
The Ducks came back to win the next three games to take a 3-2 lead in the series. Even more impressive is that the Ducks' last two wins were overtime victories, and in Game 5, the Ducks scored three goals with less than four minutes left to force overtime.
Instead of allowing the pressure to get to them, the Ducks used that pressure to fuel their performance and put themselves in position to take the series.
How were the Ducks able to turn things around?
Anaheim goalie John Gibson stated used evidence from the past to support their ability to bounce back.
GIBSON: "We've been in this position before, we're not proud of it, but it's a position that we've been in before, and we have the belief in each other that we can come in here and win some games."
The mindset you choose will affect if you win or you lose.
Tips For Turning Pressure Into An Advantage:
Look for evidence to support your chances for success. If you have negative thoughts, counter those thoughts by finding examples in the past where you succeeded under similar circumstances.
Let your mind work for you instead of against you. And learn how to trust the skills you have practiced with The Fearless Athlete.
---
Discover Powerful Mental Strategies to Overcome Fear And Perfectionism!
Are you frustrated with practicing harder and harder in your sport only to have your efforts undone by your mental game during competition?
Do you feel like your stomach is in a ball of knots and you cant think clearly because you are so anxious and tense stepping onto the field, court, course or track?
Are you envious of your competitors who seem to take their sport less seriously, but end up winning or beating you nearly every time?
Many athletes experience these same feelings of anxiety and frustration. If you answered yes to any of the above questions, check out The Fearless Athlete.
The Fearless Athlete is ideal for any athlete that wants to overcome fear of failure and uncover inhibiting perfectionist traits. It is also ideal for any coach or parent who wants to teach athletes to perform with trust and freedom in competition.
Learn more about one of our most popular CD programs in The Confident Athlete Series…
The Fearless Athlete: A 14-Day Program For Unbeatable Trust
What are customers saying about our mental game program?
"After your session with Tyler, he is hitting Awesome! He got his first out-of-the-park home run and is scoring lots of doubles. He has a totally new attitude thanks to you!"
~Debbie Hartman, Tyler's Mother
---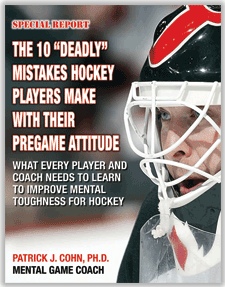 Free Hockey Mental Game Report!
Download our free hockey report and discover "The 10 'Deadly' Mistakes Hockey Players Make With Their Pregame Attitude."
You'll learn:
How your mind can be your best or worst asset on the ice.
One strategy that can help you boost your pregame confidence.
The top mental game skills you need to master to boost your confidence and performance in games and much more!
Discover if you are making one or more of these "costly" mental game mistakes before games:
The 10 "Deadly" Mistakes Hockey Players Make With Their Pregame Attitude
What are sports parents and athletes saying about our mental game tips?
"I coach 2002's at a AA level. I'm convinced that half of them are held back more by their minds than their bodies, maybe more than half. I like your 10 costly mistakes players make. The language is targeted at older kids, but the ideas are simple enough to convey to younger players. I'll be using some of this for our game this afternoon!"
~Steve Taylor, Hockey Coach
---

Add More Value To Your Mental Training Programs!
This workbook series was designed for coaches and mental coaches to use with their athletes. The Athlete's Mental Edge workbooks complement your existing mental training program. Each of the 15 workbooks in the Athlete's Mental Edge System teaches your athletes a specific mental skill to improve their performance.
Athlete's Mental Edge Workbook System
What are mental coaches saying about our mental training program?
"I am really pleased with the Athlete's Mental Edge workbooks – they are fitting in really well with my coaching! I find they offer a great framework for doing workshop sessions. I have also used the workbooks with a few individual athletes – for the younger ones (12 and under). They are giving a good structure and framework to our sessions. The workbooks have worked well with all of them!"
~Kerri Morgan, Mental Game Coach
---
Boost Your Self-Confidence And Focus With Expert Mental Game Coaching!
Master mental game coach Dr. Patrick Cohn can help you overcome your mental game issues with personal coaching.
You can work with Dr. Patrick Cohn himself in Orlando, Florida or via Skype, FaceTime, or telephone. Call us toll free at 888-742-7225 or contact us for more information about the different coaching programs we offer!
What are our mental coaching students saying?
"Peaksports.com website is so exciting. I researched them all and without a doubt your mental training site is the best! The vast amount of programs you provide helps athletes and coaches achieve higher levels of excellence in sports."*
~Doug Bolander, Hockey Coach