Using Mental Toughness to Succeed
You see an interesting dynamic on some hockey teams where the team relies on their top players almost exclusively.
When these star athletes are in the lineup, team confidence is high. But when these star players are not available for games, the team's confidence takes a nosedive.
The sentiment is often, "How can we win if so-and-so is not playing."
Think of a time when your hockey team entered a game without its full arsenal of weapons… What ran through your mind? Did you think you still had a chance to win the game?
Truth be told, the greatest weapon a team can arm itself with is not a certain player, but a positive mindset.
Babe Ruth once said, "The way a team plays as a whole determines its success. You may have the greatest bunch of individual stars in the world, but if they don't play together, the club won't be worth a dime."
A positive mindset says, "Okay, these are our circumstances. So what are we going to do about it? How are we going to win this thing?"
This positive mindset says, "Our situation may be tough, but we are tougher."
This collective tough mentality not only helps teams to rise above adversity but draws the members of the team closer together.
Boston University was faced with a situation where six of their top ten scorers heading into the Union College game were playing for gold in the 2017 World Junior Championships. Not only was BU short-handed but they were playing a nationally-ranked opponent.
It would have been easy for BU to allow negativity to permeate through their mindset.
BU coach David Quinn has been preparing his team, training their mindset from the beginning of the season.
QUINN: "Our team, in general, we feel really good about the way we're approaching the game. If we're going to be committed you have to be committed 24 hours a day."
What exactly is this commitment?
It is the commitment to prepare… The commitment to believe in the team's ability to rise above circumstances… And the commitment to never give up.
Commitment is like a contract within the team that states each player will do whatever it takes for the team to succeed.
If you are committed to success, then you are never truly out of a game until the final whistle… That is the true essence of mental toughness.
BU's commitment to success paid off big time, as they pulled out a 5-4 overtime victory over Union.
QUINN: "I was so proud of our effort and our mental toughness… It was a great win. A great win for us."
Quinn credited both effort and mental toughness for the shorthanded victory…
But in reality, it is mental toughness that creates the belief that allows athletes to put forth the effort.
Without mental toughness, you have no chance to succeed as a team.
Tips For The Right Mindset When Shorthanded
When you compete, you always need to be ready. Circumstances can change in an instant so you need to be prepared for when you are called to step up.
One way to prepare is to ask yourself, "How can I contribute to the team's success in this game? What situations can arise where my role on the team will change and how can I best respond?"
Anticipate any scenario you will face in games, such as being shorthanded. How will you respond when faced with each scenario? If you know how to respond in advance, you'll be ready when it happen.
Learn all of my secrets to improving your focus…
---
Improve Concentration in Sports!

If you're an athlete who is frequently distracted, loses focus in competition, or wants to lean more about how to focus better under pressure, check out The Focused Athlete!
The Focused Athlete CD and workbook program is a step-by-step plan to boost concentration and overcome distractions in sports.
Learn more about one of our most popular CD programs in The Confident Athlete Series…
The Focused Athlete: A 14-Day Plan For Superior Concentration
What are customers saying?
"I Love The Entire Program"
"I enjoyed 'The Confident Athlete Series' very much. I particularly liked the format, the ease of the program, and the 2 CDs that accompanied the workbook – 10-20 minutes a day was simple to adhere to and put in my busy schedule. I love the part about confidence with grace, and what I want to portray and feel the minute I step foot into Los Angeles for nationals. I love the affirmations, the relaxation techniques, and just the entire perspective of the program."
~Sarah, US National Aerobic Gymnastics Team
---

Add More Value To Your Mental Training Programs!
This workbook series was designed for coaches and mental coaches to use with their athletes. The Athlete's Mental Edge workbooks complement your existing mental training program. Each of the 15 workbooks in the Athlete's Mental Edge System teaches your athletes a specific mental skill to improve their performance.
Athlete's Mental Edge Workbook System
What are coaches saying?
"Workbooks Provide a Great Framework for Doing Workshops"
"I am really pleased with the Athlete's Mental Edge workbooks – they are fitting in really well with my coaching! I find they offer a great framework for doing workshop sessions. I have also used the workbooks with a few individual athletes – for the younger ones (12 and under). They are giving a good structure and framework to our sessions. The workbooks have worked well with all of them!"
~Kerri Morgan, Mental Game Coach
---
Boost Your Self-Confidence And Focus With Expert Mental Game Coaching!
Master mental game coach Dr. Patrick Cohn can help you overcome your mental game issues with personal coaching.
You can work with Dr. Patrick Cohn himself in Orlando, Florida or via Skype, FaceTime, or telephone. Call us toll free at 888-742-7225 or contact us for more information about the different coaching programs we offer!
What are our mental coaching students saying?
"Your Mental Training Web Site is the Best!"
"Peaksports.com website is so exciting. I researched them all and without a doubt your mental training site is the best! The vast amount of programs you provide helps athletes and coaches achieve higher levels of excellence in sports."
~Doug Bolander, Hockey Coach
---
Free Hockey Mental Game Report!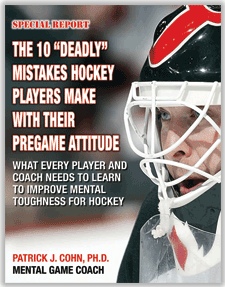 Download our free hockey report and discover "The 10 'Deadly' Mistakes Hockey Players Make With Their Pregame Attitude."
You'll learn:
–How your mind can be your best or worst asset on the ice.
–One strategy that can help you boost your pregame confidence.
–The top mental game skills you need to master to boost your confidence and performance in games and much more!
Discover if you are making one or more of these "costly" mental game mistakes before games:
The 10 "Deadly" Mistakes Hockey Players Make With Their Pregame Attitude