Overcoming High Expectations
The path to a championship is laden with obstacles but the team under the most pressure is often the team with the best record.
If your team just slipped into the playoffs, you can with play abandon; after all, you have nothing to lose.
Conversely, the team with the best record is labeled the "favorite" or the team that is supposed to win.
Getting knocked out of the playoffs, after having the best regular season record, is often thought of as "failure."
Those high expectations create a tremendous amount of pressure for any team to sift through.
The Washington Capitals are heavily favored to win the Stanley Cup after racking up a league-leading 55 wins in the regular season.
The Capitals understand the pressure and high expectations that come with having the best record heading into the playoffs.
The Capitals also know the key to their success is focusing on the game at hand, shift by shift, rather than the potential outcome of a series.
In the first game of the 2017 NHL playoffs, the Capitals quickly found themselves down 2-0 to the inexperienced Toronto Maple Leafs.
Instead of getting down or allowing the pressure to overwhelm them, the Capitals fought to their way back to tie the game and force overtime.
When faced with the added pressure of overtime, the Capitals responded by scoring five minutes into the extra period for a 3-2 victory in Game 1.
Washington captain Alex Ovechkin thought the pressure affected the team's early play but credited the team's ability to rebound for the victory.
OVECHKIN: "It's hard to say what was [happening earlier in the game]. Maybe we were a little bit nervous, maybe we kind of feel the pressure a little bit. But when they scored, all the bench said, 'Just calm down and let's play our way.' Coming back in after first there was no panic, obviously still lots of minutes to play… We just grinded it out and won in overtime."
Focusing is the remedy for pressure.
Pressure overtakes your mind when you think too much about outcomes:
winning or losing
potentially making the playoffs
getting more playing time
breaking into the starting lineup
getting a pat on the back for a well-played game, etc.
When the outcome becomes more important or has greater personal meaning, pressure increases exponentially.
One way to cope with pressure is to not get caught up in outcomes and do you best to stay in the moment, one shift at a time.
This will allow you to focus your attention on the play in front of you.
It's not only the outcome, but the aftermath (what the outcome means to you) that is a source of pressure for many hockey players.
Tips for playing your best when you are the team to beat:
Know that underdogs will perform freely with nothing to lose. They might be loose at the start and take an early lead.
Don't panic, but weather the early storm.
Rely on the comebacks you've made all season. Have confidence that you can pull out the win no matter the score early in the game.
Learn how to focus your best during games with The Focused Athlete Audio and Workbook program.
---
Improve Concentration in Sports!
If you're an athlete who is frequently distracted, loses focus in competition, or wants to learn more about how to focus better under pressure, The Focused Athlete is for you!
Concentration and the ability to focus under adversity is what championship athletes do best.
The Focused Athlete is a complete system to teach you how to focus like a champion and harness the power of a zone focus every tie you step on the playing field, court, track or course in practice and games!
This workbook and CD program consists of 2 audio CDs that include 14 days of focus boosting exercises and a simple to follow workbook that guides you through each of the 14 days, helps you apply strategies, and customizes the exercises to your personal focus challenges.
Learn more about one of our most popular CD programs in The Confident Athlete Series…
The Focused Athlete: A 14-Day Plan For Superior Concentration
What are customers saying about our mental game program?
"I just finished 'The Confident Athlete Program'. Improving confidence is a never ending process. I think that confidence boosting is an awesome area. Having a daily mental plan for mental "work outs" can turbo charge anyone's confidence level…. Studying almost all of Dr. Cohn's mental game materials gives me a real EDGE over my competitions and most importantly – a boost in my daily life."
~Radek Sefcik, peaksports.com member
---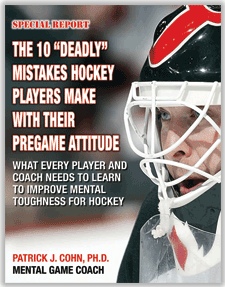 Free Hockey Mental Game Report!
Download our free hockey report and discover "The 10 'Deadly' Mistakes Hockey Players Make With Their Pregame Attitude."
You'll learn:
How your mind can be your best or worst asset on the ice.
One strategy that can help you boost your pregame confidence.
The top mental game skills you need to master to boost your confidence and performance in games and much more!
Discover if you are making one or more of these "costly" mental game mistakes before games:
The 10 "Deadly" Mistakes Hockey Players Make With Their Pregame Attitude
What are sports parents and athletes saying about our mental game tips?
"Peaksports.com website is so exciting. I researched them all and without a doubt your mental training site is the best! The vast amount of programs you provide helps athletes and coaches achieve higher levels of excellence in sports."
~Doug Bolander, Hockey Coach
---

Add More Value To Your Mental Training Programs!
This workbook series was designed for coaches and mental coaches to use with their athletes. The Athlete's Mental Edge workbooks complement your existing mental training program. Each of the 15 workbooks in the Athlete's Mental Edge System teaches your athletes a specific mental skill to improve their performance.
Athlete's Mental Edge Workbook System
What are mental coaches saying about our mental training program?
"I am impressed with the willingness and openness of Dr. Cohn to share all of his assets (intellectual, products, etc.) with the MGCP students. You have developed an incredible model/package for mental training. Even though we are paying for your service, you are passing on a legacy built on your contribution to the world of sports. Thank you for that."
~Tony Melito, MGCP
---
Boost Your Self-Confidence And Focus With Expert Mental Game Coaching!
Master mental game coach Dr. Patrick Cohn can help you overcome your mental game issues with personal coaching.
You can work with Dr. Patrick Cohn himself in Orlando, Florida or via Skype, FaceTime, or telephone. Call us toll free at 888-742-7225 or contact us for more information about the different coaching programs we offer!
What are our mental coaching students saying?
"I coach 2002's at a AA level. I'm convinced that half of them are held back more by their minds than their bodies, maybe more than half. I like your 10 costly mistakes players make. The language is targeted at older kids, but the ideas are simple enough to convey to younger players. I'll be using some of this for our game this afternoon!"
~Steve Taylor, Hockey Coach