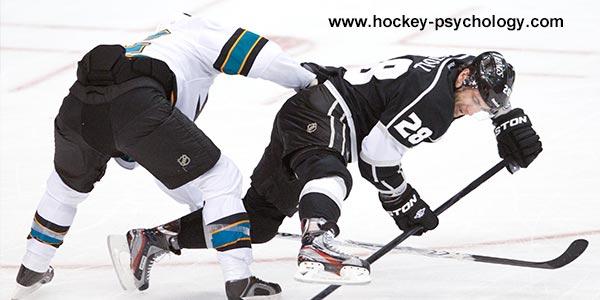 Mental Training Helps Your Hockey Career
Does mental training work? This is the one question that will determine your level of play throughout the season.
If you believe mental skills training is not effective, you might not bother with doing mental training.
If you believe mental skills have a beneficial effect on your game, you will seek out resources to train your mind as well as your body.
Your answer to this question may very well be the most important decision in your hockey career.
A very poignant question, regarding the mental component of sport, was asked in our Mental Game of Hockey Survey.
"What things can I bring to the table from the mental side and how will they positively correlate to my play?"
The short answer to this question is, "Confidence, Focus, and Trust!"
First, let's look at some negative circumstances that you may experience and how mental skills training can counteract those problematic areas:
1. Focus – Bouncing back from mistakes requires that you focus on the play right in front of you. For example, after giving up an easy goal, you can get caught up playing that mistake over and over in your mind for the remainder of the game. The inability to re-focus will lead you to mistakes as the game progresses. Learning re-focusing strategies and applying them after making mistakes will make it tremendously easier for you to overcome mistakes in games.
2. Managing Emotions in Games – How many times has bad officiating or cheap shots by your opponent caused you to lose your composure? After a cheap shot, you can become so hyped up that you retaliate and are penalized putting your team at a disadvantage. A relaxation strategy can help you maintain your poise and turn that anger into motivation.
3. Goal Setting – Setting goals, early in the season, is a strategy that keeps you motivated to develop your skills, speed, agility, strength, skating and mental game throughout the season, even during rough patches. Your hockey season will have its ups and downs. Goal setting will keep you on the path of progress.
These examples are a small portion of mental skills that can improve your performance on the ice.
Other mental skills include: working through injury, overcoming adversity, pregame mental preparation, playing with the lead, dealing with raucous spectators, breaking out on slumps, effective communication with coaches and teammates, performing under pressure and many, many more.
Equipping yourself with mental skills provides you with the tools needed to overcome obstacles, rise to challenges and be your best on a consistent basis and gives you a big advantage over the competition.
Applying Mental Skills to Games The Best Way to Take Mental Skills to Hockey Games
It is not enough to learn practical mental skills, you need to develop mental skills, such as refocusing, in practice and via repetition on a consistent basis. So first you want to take these skills to practice.
The next step if to apply to your game. I suggest you apply them to your pregame warm up. I'll discuss refocusing…
First, remind yourself of what can get you off task during a game – such as a cheap shot, the crowd, the bench, dwelling on mistakes, etc.
Next, be ready to refocus your mind when you find your mind drifting or dwelling on these distractions. This mean quickly changing your focus to the next play.
---
Learn Mental Game Strategies to Boost Your Confidence in Sports!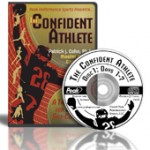 If you're an athlete who struggles with self-doubt, loses confidence, or cant take "practice confidence" to competition, The Confident Athlete is for you!
Self-confidence is what separates champion athletes from the rest of the competitors…
You can tap into my knowledge and experience to learn how to bring ultimate confidence to competition!
The Confident Athlete CD and workbook program consists of 2 audio CD's that include 14 days of confidence fueling exercises and a simple to follow workbook that guides you through the 14 days, helps you apply the strategies and customizes the exercises to your personal needs.
Remember, confidence is a choice you make. You have to make a conscious effort to proactively seek confidence building thoughts and behaviors. Confident Athletes are proactive when it comes to confidence!
Learn more about one of our most popular CD programs in The Confident Athlete Series…
The Confident Athlete: A 14-Day Plan For Ultimate Self-Confidence
Take control of your mindset and performance today!
What are mental game customers saying about our confidence boosting program?
"My son finished the entire Confident Athlete Program. The CD Program helped TREMENDOUSLY. He used it to keep positive thoughts flowing. He was able to focus on his fight instead of on his negative thoughts. He fought at his very best. We are thankful to God for leading us to your web site. The CONFIDENT ATHLETE was perfect."
~Wanda, Sports Parent
"I enjoyed 'The Confident Athlete' very much. I particularly liked the format, the ease of the program, and the 2 CDs that accompanied the workbook – 10-20 minutes a day was simple to adhere to and put in my busy schedule. I love the part about confidence with grace, and what I want to portray and feel the minute I step foot into Los Angeles for nationals. I love the affirmations, the relaxation techniques, and just the entire perspective of the program."
~Sarah, US National Aerobic Gymnastics Team
"I first purchased The Confident Athlete to see how the program went and immediately saw results. I then purchased the rest of the confident athlete series and have noticed a dramatic improvement in my level of play or should I say consistency. I currently play NCAA Division 1 baseball for Lamar University, and even my coaches have noticed a change in the way that I approach the game. My attitude and confidence at the plate."
~Tylor Prudhomme
(Listen to his success story)