How to Stay Positive When Losing
It takes a certain mindset to bounce back when trailing in a game or a series or fighting for a playoff spot.
When a hockey team is down in a series or on the brink of elimination, the players can easily get down on themselves…
You can start questioning your ability, blame the referees for bad calls, get angry at some of your teammates for giving less than their best effort or just feel sorry for yourself for the uphill battle you have to face.
All these thought processes keep you trapped in a losing mindset.
When you focus on mistakes and loses from past games, you are stuck in a negative cycle. All your complaints, blaming and negativity will not turn past losses into victories nor will that negative mindset help you win the next game.
You need a different approach when you want to bounce back after being behind in a game or series.
You need an approach that gives you the confidence and a sense of control that you can do something to affect a positive outcome in the next game.
You need an approach that, not only gives you a fighting chance, but a mental edge to bring your game up a notch.
In a five game series, your feelings may tell you that being down two games to zero means you are likely to be eliminated. Buying into those negative feelings creates a negative mindset which sets you up to lose.
Think for a second, if you were pretty sure you were going to lose your next game, do you think you would give 100% effort?
Do you think you would go into the game excited and mentally ready to play?
Do you think you would battle and aggressively go after loose pucks?
The answers to those questions is… PROBABLY NOT!
Of course you will feel down after losing a game that puts you one step away from playoff elimination, but you cannot buy into those feelings as predictors for the future.
A better approach is to look at your situation from a logical perspective or a positive mindset.
For example, if your opponents won the first two games in the series, is it possible that you can win the next one?
Is it possible that your team can collectively play a better game?
Is it possible that your opponents may have a lull after winning two straight?
If you approach an "on the brink of elimination" situation from a positive mindset, you give yourself a chance… And if you have a chance, wouldn't you give more effort?
Would you be more excited for the challenge?
Would you be up for the game and play more aggressively?
Chicago Blackhawks forward, Dennis Rasmussen, talked to his team about maintaining a positive mindset despite being down 2-0 in their series against the Nashville Predators.
RASMUSSEN: "Obviously, we're down 2-0, but we've still got to take it game by game. A lot of guys have played in the playoffs in different leagues and different situations and played in important games. So we all know it doesn't matter if you have a lead or you're down, you've got to take it game by game."
If you perceive you have a chance, then anything can happen.
Tip For Maintaining a Positive Mindset When Trailing in a Series:
Let logic be your ally – Rather than give into to your negative feelings, logically debate your doubts. To turn around the series, you have to first turn around your mindset.
How can you find momentum when it's not happening?
Look for good breaks instead of all the bad breaks or calls. The team leaders have to rally the team to fight for every goal.
---
Improve Concentration in Sports!
If you're an athlete who is frequently distracted, loses focus in competition, or wants to learn more about how to focus better under pressure, The Focused Athlete is for you!
Concentration and the ability to focus under adversity is what championship athletes do best.
The Focused Athlete is a complete system to teach you how to focus like a champion and harness the power of a zone focus every tie you step on the playing field, court, track or course in practice and games!
This workbook and CD program consists of 2 audio CDs that include 14 days of focus boosting exercises and a simple to follow workbook that guides you through each of the 14 days, helps you apply strategies, and customizes the exercises to your personal focus challenges.
Learn more about one of our most popular CD programs in The Confident Athlete Series…
The Focused Athlete: A 14-Day Plan For Superior Concentration
What are customers saying about our mental game program?
"I enjoyed 'The Confident Athlete Series' very much. I particularly liked the format, the ease of the program, and the 2 CDs that accompanied the workbook – 10-20 minutes a day was simple to adhere to and put in my busy schedule. I love the part about confidence with grace, and what I want to portray and feel the minute I step foot into Los Angeles for nationals. I love the affirmations, the relaxation techniques, and just the entire perspective of the program."
~Sarah, US National Aerobic Gymnastics Team
---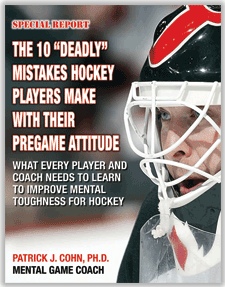 Free Hockey Mental Game Report!
Download our free hockey report and discover "The 10 'Deadly' Mistakes Hockey Players Make With Their Pregame Attitude."
You'll learn:
How your mind can be your best or worst asset on the ice.
One strategy that can help you boost your pregame confidence.
The top mental game skills you need to master to boost your confidence and performance in games and much more!
Discover if you are making one or more of these "costly" mental game mistakes before games:
The 10 "Deadly" Mistakes Hockey Players Make With Their Pregame Attitude
What are sports parents and athletes saying about our mental game tips?
"Peaksports.com website is so exciting. I researched them all and without a doubt your mental training site is the best! The vast amount of programs you provide helps athletes and coaches achieve higher levels of excellence in sports."
~Doug Bolander, Hockey Coach
---

Add More Value To Your Mental Training Programs!
This workbook series was designed for coaches and mental coaches to use with their athletes. The Athlete's Mental Edge workbooks complement your existing mental training program. Each of the 15 workbooks in the Athlete's Mental Edge System teaches your athletes a specific mental skill to improve their performance.
Athlete's Mental Edge Workbook System
What are mental coaches saying about our mental training program?
"I am really pleased with the Athlete's Mental Edge workbooks – they are fitting in really well with my coaching! I find they offer a great framework for doing workshop sessions. I have also used the workbooks with a few individual athletes – for the younger ones (12 and under). They are giving a good structure and framework to our sessions. The workbooks have worked well with all of them!"
~Kerri Morgan, Mental Game Coach
---
Boost Your Self-Confidence And Focus With Expert Mental Game Coaching!
Master mental game coach Dr. Patrick Cohn can help you overcome your mental game issues with personal coaching.
You can work with Dr. Patrick Cohn himself in Orlando, Florida or via Skype, FaceTime, or telephone. Call us toll free at 888-742-7225 or contact us for more information about the different coaching programs we offer!
What are our mental coaching students saying?
"I coach 2002's at a AA level. I'm convinced that half of them are held back more by their minds than their bodies, maybe more than half. I like your 10 costly mistakes players make. The language is targeted at older kids, but the ideas are simple enough to convey to younger players. I'll be using some of this for our game this afternoon!"
~Steve Taylor, Hockey Coach