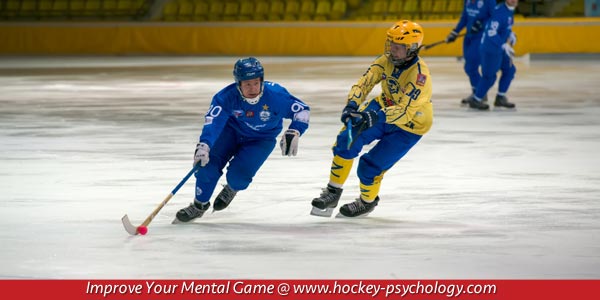 Letting Go of Mistakes in Hockey
What does a "short memory" refer to in terms of being a hockey player?
These terms do not mean forgetting what you have learned in practice or the game plan for an opponent.
Instead having a short memory refers to forgetting mistakes quickly–an asset for any hockey player.
Mistakes can haunt some players. Within a game, these players tend to dwell on the past and have difficulty refocusing their attention to the next play or shift.
In this instance, these players play tentative, fearful of making the same mistakes. They might worry about getting benched, losing playing time in future games, being blamed for losses or feeling embarrassed about their miscues.
In any case, the inability to move on from mistakes generally tends to lead to more mistakes on the ice–and playing safe.
Replaying mistakes after a game can likewise preoccupy a player's mind and "mess with their head"…
These players have difficulty moving forward after a bad game. They often beat themselves up after a bad performance, especially after a loss. The memories of bad games run through their heads as if it were a blooper reel.
The result of reliving bad games over and over is a blow to a player's confidence. The amount of anxiety and fear of a repeat performance will also cause a player to be preoccupied at the start of the next game and very likely will lead to under performance.
A "short" memory is having the ability to let go of mistakes in the past in order to refocus on the play happening in the moment and having greater composure.
Having a short memory will be critical for the development of 19-year-old Vancouver Canucks goaltender Mikey DiPietro.
DiPietro made his NHL debut against the San Jose Sharks after the Canucks starting goaltender Jacob Markstrom experienced lower body tightness earlier in the day.
Unfortunately, DiPietro allowed seven goals on 24 shots and the Canucks lost 7-2.
After the game, DiPietro put a positive spin on his performance and seemed ready to learn and move on from the experience.
DiPIETRO: "Obviously, not the result you wanted, but it's good to get the first one under the belt and, hopefully, as time goes on, get more and more comfortable. Just keep improving on my game… As the game wore on, I felt more and more comfortable, but it was a good experience for myself, a good stepping stone and definitely a good learning opportunity."
To improve focus and preserve confidence, it is critical to learn how to let go of mistakes and learn how to improve.
How to Let Go of Mistakes:
"Catch and release" is a fishing term that refers to a fisherman capturing a fish and releasing the fish without taking it out of the water.
The fisherman uses barbless hooks so the fish are not injured. In fishing, "catch and release" is considered a technique of conservation.
Let's apply the concept of "catch and release" to hockey.
Simply stated, after making a mistake and reflecting on that mistake, you want to "catch yourself" or be aware of your thoughts.
Next, you want to "release" or let go and move on to the next play.
To have a "short" memory, you can use the term "catch and release" as a cue to remind yourself to move on. Or you might use, "let it go" or "that's in the past."
The goal is to be non-judgmental about mistakes. You can't focus on the mistake and play the shift in the moment–at the same time.
Learn Mental Game Strategies to Improve Composure in Sports!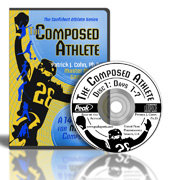 If you're an athlete who wants to learn how to stop performance anxiety quickly, be poised, calm and in control during those "critical moments", learn more about The Composed Athlete!
Powerful strategies for learning a composed mindset can be developed, but you must first strip away the mental ball and chains that prevent you from having instant composure when you need it.
How much better would you perform if you have total confidence and composure to perform your best in crunch-time?
The Composed Athlete CD and workbook program consists of 2 audio CD's that include 14 days of composure boosting exercises and a simple to follow workbook that guides you through each of the 14 days, helps you apply the strategies, and customizes the exercises to your personal crunch-time challenges and coping with pressure.
Learn more about one of our most popular CD programs in The Confident Athlete Series…
The Composed Athlete: A 14-DAy Plan For Maximum Composure
Maximize your composure today!
What are Peak Performance Sports customers saying about our confidence boosting program?
"Your response to the throwing problem in front of the coach covers so many situations in life…that is the beauty of playing sports…the life learning experiences. Keep up the good work…you are the best mental coach."
~Bill Brennan, sports parent
"After your session with Tyler, he is hitting Awesome! He got his first out-of-the-park home run and is scoring lots of doubles. He has a totally new attitude thanks to you!"
–Debbie Hartman, Tyler's Mother
"A big thanks to you Dr. Cohn! I just can't get over how much of a wonderful resource you are Patrick for the mental game of motocross! Never in the history of sports have I had such an upper hand with your mental strategies!
~Nicky Labrecque, Motocross racer
"Thank you so much for taking the time to work with our team while we were down in Florida. The tips you gave about relaxation and releasing tension before we bat or do anything was very beneficial to me. I find that I even use it during my classes at school.
~Ann Miller, Softball player
---
Boost Your Self-Confidence And Focus With Expert Mental Game Coaching!
Master mental game coach Dr. Patrick Cohn can help you overcome your mental game issues with personal coaching.
You can work with Dr. Patrick Cohn himself in Orlando, Florida or via Skype, FaceTime, or telephone. Call us toll free at 888-742-7225 or contact us for more information about the different coaching programs we offer!
What are our mental coaching students saying?
"Peaksports.com website is so exciting. I researched them all and without a doubt your mental training site is the best! The vast amount of programs you provide helps athletes and coaches achieve higher levels of excellence in sports."
~Doug Bolander, Hockey Coach
"Ashley wanted me to let you know that she placed very well at her competition this past weekend, thanks to you! She won the short, won the long, and had her personal best. She now looks at her competitions like ice shows and has fun. It is really nice to see her thoroughly enjoying the skate. She is very focused and very confident. We definitely attribute this to you."
~Brenda Glassco, Skating Parent
"I just wanted to let you know that my son skated this weekend at our Regional Competition. He worked his mental game and everything you taught him. He skated two wonderful programs, scored a personal best and ended up with the title of Pacific Northwest Regional Champion at the Intermediate level. Thank you for your wonderful training. He had the right focus and had so much fun at this competition. The title is sweet icing on the cake."
~Pomaika'i, Sports Parent
"Kayleigh handled the pressure very well while many of the girls around her crumbled. She skated very well & ended 6th among the top 40 in the country. She achieved her personal best in both her short program & overall & tied her personal best in the long. I think you have really helped her!"
–Kathy Maksymec, parent