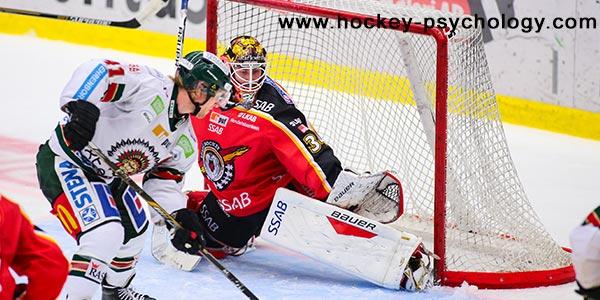 Learning To Have A Short Hockey Memory
Overcoming mistakes quickly is part of a strong mental game and critical for success in hockey, but getting from Point A to Point B can be difficult for many players.
In our hockey survey, a coach asked a good question about how to teach his players to move on from mistakes made earlier in a game.
"How can I communicate the ideas of having a 'short memory' or to not focus on what you cannot change or what has just happened?"
"I'm looking for different ways to say 'you can't worry about the goal let in,' or 'you can't change the bad pass you made earlier in the game.'"
As a coach, you can see a player replaying the internal video of that bad goal or missed shot right in front of the net.
You can see your player's frustration evident by his body posture or smashing his stick on the ice during games.
As that player blurts out some angry words, you just know that his internal talk is much harsher.
You know that his confidence is at risk but the words of encouragement you offer seem to have no effect.
You have seen this happen many times in the past and know you need to do something quickly to keep your players confident and focused.
How can you keep your players in the game mentally after a mistake?
1. Stop talking about mistake-free hockey. The mistake-free hockey approach ratchets up the expectations for your players.
Instead, tell your players that mistakes will happen and it's your response to those mistakes that matter most. Preach this message in practice. In other words, don't jump all over your players when they make a mistake in practice.
2. Refocusing is the key. Teach your players effective strategies to refocus after a mistake. This can be achieved by taking a few deep breaths or by repeating a cue phrase such as "Relax, focus on the next play."
For a goalie, you can tell your player to step out of the goal, re-adjust his equipment, then step into his work area, the crease, when he is ready and focused. You can have your players write the word, "Refocus" on their hockey sticks as a reminder to reset after a mistake.
3. Gaining awareness. It is important for your players to know the circumstances that distract them and how they lose focus. Have your players compare and contrast games when they were in top form and games when they were upset with mistakes.
The reason player get upset with mistakes is often irrational, such as thinking they must be perform and make no mistakes to keep their spot on the team.
Step 1 is to help your players understand what's rational and what's not rational about mistakes.
Step 2 is to help you athletes hit the mental reset button. Give them several move-on statements they can use after mistakes, such as "that's in the past" or "next play right now," for example.