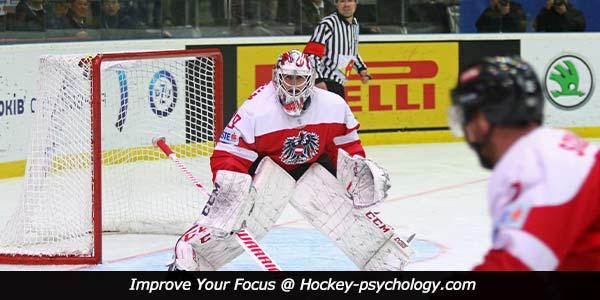 Break Out of Your Comfort Zone
Do you feel you have plateaued and can't find a way to break through to the next level?
Feeling you're not improving can be frustrating for many hockey players. Hockey players often question how to raise their level of play, but getting to the next level is no accident.
Case in point, a high school junior recently asked for help on taking his game to the next level:
"For two years, I have been stuck and not improving. Many of my high school teammates have improved over the years but I seem to have leveled off. I feel like there is no way to improve. Are there any mental strategies I can use to get my game to the next level?"
Imagine playing games and feeling like "this is as good as it gets." Your play is good. You make the occasional mistake here and there, just like the rest of your teammates, but you can't seem to make the big play.
During crunch time, you feel you are not much of an asset to the team. Even though you feel you are better than you perform, you can't seem to find a way out of your performance rut.
You question if you are as talented as your teammates. You can't seem to get psyched up for games. You are left feeling frustrated and playing isn't as fun as it once was.
To get out of your performance rut, you need to get out of your comfort zone. Taking your game to the next level requires that you take your practice game to the next level.
Next-level play isn't reserved for the most talented players. The reality is that talent gets you only so far. Even the most talented players can plateau and never achieve their true potential.
How to Get to the Next Level in Your Performance
Next-level play requires mental toughness and hard work, and it starts in practice. In practice, you need to skate all out during drills to the point you are breathing heavy. It requires mental toughness to push past physical discomfort.
You need to aggressively fight for loose pucks in scrimmages. It requires mental toughness to risk losing those battles.
You also need to train hard off the ice. It requires mental toughness to face being sore the next day.
You need to pay attention to your mindset for hockey. It requires mental toughness to stay fully focused on all aspects of preparation and training.
Without hard work and mental toughness, you will never reach your full potential.
Ryan Callahan was a fourth-round draft pick by the New York Rangers in 2004. In the 2004 draft, 126 players were chosen before Callahan, yet Callahan went on to have a successful 13-year career.
After announcing his retirement, Callahan reflected on his career.
CALLAHAN: "It's hard to wrap my head around how lucky and grateful I am for being able to live out my childhood dream for 13 amazing years."
But was it really luck that caused Callahan to consistently raise his game to new levels?
One of Callahan's coaches, John Tortorella, sees Callahan's next-level play in a different light.
TORTORELLA: "Nobody gave him anything. He put so much into the game. In my mind, he epitomized the way you have to play the game… He did it by pure effort and desire. Never took a shift off. Never took a practice off."
Next-level play is not luck.
Next-level play is earned by giving it all in practice and games, then doing it over and over each day.
How to Avoid Plateaus:
One strategy for taking your game to the next level is to imagine your career in reverse. Visualize how you want to be remembered as a hockey player. Then visualize what it would take to achieve this image.
Start by mixing up your training routines. Seek a fitness trainer to improve agility or quickness. Start working on mental training to improve your mental game. Make sure you come to practice with the right level of intensity. Have objectives you want to work on for every practice.
Keep this formula in mind: mental game skills plus hard work equals next-level play.
---
Discover How to Overcome Distractions During Competition!
If you're an athlete who is frequently distracted, loses focus in conception, or wants to learn more about how to focus better under pressure, check out:
The Focused Athlete: A 14-Day Plan For Superior Concentration
The Focused Athlete is a step-by-step plan to boost concentration and overcome distractions in sports. It is a complete system to teach you how to focus like a champion and harness the power of a zone focus every time you step into practice, a game or competition.
The Focused Athlete program comes with 2 audio CDs that include 14 days of focus boosting exercises and a simple to follow workbook that guides you through each of the 14 days, helps you apply the strategies, and customizes the exercises to your personal focus challenges.