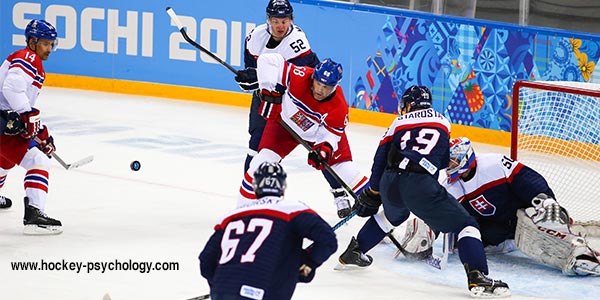 Mindset and Talent Equals Success in Hockey
What is more important, talent or work ethic?  
Many athletes would answer hard work but quietly believe that they cannot be great hockey players because they are not as talented as other players.  
How good you are on paper doesn't guarantee success. The level of talent you possess doesn't guarantee success.  
The number of years you have played doesn't ensure success.  
"Hard work beats talent when talent fails to work hard" is a phrase first coined by high school basketball coach Tim Notke.  
Talent may give you a head start, but if a talented hockey player doesn't put in the work, that player will not achieve their potential.  
However, hard-working players can advance further because they put in the effort day in and day out. You may not be able to "out-talent" another player, but you can outwork or out-hustle those players.  
Of course, circumstances beyond your control, such as injuries, can alter the course of your season. Still, when you are committed to effort, you can better handle unforeseen or unexpected adversity.  
The Vegas Golden Knights missed the 2022 NHL postseason for the first time in franchise history. The Golden Knights' were eliminated from the postseason due to their second-half season collapse.  
On paper, Vegas looked like they could be contenders this season. In early February, the Golden Knights were a top-10 team with a 28-16-3 record and hadn't lost consecutive regulation games in over two months. In the next 35 games, Vegas only managed 15 wins.  
Vegas left winger Max Pacioretty believed the team had the talent to win but lacked the mental focus and effort to live up to the team's potential.  
PACIORETTY: "On paper, what can anyone say we're missing? We have it all, but at the same time, everyone knows that hard work beats that talent on paper, and chemistry is probably what's most important, on and off the ice."  
Success is never handed to you. You must work to achieve your objectives.  
Often talented players rely on their talent. When these players hit rough patches throughout the season, such as slumps or losing streaks, they have difficulty overcoming those challenges.  
Consider the following points regarding talent and effort:  
Talent is not skill. You may have talent, but skill requires effort and repetition to build.  
Talent doesn't prepare you for challenges on the ice. Putting in the work builds the resiliency needed to handle adverse situations.  
Greatness is not based on talent. Thousands of hockey players have failed to live up to their potential.
Talent doesn't improve the weak parts of your game.  
Being a successful player is not the same as being a talented player.  
What separates the merely talented from those who succeed is a consistent, dedicated training.  
Becoming a Productive Hockey Player:  
Work harder than you peers! Success is as simple as that. Put in the work to develop your technical game, speed, agility, and physical strength. Work to improve your mental game.  
Only dedicated practice–and lots of it–will help you reach your goals.