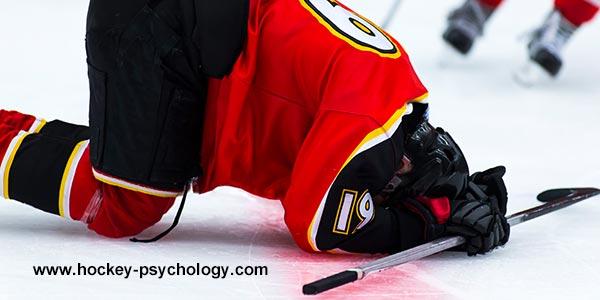 Taking Mental Skills to Games
Mental skills work but only if you know how to work mental skills.
For hockey players, many facets of the game are affected by mental factors:
* Playing against a rough physical team may cause you to feel intimidated and play timid.
* Having a couple of passes intercepted at your blue line may cause you to second-guess your decisions in the moment.
* Giving up a couple late-game goals can cause you to become anxious during the last minutes of a game.
* Having an 'iffy' penalty called against you can produce enough frustration that leads to further penalties.
* Playing from behind can cause you to press on the offensive end and miss opportunities for better shots on net.
* Playing for a coach that yells a lot can make you feel fearful of making mistakes and ruin your confidence.
These mental aspects of performance are just the tip of the iceberg. There are many other mental skills that you can implement into your game that can bring your game to the next level.
One hockey player on our Hockey Mental Skills survey asked about how to implement mental skills to improve his game:
"I get frustrated with my play. I have worked on some mental skills but I don't see much difference in games. How do I apply mental skills to a game?"
This is a great question and the most important part of learning mental skills. It is one thing to learn mental skills but knowing how to apply mental skills is crucial to your performance on the ice.
Unfortunately, far too many athletes give up on mental skills training because they do not see results.
So where is the disconnect? Why are athletes having difficulty implementing skills?
The issue lies in wait time. Many players are not patient and consistent enough in developing skills. These players are looking for immediate results or quick fixes and do not understand there are no quick fixes or magic pills when it comes to skill development.
For instance, how long did it take you to develop the skill of stick handling and controlling the puck as you weave in and out of defenders? Did you see immediate results after a week? Even after a month, were you completely satisfied with your stick handling or did you continue to develop that skill?
No, it's taken you years to become proficient in this skill!
While you worked on stick handling, did you lose control of the puck during games? Did you give up trying to learn that skill because you didn't see tremendous improvement in games?
No, you kept practicing. You took feedback from games and worked on it in practices. You continued to learn different tips on how to better control the puck. You were committed. Little by little, you started noticing improvement.
You probably still work on that skill today even though you have vastly improved.
Implementing Mental Skills
This is the level of effort, focus, commitment and patience needed to develop mental skills and implement those into your arsenal of skills at your fingertips for games.
Mental skills take work, time, patience, practice and feedback. If you commit to this process, you will see dramatic improvement in your game.
One way to apply your mental skills is during the pregame warm up routine so you bring the correct intensity, high confidence, process focus, and trust in your skills to the game.
---
Learn Mental Game Strategies to Boost Your Confidence in Sports!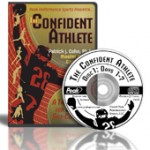 If you're an athlete who struggles with self-doubt, loses confidence, or cant take "practice confidence" to competition, The Confident Athlete is for you!
Self-confidence is what separates champion athletes from the rest of the competitors…
You can tap into my knowledge and experience to learn how to bring ultimate confidence to competition!
The Confident Athlete CD and workbook program consists of 2 audio CD's that include 14 days of confidence fueling exercises and a simple to follow workbook that guides you through the 14 days, helps you apply the strategies and customizes the exercises to your personal needs.
Remember, confidence is a choice you make. You have to make a conscious effort to proactively seek confidence building thoughts and behaviors. Confident Athletes are proactive when it comes to confidence!
Learn more about one of our most popular CD programs in The Confident Athlete Series…
The Confident Athlete: A 14-Day Plan For Ultimate Self-Confidence
Take control of your mindset and performance today!
What are mental game customers saying about our confidence boosting program?
"My son finished the entire Confident Athlete Program. The CD Program helped TREMENDOUSLY. He used it to keep positive thoughts flowing. He was able to focus on his fight instead of on his negative thoughts. He fought at his very best. We are thankful to God for leading us to your web site. The CONFIDENT ATHLETE was perfect."
~Wanda, Sports Parent
"I enjoyed 'The Confident Athlete' very much. I particularly liked the format, the ease of the program, and the 2 CDs that accompanied the workbook – 10-20 minutes a day was simple to adhere to and put in my busy schedule. I love the part about confidence with grace, and what I want to portray and feel the minute I step foot into Los Angeles for nationals. I love the affirmations, the relaxation techniques, and just the entire perspective of the program."
~Sarah, US National Aerobic Gymnastics Team
"I first purchased The Confident Athlete to see how the program went and immediately saw results. I then purchased the rest of the confident athlete series and have noticed a dramatic improvement in my level of play or should I say consistency. I currently play NCAA Division 1 baseball for Lamar University, and even my coaches have noticed a change in the way that I approach the game. My attitude and confidence at the plate."
~Tylor Prudhomme
(Listen to his success story)