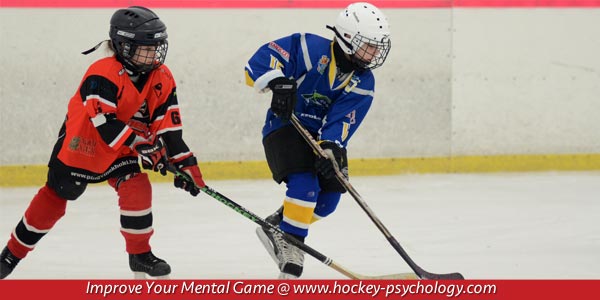 Best Age to Start Mental Training
Improving the mental game is a training component that is often overlooked. Some young athletes may not even know what mental training is or how it can benefit them.
Even parents and coaches do not fully understand how mental training works or how to access to such training.
Mental training is often viewed by coaches and parents as an advanced part of training that athletes should consider after they become older and more competitive in their sport.
One hockey parent posed an interesting question in our online survey regarding mental training for athletes:
How often should kids prepare mentally for upcoming games? Once a week? Twice a week? Just on game days?
This is a great question and is three-fold:
1. When should an athlete start a mental training program?
2. How often should an athlete engage in mental training?
3. How many days before a competition, should an athlete mentally prepare?
Let's examine these questions one at a time…
When should an athlete start a mental training program?
Your athlete can start working on their mental game as soon they start training and competing in a sport. This may sound crazy but it's very logical.
Let me explain, your athlete learns physical and technical skills to gain a high level of proficiency, to make a habit of those skills. Mental skills also need development and repetition. Just as technical skills start at a basic level and are built to more advanced skills, the same is true for mental skills.
I've worked with athletes on the mental game as young as 8 years old. This is a good time to introduce the concepts of focus, confidence, and composure. However, we usually recommend that athletes don't start formal mental training when they are 12 years old.
How often should an athlete engage in mental training?
Your athlete can build upon their mental skills before, during or after every practice or competition. You can simply ask after practice, "What two things did you do well today in practice?"
This simple question will help your child focus on the positive and build confidence. After your child becomes older, you can seek the advice of a
Mental Game Coach to further build mental skills.
How many days before a competition, should an athlete mentally prepare?
Mental preparation is a big area and includes many mental skills for athletes. But it should not be complex for young athletes. Just helping them identify what confidence is and how they feel when confident is a good start.
During a mental coaching session with a young athlete, the athlete asked: "What is confidence?" This athlete's mom responded: "confidence is putting good thoughts into your mind about your game."
Parents and coaches want to start small and talk about how to focus when on the ice, how to forget mistakes, or how to not worry about what others think when they play hockey. These skills are universal and can be life lessons as well.
This is the reason we produced "10 Minute Pregame Prep" for young athletes and their parents. Athletes listen to a 10-minute audio prior to each game and learn an important mental game skills.
---
Learn Mental Game Lessons to Help Young Athletes With Their Pregame Prep!

Young athletes and their parents and coaches tell us that sports kids often struggle with these pregame mental game challenges:
They fail to take charge of their confidence before the compete
They don't trust in their skills when they go from practice to competition
They hang on to mistakes and dwell in them in competition
They worry too much about what others think about their performance
They feel pressure to excel from expectations they feel from others
They focus too much on the outcome instead of the process
They tighten up and play safe when they feel pressure to succeed
They interpret pregame jitters as harmful to their performance
"10 Minute Pregame Prep" will tell you everything you need to know about ensuring your sports kids avoid classic mental game pitfalls before a game, learn how to trust their instincts, and just go for it. It provides lots of advice for you, too…
With our program, you can stop wondering what to do and relax before your kids' games!
Learn more about "10-Minute Pregame Prep"….
Don't forget to get your FREE download (located in the middle of the page) of Lesson 1 from the Parent's Manual!
Sign up for our free report to receive weekly emails and tips:
"10 Tips to Improve Confidence And Success in Young Athletes"