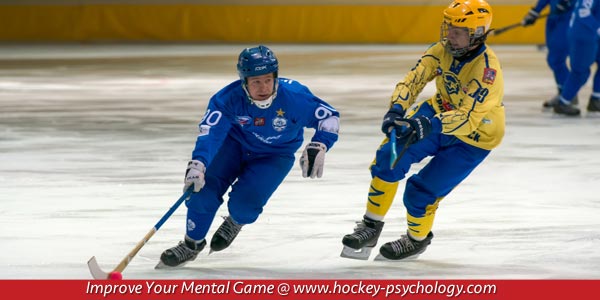 Focusing on Beating The Odds
How do you play when your team is facing elimination from a tournament?
Do you become preoccupied with the possibility of being eliminated or are you able to maintain a fighting spirit?
Have you played in a tournament when your team had "their backs against the wall" facing elimination?
Some hockey players ruminate about elimination, "What if we lose?" Or, "This team has crushed us all season."
The preoccupation and fear of losing make you anxious. You make more mistakes and let the game get away from you. The fear crushes you AGAIN!
It's not easy when you are facing difficult odds but it also not impossible.
You have a chance but only if you focus on playing to win.
This mentality will keep your head in the game and help you remain calm during critical moments of the game.
When you focus on playing to win, you keep attacking and fight for every loose puck.
Despite being defending Stanley Cup champions, the Chicago Blackhawks had their backs against the wall being down three games to one to the Los Angeles Kings as they headed into Game 5 of the Western Conference Finals.
The Kings were on a roll winning the last three games in the series.
The Blackhawks saw their 3-1 lead slip away as the Kings scored 3 consecutive goals to take the lead 4-3 heading into the third period.
The Blackhawks responded with an early goal in the third period to tie the game then scored the winning goal in double overtime.
Try these tips to maintain a "play to win" attitude:
1. View tough games as challenges.
Chicago coach Joel Quenneville instilled in his players to see challenges as opportunities: "Our guys, it's a testament to their competitiveness, their will to win and overcome a lot of hurdles and obstacles. Tonight was a great challenge…."
2. Focus on your game and find a way to win.
Chicago forward Patrick Kane revealed the team's approach to Game 5: "It seems like in a lot of games we find ways to win, whether we should or not."
3. Realize… If you are not eliminated, then you still have a chance.  Have confidence and forge ahead no matter what you face.
Chicago goaltender Corey Crawford stated he is confident in his team's ability to   overcome obstacles: "In a tight game like that, our team always has a chance. I always have confidence in our guys to score goals. Can't give up in a game like that. We're so resilient."
4. Manage your emotions before and during games.
Chicago forward Michal Handzus revealed the importance of playing poised: "It was a great game, obviously a lot of emotion… You know, we put everything on the line. Obviously it's a big win, but in the playoffs you got to stay even-keel."
 Improve your mental toughness with one-on-one mental coaching with Dr. Cohn.