Building Confidence With Mental Preparation
All athletes know confidence is the top prerequisite for optimal performance.
In fact, athletes usually attribute successful performances to confidence and point to a lack of confidence as the reason for under-performing.
Why does confidence seem elusive? Why do so many athletes struggle with confidence?
Let's take a look back at the beginnings of a fictitious youth hockey player (Dan D.):
Dan started at an early age and he quickly separated himself from his age group. Dan's coaches took notice of his stick handling skills and ability to put the puck in the net.
Dan took the ice with energy and confidence each game. As Dan moved up the ranks, he played with better players and was no longer head and shoulders above his peers.
Dan had to fight for playing time and would be a bundle of nerves in the locker room prior to games. Dan feared making a mistake that would cost his team the game and could never seem to get into the groove during games.
Dan often wondered what happened to the confidence he once had when he was younger but had no idea how to regain that belief in his ability to play the game he once loved.
So Dan continued his same practice routine which only led to the same anxious play game after game.
Where does confidence come from and how can an athlete work on improving confidence or having consistently high confidence?
With anything, success is the product of hard work and focus. To be successful at building confidence, you need to work at it… Plain and simple!
The reason why so many athletes struggle with confidence is that they never do anything to improve their confidence level. And they don't address the confidence killers that hold it back.
Confidence is like a garden… You have to tend to it daily in order for it to grow.
This daily focus on tending to confidence has turned Chad Johnson, Calgary Flames goalie, from former-career backup to one of the most reliable NHL goalies in 2016.
In a 15 game span, Johnson has a 0.928 save percentage and 2.11 goals against average… That is the benefit of confidence.
What specifically has Johnson done to build his confidence?
Johnson's confidence is a product of preparation and focubs.
Johnson prepares by practicing as if those training sessions were games but that is not all.
Johnson takes care of his mental game by consulting with a sport psychologist and doing mental training exercises when he is not at the rink.
Being fully prepared frees up Johnson's focus to be solely on playing rather than worrying about all the things that could go wrong during a game.
JOHNSON: "For me my confidence comes from the preparation part. Taking care of the things to be ready for the games, and not worrying about the rest."
Confidence is the most valuable weapon you can bring to a competition. What are you going to do to build your confidence? How will you up the ante in your preparation?
Don't leave your confidence to chance… Take responsibility for having high confidence at the start of the game.
Tips for Improving Your Confidence
Commit to preparing better. Go to practice with a plan. What can you do to improve your physical game THIS practice? What will you do to improve your mental game THIS practice?
Focus on your talents and abilities, not what's lacking in your game.
Be mindful of the confidence killers, such as doubt, high expectations, making comparisons to others, and several others that drain your confidence tank.
Click here to learn all of my secrets for ultimate self-confidence!
---
Learn 14 Days of Proven Self-Confidence Techniques!
If you're an athlete who struggles with self-doubt, loses confidence, or cant take "practice confidence" to competition, The Confident Athlete is for you!
The Confident Athlete CD and workbook program is 14 days of proven confidence-boosting techniques guaranteed to drastically build self-confidence and improve sports performance.
Learn more about one of our most popular CD programs in The Confident Athlete Series…
The Confident Athlete: A 14-Day Plan For Ultimate Self-Confidence
What are customers saying?
"I bought The Confident Athlete and I have to tell you it is one of the best investments I've ever made in sports (and I've made quite a lot!)" I am a top amateur racquetball player. I have multiple state and regional titles, and 2 national titles. Your approach and ideas have snapped me out of a slump that has lasted way too long. The sport is fun again and I am playing like my old self for the first time in a long time!"
~Mark Davis
"The books/CD's in 'The Confident Athlete' are very good. My swimmer has responded very favorably to them, in fact, her father purchased all three programs. You have done a great job consolidating and simplifying the myriad of ideas in sports psychology."
~Nick Baker, Peak Performance Swim Camp
---
Free Hockey Mental Game Report!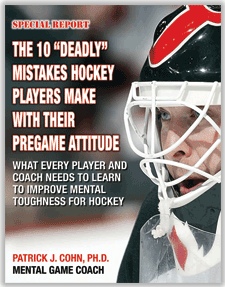 Download our free hockey report and discover "The 10 'Deadly' Mistakes Hockey Players Make With Their Pregame Attitude."
You'll learn:
–How your mind can be your best or worst asset on the ice.
–One strategy that can help you boost your pregame confidence.
–The top mental game skills you need to master to boost your confidence and performance in games and much more!
Discover if you are making one or more of these "costly" mental game mistakes before games:
The 10 "Deadly" Mistakes Hockey Players Make With Their Pregame Attitude
---

Add More Value To Your Mental Training Programs!
This workbook series was designed for coaches and mental coaches to use with their athletes. The Athlete's Mental Edge workbooks complement your existing mental training program. Each of the 15 workbooks in the Athlete's Mental Edge System teaches your athletes a specific mental skill to improve their performance.
Athlete's Mental Edge Workbook System
What are coaches saying?
"I am really pleased with the Athlete's Mental Edge workbooks – they are fitting in really well with my coaching! I find they offer a great framework for doing workshop sessions. I have also used the workbooks with a few individual athletes – for the younger ones (12 and under). They are giving a good structure and framework to our sessions. The workbooks have worked well with all of them!"
~Kerri Morgan, Mental Game Coach
"Congratulations on your Mental Edge workbooks. I have been through the package and it looks great! The MGCP program just got a lot better. Your workbook program makes it much more tangible and easier to use the mental strategies. This is the missing link in the MGCP program!"
~Bob Simpson, MGCP
---
Boost Your Self-Confidence And Focus With Expert Mental Game Coaching!
Master mental game coach Dr. Patrick Cohn can help you overcome your mental game issues with personal coaching.
You can work with Dr. Patrick Cohn himself in Orlando, Florida or via Skype, FaceTime, or telephone. Call us toll free at 888-742-7225 or contact us for more information about the different coaching programs we offer!
What are our students saying?
"Thanks again for teaching me how to do mental game coaching with my volleyball team. We are already seeing results for just our FIRST meeting! I really enjoyed out work together in Orlando!"
~Kurt Trout, Iowa Rockets Volleyball Coach
"Your mental coaching has helped me be mentally prepared ready to go racing. To be a MX champion, your body and mind have to work together on the track. Dr Cohn helped me get on the podium even under tough circumstances and strengthen my mental game side of racing. I am ready to win this championship now."
~Max Anstie, Pro MX racer