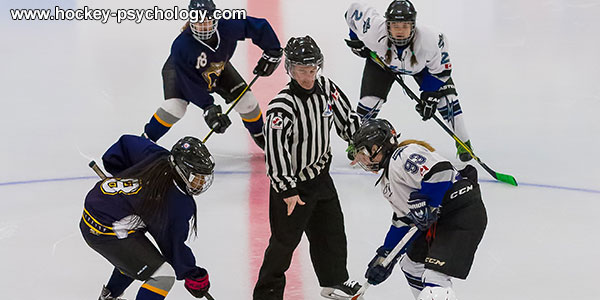 Keep Working Towards Your Goals
What are the reasons you play hockey? Each hockey player has specific reasons or motivations to play hockey.
Here are just a few motivations:
"I like winning."
"I love the excitement of playing competitive games."
"I love the playoff chase."
"I love the challenges."
"I love being a part of a team and working towards goals."
"I like to improve and master new skills."
To sum up, hockey players love competing. Hockey players love trying to achieve team and personal goals. When you work towards a goal, you benefit in a number of ways:
When you set goals, you maintain a level of motivation that keeps you grinding through all the ups and downs during long, arduous seasons.
When you set goals, you focus your energy toward a desired end. Goals provide you a 'why' that explains the purpose behind all your efforts.
When you set goals, every step forward builds your confidence. Every little accomplishment generates positive emotions that keep you on track and moving forward.
When you set a team goal, you become a part of something that is bigger than yourself.
Goals help you make sense of putting in the hours of hard work and give you a sense of purpose.
Unfortunately, the coronavirus has caused your season to come to a screeching halt. The lockdown has put your goals on hold for a period of time.
With your hockey season shortened or even cancelled, the positive feelings associated with being part of a team and setting personal goals can leaving you feeling empty and without a purpose.
Since the coronavirus has isolated you from the ice rink, you can no longer hit the ice, race your teammates in sprint drills. You can't compete against your teammates during scrimmages. You can't compete against long-time rivals or fight to win the first-place team trophy in a tournament. While stuck at home, it is more difficult to keep your eye focused on an objective that may not happen this season.
How can you maintain focus and purpose, build confidence, foster positive emotions, and develop a sense of accomplishment that is associated with goal setting?
One answer is to set other competitive goals outside of hockey.
For example, NHL goalie Philipp Grubauer of the Colorado Avalanche has been satisfying his need for competing by engaging in other activities.
GRUBAUER: "Before the lockdown came, I picked up some weights out of the gym and built up something in my garage. I bought a racing bike, and I am cycling about 100 miles per day, as well as doing a workout with weights."
These goals set by Grubauer give him similar benefits and feeling that are associated with having a clear and challenging competitive objective.
You can generate these same benefits by identifying personal competitive goals while being isolated at home and waiting for competitive hockey to resume.
Here are some suggestions for competitive goals:
Challenge teammates to a sit-up competition.
Invite friends to FitBit challenges.
Bike 10 miles, record your time and break your personal best.
Jump rope every day and record how long you can jump.
Go on distance runs and create distance challenges.
Lift weights and try to hit pre-determined benchmarks.
Ride an exercise bike and keep increasing tension for 30 minutes or run on a treadmill and increase incline.
It's not just about staying active at home but setting a goal and being competitive while at home.
Maintaining Your Edge During Shutdown
Enlist a few of your teammates to compete with virtually. Each day, a different teammate comes up with a new challenge or drill.
To make it more interesting, build in rewards for the winner of each challenge or competition. Every athletes loves to compete. Now is the time to compete virtually.
---
Boost Your Confidence in Hockey!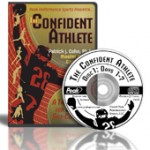 If you're an athlete who struggles with self-doubt, loses confidence, or cant take "practice confidence" to competition, The Confident Athlete is for you!
Self-confidence is what separates champion athletes from the rest of the competitors…
You can tap into my knowledge and experience to learn how to bring ultimate confidence to competition!
The Confident Athlete CD and workbook program consists of 2 audio CD's that include 14 days of confidence fueling exercises and a simple to follow workbook that guides you through the 14 days, helps you apply the strategies and customizes the exercises to your personal needs.
Remember, confidence is a choice you make. You have to make a conscious effort to proactively seek confidence building thoughts and behaviors. Confident Athletes are proactive when it comes to confidence!
Learn more about one of our most popular CD programs in The Confident Athlete Series…
The Confident Athlete: A 14-Day Plan For Ultimate Self-Confidence
Take control of your mindset and performance today!
What are mental game customers saying about our confidence boosting program?
"My son finished the entire Confident Athlete Program. The CD Program helped TREMENDOUSLY. He used it to keep positive thoughts flowing. He was able to focus on his fight instead of on his negative thoughts. He fought at his very best. We are thankful to God for leading us to your web site. The CONFIDENT ATHLETE was perfect."
~Wanda, Sports Parent
"I enjoyed 'The Confident Athlete' very much. I particularly liked the format, the ease of the program, and the 2 CDs that accompanied the workbook – 10-20 minutes a day was simple to adhere to and put in my busy schedule. I love the part about confidence with grace, and what I want to portray and feel the minute I step foot into Los Angeles for nationals. I love the affirmations, the relaxation techniques, and just the entire perspective of the program."
~Sarah, US National Aerobic Gymnastics Team
"I first purchased The Confident Athlete to see how the program went and immediately saw results. I then purchased the rest of the confident athlete series and have noticed a dramatic improvement in my level of play or should I say consistency. I currently play NCAA Division 1 baseball for Lamar University, and even my coaches have noticed a change in the way that I approach the game. My attitude and confidence at the plate."
~Tylor Prudhomme
(Listen to his success story)