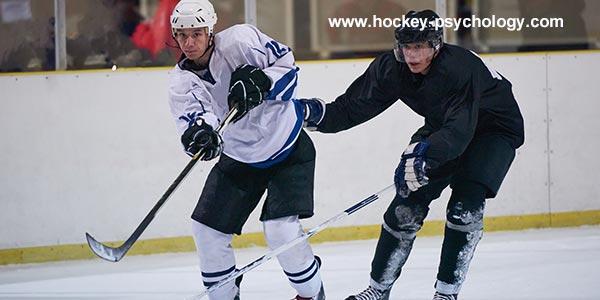 Hutchinson's Consistency Leads Him Back to NHL
The hallmarks of success are peak performance and consistency.
While any hockey player can have a great game once in a while, it's performing at your peak on a consistent basis that most hockey players struggle with achieving.
Being consistent is a hot topic from hockey players that have responded to our Mental Game of Hockey Survey. One high school hockey player asked for help with being consistent throughout the season:
"How do I be more consistent in games? I seem to be all over the place, not just from game to game but also shift to shift. It is frustrating because I know I have the ability but I just can't piece games together."
One frustrating component to inconsistency is that you never know which athlete is going to show up.
Some games you feel excited, confident and ready to go. You hit the ice and have a great game.
Other days, you feel unsure or tired. Pregame warm up feels uneasy and anxious. When the game begins, you start off strong but one bad pass sends you spiraling downward.
The issue with consistency is how you define consistency. If you define consistency in unrealistic terms then consistency will feel elusive.
Some misconceptions about consistency include:
Consistency means perfection. "I can't make any turnovers."
Consistency means playing being on top of your game every game. "I must have my 'A' game, every game."
Consistency means matching your statistic every game. "I need two assists every game."
Too many circumstances are beyond your control to achieve certain outcomes or standards every game. Unlucky bounces, the play from the opposing team, the lineup and how your team plays as a unit all have an impact upon the game.
Trying to control the uncontrollable builds anxiety and further knocks you off your game.
Outcomes are not the best judge of performance all the time. The true measure of consistency is how you played in terms of effort and focus.
You achieve consistency in effort and focus by being consistent in your approach and preparation for each game.
For example, Toronto Maple Leaf goaltender Michael Hutchinson has battled consistency problems. Hutchinson started the 2019-20 season on Toronto's NHL roster, was waived early in the season, cleared waivers the next day, was loaned to the AHL Toronto Marlies and is back with the Leafs as the team makes a push for the playoffs.
Hutchinson has been trying to find the consistency necessary to thrive in the NHL. Hutchinson turned to the mental side of the sport and maintains the same mental approach to each game to achieve consistency in his game.
HUTCHINSON: "Being relaxed and clear-headed and just kind of letting the game come to me is the biggest thing. Approach it the way I have the last few games and hopefully everything works out."
To achieve consistency, you need to redefine consistency in realistic, personal terms. Once you define consistency, you can identify effective strategies to mentally approach and prepare for competition.
Building Consistency
Define consistency in terms that make sense for you personally. What would consistency look like for you? How will you objectively evaluate your performance according to your definition of consistency?
We know that consistent mental and physical preparation leads to consistent performance. How will you prepare consistently?
Consistency starts well before game-time. You have to prepare your body and mind using your pregame warm up…
Think about the level of intensity that you need to perform well. Do you need to feel pumped up or do you need to relax? You control this.
What about your level of confidence? Do you play your best when you go into each game with confidence? You can control your confidence too. You want to enter each game with focus, confidence, trust, and composure.
---
Boost Your Self-Confidence And Focus With Expert Mental Game Coaching!
If you're a top performer during practice but find yourself under-performing in competition, the most likely culprit holding you back is your mental game.
Master mental game coach Dr. Patrick Cohn can help you overcome your mental game issues with one-on-one personal mental game coaching.
You can work with Dr. Patrick Cohn himself in Orlando, Florida or via Skype, FaceTime, or telephone. Call us toll free at 888-742-7225 or contact us for more information about the different coaching programs we offer!
What are our mental game coaching students, parents and coaches saying?
"The resources that you have available on your website have been wonderful. A sound mental game may be more important then the actual physical part of the sport. Yes you have to have the talent, but the mental game is what sets apart a very good athlete compared to an elite athlete. Thanks again." ~Darren Hughesman
"Peaksports.com web site is so exciting. I researched them all and without a doubt your mental training site is the best! The vast amount of programs you provide helps athletes and coaches achieve higher levels of excellence in sports." ~Doug Bolander, Hockey Coach
"Great stuff on the hockey psychology report! Thank you very much for sharing. We are going to go through the report tonight at practice. Keep up the awesome work." ~Sean Woodhouse (Coach Woody)
"I coach 2002's at a AA level. I'm convinced that half of them are held back more by their minds than their bodies, maybe more than half. I like your 10 costly mistakes players make. The language is targeted at older kids, but the ideas are simple enough to convey to younger players. I'll be using some of this for our game this afternoon!" ~Steve Taylor, Hockey Coach