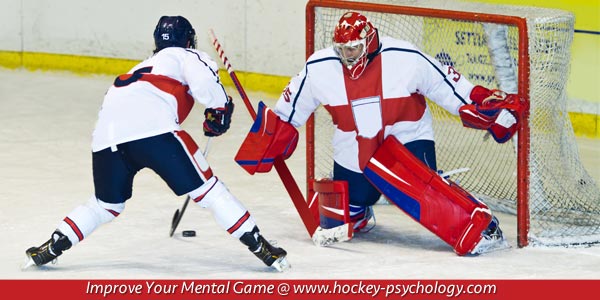 How to Develop High Confidence in Hockey
Confidence is a crucial element in peak performance.
Confidence is the foundation in which all other mental skills build upon.
For example, if you are not confident, you will not remain poised during critical moments of competitions…
If you are not confident, you are prone to other mental game problems including frustration about mistakes and playing too cautiously.
All athletes understand the importance of high confidence. So why do so many athletes struggle with confidence problems?
Most often, athletes know they need high confidence, but have no clue how to get it.
If you were to learn and implement a few confidence-building strategies, you could vastly improve your performance and consistency.
Let's start your confidence journey by seeing how professional athletes go about forging their confidence.
Chad Johnson is a goalie for the Buffalo Sabres whose confidence has soared recently.
Johnson has taken over goal tending duties after Robin Lehner, the preseason anointed starter, was injured in the first game of the season.
Johnson has played in 24 games during the 2015-16 season with a 2.41 Goals Against Average, .917 Save Percentage and one shutout.
Johnson's confidence stems from his focus on himself. Johnson is focused on competing from his strengths and controlling the variables he can control.
Johnson stated that the key to his confidence is preparation and playing to his strengths. Johnson studies the tendencies of his opponents but, other than that, he focuses on his game.
JOHNSON: "For me, it's the same way. For my own sake, I can't really change my game with different teams. I just try to prepare the same way with what I want to do, how I want to go into a game and where I want to be in certain positions. With any team, you watch power play, penalty kill and end zone stuff so I'm more prepared for different teams in that sense with what to expect with their game plan. But other than that, my game stays the same."
When asked if he was concerned about the return of former starter Robin Lehner, Johnson commented that his ultimate competition is with himself as he looks to improve each day.
JOHNSON: "For me and my mindset, from day one I've always just tried to worry about myself. Competing with other people is good but you don't always get the most out of yourself… [sometimes] you're trying to do too much. Regardless of who is here, I just try to challenge myself and work on my game."
You want to focus on competing for yourself and not others. Too often I see athletes who worry too much about teammates and coaches think.
Create a Strength Portfolio – Your strength portfolio is a list of your assets as an athlete.
Make three lists: one of your strengths as an athlete, one of your athletic achievements and one of the athletic characteristics that you admire about yourself. Try to think of at least five things in each category. Prior to every practice and game, mentally review your list.
As with any portfolio, it is important to invest in, or focus on, the right things to further grow those assets.
Want to learn more about how to have supreme confidence? Check out "The Confident Athlete" CD and workbook program…
---
Improve Hockey Confidence in Games
Our "Confident Athlete" CD and Workbook Program is 14 Days of Proven Confidence Boosting Techniques Guaranteed To Drastically Build Self-Confidence, Improve Sports Performance, and Stop Your Self-Doubt Forever!
---
Free Hockey Mental Game Repor
t!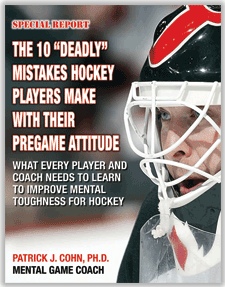 Download our free hockey report and discover "The 10 'Deadly' Mistakes Hockey Players Make With Their Pregame Attitude."
You'll learn:
–How your mind can be your best or worst asset on the ice.
–One strategy that can help you boost your pregame confidence.
–The top mental game skills you need to master to boost your confidence and performance in games and much more!
Discover if you are making one or more of these "costly" mental game mistakes before games:
The 10 "Deadly" Mistakes Hockey Players Make With Their Pregame Attitude