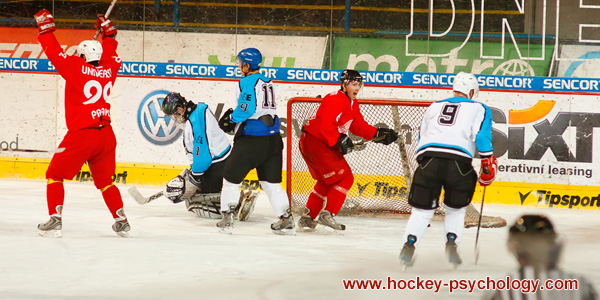 To Score More, Stop Focusing on Points

How do you increase your point production?
The answer may sound counter-intuitive, but you increase your points by not focusing on your points during the game.
Yes, that's right…
When you focus too much on your stats or points, you get both distracted and put pressure upon yourself. This can lead to pressing on the ice.
Pressing occurs when you focus on outcomes, such as scoring goals, rather than just performing one play at a time.
When a player presses, they try to do too much on the ice.
Instead of making the extra pass, a player that presses will try to take on every defender, split the defense or blast a shot from the blue line instead of waiting for the offense to set up.
So back to the question… How to you increase your production?
To increase your production, you must focus one play at a time and executing your role. Production isn't always measured in goals and assists.
Focusing on your overall game is matter of doing the little things to help your team.
Fore checking, making the extra pass, fighting for loose pucks, being in position, getting back on defense, pushing the pace and playing aggressively help contribute to your team's success and, those little things have the added benefit of taking the pressure off from your "need to score."
Less pressure to score helps you see the ice better and play more freely, ultimately leading to better opportunities on the ice.
Helping his team is the goal of Adam Gaudette, center for the Vancouver Canucks.
Last year, Gaudette won the Hobey Baker Trophy awarded to the top National Collegiate Athletic Association men's ice hockey player.
Gaudette played for Northwestern University and led the NCAA last season with 30 goals and 60 points in 38 games.
Gaudette, who was playing for the AHL Utica Comets, was recalled by the Canucks early this season but insists he is not overly-focused on scoring.
GAUDETTE: "I think everybody wants to be the guy to score and get points and be on the top line, but not everybody's going to be like that. That's something I understood right away. I knew it was going to be a lot different for me coming from the NCAA to the NHL."
Instead, Gaudette works hard on the ice and does the little things right.
Gaudette admits it is a little frustrating not to have scored yet at the NHL level but is confident things will turn around if he continues to play his game.
GAUDETTE:"You know, I'm not worried about the scoring right now. Once I get one, hopefully it will start rolling. Every game, every shift, I just feel more and more like I belong out there. I feel more comfortable and feel like I'm doing the right things. Obviously, it's a little frustrating that the puck's not going in the net for me, but I'm getting my chances, so I'm not worried."
The question to ask yourself is… "How can I be more productive on the ice?"
If you stay focused on doing the little things and being patient, you will see more opportunities on the ice.
Boost Production on the Ice
Your coach has probably told you 1-2 things you need to do during games; keep your head up, stay in motion, win the puck, make the extra pass, etc.
Don't obsess about your stats during the game. Focus on doing the little things–one possession at a time–to produce more scoring chances.
Doing the little things will help you stay in the flow of the game and open you up to opportunities during the game.