How to Gain Confidence in Hockey
"If only I had more confidence, then…"
Have you ever muttered these words?
This common sentiment is echoed by many hockey players from youth players to the pros.
Consider the experience by goaltender Gary G:
Gary is a decent player who starts for his youth club team. Gary's confidence is like riding a roller coaster, one day his confidence is high, while other times, his confidence seems to have disappeared.
Gary's bad games are really bad! In the locker prior to the first period, Gary feels pretty good and ready to go.
Midway through the first period, Gary lets in a goal on a shot he normally would save and his inner critic starts up hurling insults within his own head, "What the heck. I can't believe I let in that goal. I always give up the easy goals. I'm the worst goalie."
By now, Gary's negative self-talk has totally eroded his confidence and his play on the ice reflects his beaten down confidence as he gives up three more goals in the first period and is benched for the second period."
When your inner critic takes over, it becomes impossible to move forward after a bad play and focus on the task at hand. Your negative critic is no different than the coach that berates his players after every mistake making you feel worthless.
Head coach Clark Donatelli of the AHL Wilkes-Barre/Scranton understands how to foster confidence in his hockey players and the team's confident play has produced consistent positive results. WBC are ranked first overall in the American Hockey League standings with a record of 22-7-3.
Donatelli's formula for confidence is simple:
Praise his players for the things they do right, don't beat the dead horse when mistakes occur and be patient when things are not going right.
DONATELLI: "All the players down here, they know when they go up they have to do it 97 percent right all the time. To get to that number is a process that these kids go through down here and it can be frustrating at times."
"But you've got to just keep sticking with it and keep instilling confidence in these guys and when they do it right, praise them. You can't just be harping on them when they're doing it wrong."
"You've got to capture those moments when things are going good and you have to let them know that you see the details and the habits."
Imagine if you followed the same recipe. Imagine how much your confidence would grow if you replaced the inner critic with your own inner positive coach…
And finally, envision how much better you would play if your confidence level was higher.
Confidence is under your control so stop reveling in the negative and start rewarding yourself for all the things you do well.
Top Confidence Strategy For Any Hockey Player
After each period or each practice, point out three successes. For example, you made a great save, threaded the needle on a pass, made a goal saving poke check, stayed positive after your pass was intercepted, etc.
Be aware when you start to engage in negative self-talk, stop and remind yourself to be your own best coach.
---
Learn 14 Days of Proven Self-Confidence Techniques!
If you're an athlete who struggles with self-doubt, loses confidence, or cant take "practice confidence" to competition, The Confident Athlete is for you!
The Confident Athlete CD and workbook program is 14 days of proven confidence-boosting techniques guaranteed to drastically build self-confidence and improve sports performance.
Learn more about one of our most popular CD programs in The Confident Athlete Series…
The Confident Athlete: A 14-Day Plan For Ultimate Self-Confidence
What are customers saying?
"I first purchased The Confident Athlete to see how the program went and immediately saw results. I then purchased the rest of the confident athlete series and have noticed a dramatic improvement in my level of play or should I say consistency. I currently play NCAA Division 1 baseball for Lamar University, and even my coaches have noticed a change in the way that I approach the game. My attitude and confidence at the plate."
~Tylor Prudhomme
"We love 'The Confident Athlete.' My 10-year-old daughter is an equitation rider and show jumper. We started your program as soon as we received it and got to lesson 6 just before a major competition. Natalie came 4th in the children's open equitation and 3rd in the children's show jumping champs. An amazing achievement on which many people commented… As a parent, it has been great for me as I now am more capable of assisting her in her mental preparation. Thanks so much!"
~Beth MacLarty, Sports Parent
---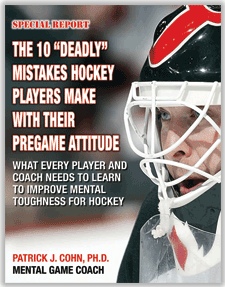 Free Hockey Mental Game Report!
Download our free hockey report and discover "The 10 'Deadly' Mistakes Hockey Players Make With Their Pregame Attitude."
You'll learn:
How your mind can be your best or worst asset on the ice.
One strategy that can help you boost your pregame confidence.
The top mental game skills you need to master to boost your confidence and performance in games and much more!
Discover if you are making one or more of these "costly" mental game mistakes before games:
The 10 "Deadly" Mistakes Hockey Players Make With Their Pregame Attitude
---

Add More Value To Your Mental Training Programs!
This workbook series was designed for coaches and mental coaches to use with their athletes. The Athlete's Mental Edge workbooks complement your existing mental training program. Each of the 15 workbooks in the Athlete's Mental Edge System teaches your athletes a specific mental skill to improve their performance.
Athlete's Mental Edge Workbook System
What are coaches saying?
"I am really pleased with the Athlete's Mental Edge workbooks – they are fitting in really well with my coaching! I find they offer a great framework for doing workshop sessions. I have also used the workbooks with a few individual athletes – for the younger ones (12 and under). They are giving a good structure and framework to our sessions. The workbooks have worked well with all of them!"
~Kerri Morgan, Mental Game Coach
"I am impressed with the willingness and openness of Dr. Cohn to share all of his assets (intellectual, products, etc.) with the MGCP students. You have developed an incredible model/package for mental training. Even though we are paying for your service, you are passing on a legacy built on your contribution to the world of sports. Thank you for that."
~Tony Melito, MGCP
---
Boost Your Self-Confidence And Focus With Expert Mental Game Coaching!
Master mental game coach Dr. Patrick Cohn can help you overcome your mental game issues with personal coaching.
You can work with Dr. Patrick Cohn himself in Orlando, Florida or via Skype, FaceTime, or telephone. Call us toll free at 888-742-7225 or contact us for more information about the different coaching programs we offer!
What are our mental coaching students saying?
"Peaksports.com website is so exciting. I researched them all and without a doubt your mental training site is the best! The vast amount of programs you provide helps athletes and coaches achieve higher levels of excellence in sports."
~Doug Bolander, Hockey Coach
"I just wanted to let you know that my son skated this weekend at our Regional Competition.  He worked his mental game and everything you taught him.  He skated two wonderful programs, scored a personal best and ended up with the title of Pacific Northwest Regional Champion at the Intermediate level.  Thank you for your wonderful training.  He had the right focus and had so much fun at this competition.  The title is sweet icing on the cake."
~Pomaika'i, Sports Parent