The Negative Mindset of Trying to Do Too Much
Struggling hockey players often try a common and counter-productive method to get back on track. The common response is to try to do too much.
How can you do TOO MUCH you ask?
Instead of trusting your ability to perform, you attempt to force play or try to make something happen rather than anticipating the action on the ice to make the correct play.
This is a negative mentality that places increasingly higher levels of stress on you to make perfect plays.
With so much pressure on you to perform, your body initiates a stress response causing your muscles to tighten, respiration to increase and focus to become too narrow. These physiological changes interfere with your ability to perform relaxed, fluid motions.
In other words, you cannot play your best when stress levels are too high.
When you try to do too much, you often fail to execute the routine plays that you regularly make and you become mistake-ridden especially during critical points in the game.
If you think back to a game where you made an unusual amount of mistakes, you most likely will see stress as the culprit brought on by a negative mindset.
Arizona Coyotes goalie Mike Smith learned the harsh reality of trying to do too much.
Smith has been a steady goaltender but his play fell off last year as he struggled during stretches and battled injury. Smith suffered a core muscle injury that required surgery and caused him to miss a significant amount of time… And there is no denying that there is a mental stress component to injury.
SMITH: "It's hard because I'm a competitive guy. I've had the mentality where I try to do maybe more than I'm capable of the last couple of years. I just want to be back in the playoffs so badly that you're trying to do everything you can to do that."
Now that a new season is here, Smith decided a new mindset was in order.
SMITH: "I've thought a lot about it this summer, just being myself and not trying to put too much extra pressure on myself."
Smith's new mindset is entrenched in keeping things simple, staying relaxed and playing within his capability.
SMITH: "I'm just going to try and be a calming influence back there this year."
A relaxed mind equals a relaxed body.
When you play relaxed, your body is primed for optimal play.
When you are relaxed, you can play at your peak for longer periods of time… You are able to switch your focus when necessary… And have a clear, uncluttered mind for better decision making.
As you already know, being primed for optimal performance is in your control if you take conscious control of your mindset.
Tips for priming your mind for peak performance:
First, you need to know your strengths and weaknesses. You will always perform better when you focus on your strengths.
Players who try to do too much tend to focus outside of their strengths… That is when mistakes happen.
If you create a strength-based game strategy, you are more likely to perform at your peak at crucial moments in the game.
Click here to learn all of my secrets for mental preparation!
---

Improve Pregame Mental Preparation!
Do you become too tight to perform your best because you worry about embarrassing yourself or making mistakes in the game?
Do you have trouble sleeping the night before competition, cant eat before you compete, or are so anxious and tense stepping onto the field, court, course, or track that you are already tired or spent before competition starts?
Check out The Relaxed Athlete!
The Relaxed Athlete CD and workbook program is a 14-day plan for optimal mental preparation. This program is ideal for any athlete that wants to overcome pregame anxiety, worry, or excess tension and learn to perform with poise.
Learn more about one of our most popular CD programs in The Confident Athlete Series…
The Relaxed Athlete: A 14-Day Plan For Optimal Mental Preparation
What are customers saying?
"Patrick, with your great instruction on the mental game, I had the best nationals I have ever had. And even more important, I got through the five days relaxed and had fun – a new concept in my life! The bottom line – I got five firsts and one second! Thank you!  You are just what I needed."
~Dennis O'Brien, Swimmer
---

Add More Value To Your Mental Training Programs!
This workbook series was designed for coaches and mental coaches to use with their athletes.
The Athlete's Mental Edge workbooks complement your existing mental training program. Each of the 15 workbooks in the Athlete's Mental Edge System teaches your athletes a specific mental skill to improve their performance.
For mental coaches, this system is ideal for between session education.
For sports coaches, you'll be able to conduct 15 team seminars using the workbook system.
In the Athlete's Mental Edge workbook system, you receive 15 easy-to-read, practical Mental Edge Workbooks on PDF, as well as 16 coaches' game plan MP3 audio files.
Athlete's Mental Edge Workbook System
What are coaches saying?
"I am impressed with the willingness and openness of Dr. Cohn to share all of his assets (intellectual, products, etc.) with the MGCP students. You have developed an incredible model/package for mental training. Even though we are paying for your service, you are passing on a legacy built on your contribution to the world of sports. Thank you for that."
~Tony Melito, MGCP
---
Boost Your Self-Confidence And Focus With Expert Mental Game Coaching!
Master mental game coach Dr. Patrick Cohn can help you overcome your mental game issues with personal coaching.
You can work with Dr. Patrick Cohn himself in Orlando, Florida or via Skype, FaceTime, or telephone. Call us toll free at 888-742-7225 or contact us for more information about the different coaching programs we offer!
What are our students saying?
"Dr. Cohn, we had a great season. We finished second in the State Tournament. We scored 163 points, which is 11 more than we scored the year we won the state tournament. We had three individual state champs. We really improved our mental preparation in the post season. The kids bought in and really worked at it. We will definitely need you again next year. Hopefully, you can help us reach our goals next year."
~Coach Jim Bird, Head Coach Osceola High School
---
Free Hockey Mental Game Repor
t!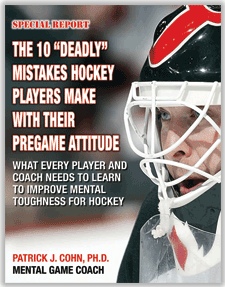 Download our free hockey report and discover "The 10 'Deadly' Mistakes Hockey Players Make With Their Pregame Attitude."
You'll learn:
–How your mind can be your best or worst asset on the ice.
–One strategy that can help you boost your pregame confidence.
–The top mental game skills you need to master to boost your confidence and performance in games and much more!
Discover if you are making one or more of these "costly" mental game mistakes before games:
The 10 "Deadly" Mistakes Hockey Players Make With Their Pregame Attitude