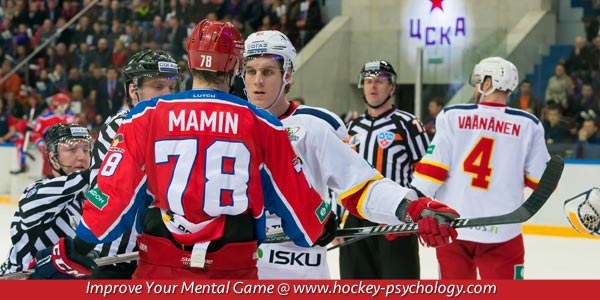 Managing Your Emotions With Mental Toughness
How do you respond during a hockey game when the puck is not bouncing your way?
When you do not have your "A" game, can you still find a way to win?
It requires mental toughness to manage your emotions when things are not going your way.
I'm sure you can think of times when the puck took an unexpected bounce off the boards or the official made a bad call or your team was just not playing its best hockey…
You may feel upset or frustrated and not play with the same gusto as you normally do…
By not continuing to grind it out, you give the opposing team a huge advantage and, quite possibly, the game.
Mentally tough teams keep playing their same style of play and seek to capitalize on their opportunities.
A mentally tough team can make some mistakes or be "off their game" but still press forward and find a way to win.
In Game 1 of the 2014 Stanley Cup finals, the LA Kings were down 2-0 to the NY Rangers as the first period neared the end…
But the Kings kept battling and scored before the period ended…
Despite losing his cool after an errant pass lead to a Ranger goal, Kings defenseman Drew Doughty pushed forward and scored to tie the game 2-2 in the second period.
DOUGHTY: "When I get angry I kind of turn it on. I try to throw my emotions in the right way. Yeah, it's a bad turnover. I wasn't happy with myself. I didn't want to try to do too much to make up for it. I had to be a better player than I was on that play."
The Kings out shot the Rangers 20-3 in the third period but were unable to score and the game headed into overtime.
The Kings were not playing their best hockey but kept battling, looking for opportunities and kept themselves in the game.
The result was a goal by Justin Williams, right winger for the Kings, four minutes into overtime for the victory.
Williams said the Kings pressed forward knowing they have overcome similar situations during the season.
WILLIAMS: "It certainly helps that we've done it time and time again. It's a great result of the hockey game for us… Certainly [this was] not our best game by any standards, especially ours. But we were able to get it done. That's the most important thing."
Kings center Mike Richards credited the Kings mental toughness for the team's victory.
RICHARDS: "We found a way to win… Even though we got the win, it's not the poster way to win hockey games in the playoffs. Give us credit, we found a way to win."
Try these tips when you don't have your "A" game:
Win ugly if you have to. You can still win even though you are not playing pretty hockey. Try to recall instances in the past when you found a way to win.
Look for your opportunities during the game to swing the momentum in your favor. Avoid dwelling on how poorly you or teammates are playing. Play hard for 60 minutes and keep the faith.
Improve your mental toughness with one-on-one mental coaching with Dr. Cohn.