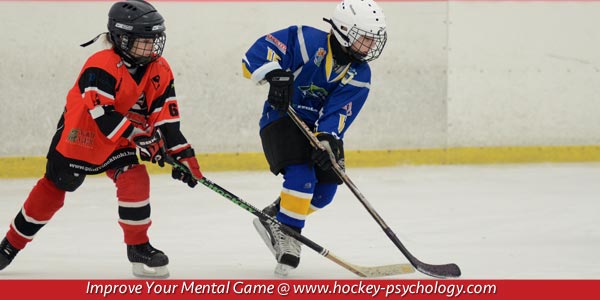 Overcoming Intimidation in Hockey
Intimidation is a common mental barrier for hockey players. When you intimidate yourself (also called self-intimidation), you make comparisons to your opponents or teammates. You make negative comparisons or think about how you're not as good, fast or strong as your teammates or competitors. This can make you feel inferior and cause you to psych yourself out.
Some young hockey players psych themselves out being younger players on the team. A hockey parent said:
"Being always the younger hockey player on his team (probably will always be), he gets easily intimidated by the skills and comments from the older players even if he is as good as them."
Self-intimidation is one of the most difficult mental game challenges to overcome. You can ignore what others say, but it's not easy to escape your own thoughts or doubts!
How do you know if you're intimidating yourself?
Below are a few signs you might intimidate yourself.
You focus on others thinking about their weight, size, brawn and confidence.
You have doubts about playing well when you think your competitors or teammates are better than you.
You are in awe of the situation or hoopla of the competitive environment.
You feel inferior to the competition or teammates and make comparisons.
You're afraid of embarrassing yourself by making mistakes.
You feel that you don't belong at the game or with a certain team.
How can you overcome intimidation?
One option to overcome self-intimidation is to focus on your own game. If you're intimidated, you likely focus too much on competitors. If you're thinking too much about your competitors, focus on your own pregame warm-up routine. Think about your own strategy and preparing mentally for the upcoming game.
If you make comparisons to your teammates, instead focus on your own strengths. Think about what makes you feel confident. You might remind yourself of your work ethic, ability to perform well under pressure or the best aspects of your game.
Your hockey psychology tip is to stop making comparisons. Focus on your own preparation before the game and remind yourself of the strengths in your game.