In "Sessions with Doc," Dr. Patrick Cohn answers your sports psychology and mental training questions about How To Help Athletes Overcome Self-Doubt. Visit Peaksports.com and click on contact us to submit your question for Dr. Cohn to answer in his mental game videocast or podcast.
Do you struggle with self-doubt before you go into competition?
In this video I'm going to teach you how to deal with self-doubt so it doesn't eat away at your confidence. The information you're going to learn in this video is a preview of my very popular program, "The Confident Athlete" CD and workbook program.
Here's the question Dr. Patrick Cohn answers this week:
How can you help your athletes overcome self-doubt?
Watch the video below to hear what Dr. Cohn has to say about How To Help Athletes Overcome Self-Doubt. Don't forget to subscribe to our YouTube channel to be updated on all our latest videos!

Subscribe
to the Peaksports YouTube channel now to receive updates on our new content!
---
Free Hockey Mental Game Repor
t!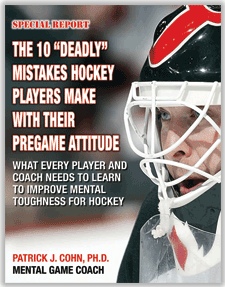 Download our free hockey report and discover "The 10 'Deadly' Mistakes Hockey Players Make With Their Pregame Attitude."
You'll learn:
–How your mind can be your best or worst asset on the ice.
–One strategy that can help you boost your pregame confidence.
–The top mental game skills you need to master to boost your confidence and performance in games and much more!
Discover if you are making one or more of these "costly" mental game mistakes before games:
The 10 "Deadly" Mistakes Hockey Players Make With Their Pregame Attitude