What to do When You're in a Scoring Slump
Sometimes, scoring a goal in hockey seems impossible…
Every period that you are shutout seems to ingrain your scoring drought further in your mind.
It can really mess with a player's head…
Soon, you are so desperate to score a goal that you force play or hurry shots rather than being patient and working for scoring opportunities.
For example, when your team is going through a scoring slump, you might feel so much pressure to score a goal that you try to do too much or force shots.
Instead of settling into the zone, many players might try to crank out a shot or make a fancy pass to a teammate who isn't in position to really do anything with it.
Sometimes, you need the patience to walk the puck in or pass it back to the blue line.
Take, for example, the recent lack of scoring by the Colorado Avalanche…
Over a five-game losing streak in early March, the Avalanche were only able to muster up three goals and were outscored by a total of 18-3.
If you can't score, you can't win and it usually takes three or more goals a game to get a win in the NHL.
Avalanche defenseman Tyson Barrie admitted the team was frustrated due to their lack of production.
BARRIE: "Obviously we were having some difficulties, two goals in four games and we were getting frustrated. It didn't seem like we were ever going to score."
Focusing on a scoring slump can be overwhelming and keeps your mind in the past. The only effective method for scoring is to focus one shift or one play at a time.
Letting go of your scoring slump and focusing on task helps you be patient and see the opportunities in front of you.
Avalanche head coach Jared Bednar reminded the team in a meeting that scoring requires "taking care of the little things and focusing on a shift-by-shift basis."
What is a scoring mindset?
The scoring mindset has several characteristics:
It requires that you focus forward looking for opportunities.
It requires patience instead of trying to score every time you pass the blue line.
It requires persistence getting the puck towards the net where rebounds and tips increase your chances to score.
It requires you to leave missed scoring attempts in the past.
Of course, when you can't seem to even buy a goal, your focus may be to end the slump but that only serves to keep your mind in that slump.
To end scoring droughts, you need to look for opportunities (a positive focus) rather than looking to end the slump (a focus on the problem itself).
Tips For Breaking Out of a Scoring Funk:
Think about the difference in mindset when you are in the offensive end on the ice and when you are in a pregame shoot-around.
In a shoot-around, your mind is focused on just shooting (the present) and in game situations you are over-focused on scoring (the future).
If you immerse yourself in the present and play by feel, you let your natural ability take over.
If you keep knocking at the door, eventually a shot will find the back of the net.
Learn all my secrets for proactive confidence with The Confident Athlete CD program.
---
Learn 14 Days of Proven Self-Confidence Techniques!
If you're an athlete who struggles with self-doubt, loses confidence, or cant take "practice confidence" to competition, The Confident Athlete is for you!
The Confident Athlete CD and workbook program is 14 days of proven confidence-boosting techniques guaranteed to drastically build self-confidence and improve sports performance.
Learn more about one of our most popular CD programs in The Confident Athlete Series…
The Confident Athlete: A 14-Day Plan For Ultimate Self-Confidence
What are customers saying about our mental game program?
"We love 'The Confident Athlete.' My 10-year-old daughter is an equitation rider and show jumper. We started your program as soon as we received it and got to lesson 6 just before a major competition. Natalie came 4th in the children's open equitation and 3rd in the children's show jumping champs. An amazing achievement on which many people commented… As a parent, it has been great for me as I now am more capable of assisting her in her mental preparation. Thanks so much!"
~Beth MacLarty, Sports Parent
---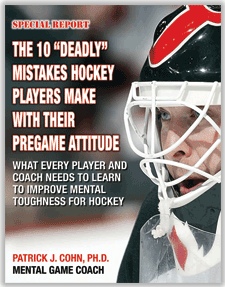 Free Hockey Mental Game Report!
Download our free hockey report and discover "The 10 'Deadly' Mistakes Hockey Players Make With Their Pregame Attitude."
You'll learn:
How your mind can be your best or worst asset on the ice.
One strategy that can help you boost your pregame confidence.
The top mental game skills you need to master to boost your confidence and performance in games and much more!
Discover if you are making one or more of these "costly" mental game mistakes before games:
The 10 "Deadly" Mistakes Hockey Players Make With Their Pregame Attitude
What are sports parents and athletes saying about our tips?
"I just wanted to let you know that my son skated this weekend at our Regional Competition.  He worked his mental game and everything you taught him.  He skated two wonderful programs, scored a personal best and ended up with the title of Pacific Northwest Regional Champion at the Intermediate level.  Thank you for your wonderful training.  He had the right focus and had so much fun at this competition.  The title is sweet icing on the cake."
~Pomaika'i, Sports Parent
---

Add More Value To Your Mental Training Programs!
This workbook series was designed for coaches and mental coaches to use with their athletes. The Athlete's Mental Edge workbooks complement your existing mental training program. Each of the 15 workbooks in the Athlete's Mental Edge System teaches your athletes a specific mental skill to improve their performance.
Athlete's Mental Edge Workbook System
What are mental coaches saying about our program?
"I am impressed with the willingness and openness of Dr. Cohn to share all of his assets (intellectual, products, etc.) with the MGCP students. You have developed an incredible model/package for mental training. Even though we are paying for your service, you are passing on a legacy built on your contribution to the world of sports. Thank you for that."
~Tony Melito, MGCP
---
Boost Your Self-Confidence And Focus With Expert Mental Game Coaching!
Master mental game coach Dr. Patrick Cohn can help you overcome your mental game issues with personal coaching.
You can work with Dr. Patrick Cohn himself in Orlando, Florida or via Skype, FaceTime, or telephone. Call us toll free at 888-742-7225 or contact us for more information about the different coaching programs we offer!
What are our mental coaching students saying?
"Peaksports.com website is so exciting. I researched them all and without a doubt your mental training site is the best! The vast amount of programs you provide helps athletes and coaches achieve higher levels of excellence in sports."
~Doug Bolander, Hockey Coach