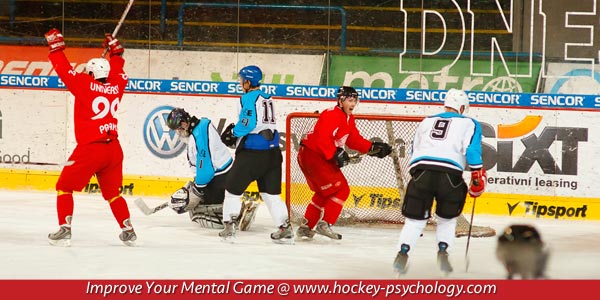 Achieving Your Goals With The "Will to Win"
Do you have a strong "will to win?" Are you able to keep moving forward towards your goals despite losses, mistakes and setbacks?
Can you recall a hockey game when your back was against the wall? You wanted to win but you felt nothing was going your way…
The opposing team was more skilled and was dictating the tempo of the game. Instead of digging deep down and imposing your will, you began to feel defeated even before the game was over… and just wanted to get the game over.
All successful athletes have a strong "will to win" or hate to lose.
The "will to win" is a combination of commitment and determination to do what is necessary to achieve your goals.
The "will to win" is not what you do, but how you do it.
The "will to win" is a mindset that gives you a competitive advantage over your opponents.
Often, winning is about "will" and not physical skill.
The Minnesota Wild has displayed its "will to win" throughout the 2014 NHL playoffs.
In round one, the Wild bounced back from being two games down to the favored Colorado Avalanche to win the series 4-3.
In round two, the Wild is facing off against the defending Stanley Cup champions Chicago Blackhawks. Once again, the Wild exhibited their "will to win" battling back from a 2-0 series deficit to even the series against Chicago, 2-2.
Wild forward Jason Pominville summed up the team's competitive mindset, "We don't want to be the team that cracks first."
Teams that have the "will to win" have the mental toughness advantage over their opponents.
Wild forward Nino Niederreiter explained how the "will to win" positively affects your game:
"We just have to make sure that we go out there with the same attitude [will to win] and don't be afraid to make plays. Usually on the road we play a little hesitant, almost playing like we're waiting for something to happen. We have to go out and make something happen."
Developing Your Will To Win:
You want to train with the same intensity as when you compete. Your competitive mindset is fostered in practice. You practice the physical skills you want to display at game-time. But you also want to train with a game-like intensity that you bring to the game.
You must make it happen instead of waiting for it to happen. During games, you want to impose your will on your opponents. You need to dictate the pace of the game and force your opponents to adjust to your style of play.
Commit to develop your "will" and skill to gain the edge and reach your potential.
Improve your mental toughness with one-on-one mental coaching with Dr. Cohn.