How to Break a Slump When Losing Games
How do you break out of a slump? The answer is by not thinking about how to break out of the slump.
It may sound odd, but if you think about the slump, even breaking out of the slump, you are actually reinforcing the slump in your mind.
Try this little test, what word stands out to you in the following sentence, "I need to break out of this slump soon."
Chances are the word that really stands out is "slump".
How about the following sentence, "To break out of this slump, I need to be more aggressive."
A couple words or phrases may stand out to you in this sentence, such as, "break out" or "aggressive" but the word "slump" still strongly impacts your mind.
So, how do you actually break out of a slump?
The best way to break out of a slump is to be task-specific. In other words, come up with a game plan for the specific team you are about to face and execute the plan.
It's not a matter of trying to win, but the focus should be on executing the plan to the best of your abilities. That requires each player on the team to focus on their role or assignment for the game and let the cards fall where they may.
If you were to sit back and examine your team's victories, rarely, if ever, were you thinking about winning. When you played your best hockey, you were focused on the game plan that was created prior to the game.
Let's go back to the exercise earlier and pick out the most impactful words, "Our strategy for the game is to dump and chase and forecheck aggressively."
Chances are you pick out the phrases "dump and chase" and "forecheck aggressively". This places the focus squarely on the game plan and not the potential outcome of the game.
To sum up, the plan should be to focus on the plan. That is the most effective strategy to break out of a slump.
The Vegas Golden Knights experienced a 4-game skid losing four straight regular-season games for the first time since entering the league. After their 3-1 loss to the Florida Panthers, Vegas goalie Marc-Andre Fleury commented on the nature of slumps.
FLEURY: "It happens to everybody … maybe not Tampa [Bay]. Everybody has ups and downs in a season, and it's important to find a way to make it last not too long, to get out of it as quickly as possible and start over. It's frustrating because we're not used to this. We've got to find a way to get out of this streak, this bad streak quickly."
The Golden Knights focus on the next task at hand. Coach Gerard Gallant's message to the team is that it is on to the next game.
GALLANT: "Get ready for the next one. We can't do nothing about tonight or the last three games. We've got to get ready for the next game and play hard. We're going to play against the top team in the League in Tampa Bay, so it's going to be a battle."
How are you going to get out of your next slump? What will you focus on to break out?
How To Break out of a Slump:
Get into the habit of focusing on a game plan for each game. Each game, write out 1-2 objectives.
Before the game, review the plan. Pick 2-3 words that summarize the plan. When your mind drifts to the potential final score, remind yourself of the plan.
To break our of a slump, be proactive with your mental game. Don't wait for your performance to turn around before you can feel confident again.
Instead, work on your confidence and let your performance follow. You improve confidence by reminding yourself of your talents and getting the most out of your training.
---
Boost Your Confidence in Hockey!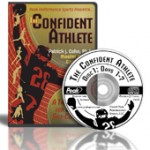 If you're an athlete who struggles with self-doubt, loses confidence, or cant take "practice confidence" to competition, The Confident Athlete is for you!
Self-confidence is what separates champion athletes from the rest of the competitors…
You can tap into my knowledge and experience to learn how to bring ultimate confidence to competition!
The Confident Athlete CD and workbook program consists of 2 audio CD's that include 14 days of confidence fueling exercises and a simple to follow workbook that guides you through the 14 days, helps you apply the strategies and customizes the exercises to your personal needs.
Remember, confidence is a choice you make. You have to make a conscious effort to proactively seek confidence building thoughts and behaviors. Confident Athletes are proactive when it comes to confidence!
Learn more about one of our most popular CD programs in The Confident Athlete Series…
The Confident Athlete: A 14-Day Plan For Ultimate Self-Confidence
Take control of your mindset and performance today!
What are mental game customers saying about our confidence boosting program?
"My son finished the entire Confident Athlete Program. The CD Program helped TREMENDOUSLY. He used it to keep positive thoughts flowing. He was able to focus on his fight instead of on his negative thoughts. He fought at his very best. We are thankful to God for leading us to your web site. The CONFIDENT ATHLETE was perfect."
~Wanda, Sports Parent
"I enjoyed 'The Confident Athlete' very much. I particularly liked the format, the ease of the program, and the 2 CDs that accompanied the workbook – 10-20 minutes a day was simple to adhere to and put in my busy schedule. I love the part about confidence with grace, and what I want to portray and feel the minute I step foot into Los Angeles for nationals. I love the affirmations, the relaxation techniques, and just the entire perspective of the program."
~Sarah, US National Aerobic Gymnastics Team
"I first purchased The Confident Athlete to see how the program went and immediately saw results. I then purchased the rest of the confident athlete series and have noticed a dramatic improvement in my level of play or should I say consistency. I currently play NCAA Division 1 baseball for Lamar University, and even my coaches have noticed a change in the way that I approach the game. My attitude and confidence at the plate."
~Tylor Prudhomme
(Listen to his success story)