Mental Toughness During Playoffs
The importance of your mental game is on display in big games.
Playoffs, must win games, rivalries or getting your opportunity to take on a more active role on the team put your mental game to the test.
How well you play in big games is often how hockey players are defined.
Some athletes are "gamers" and can raise their performance in big games… Think of Wayne Gretzky, Michael Jordan, or Serena Williams.
Other athletes choke or fold under the pressure of big games.
Play well when when you have to and you're a clutch athlete… Play poorly when games matter most and often you receive the choke label.
If you want to raise your performance in big games, you must hone your mental game to meet the challenges and pressures of big games.
Maybe you can identify with the following illustration…
Garret G. is a goaltender for his collegiate hockey team.
Garret has quick reflexes and great anticipation, two of his greatest assets during games.
Garret has enjoyed a lot of success ever since he started playing goalie full-time when he was 11 years-old.
Garret's teammates and coaches have tremendous confidence in his ability to make saves even when the defense breaks down, well, in the regular season that is.
During the playoffs, a different goalie emerges…
Garret's confidence is taken over by doubts. Garret second guesses himself in big games and plays tentatively in the net.
Those once quick reflexes slow dramatically and he appears almost statue-like in front of the goal.
The pressure seems to flip a switch in Garret's mind even though he has proven to be dependable and skilled during the regular season.
Garret's problem has nothing to do with his physical game…
It is Garret's mental game that becomes his biggest nemesis.
You may think that you are the only one that succumbs to the pressure of big games, but it happens to even the most talented players if they neglect their mental game.
Related Article: Hockey Mental Toughness And The Playoffs
For example, Sergei Bobrovsky, goaltender for the Columbus Blue Jackets, was statistically the best goalie in the NHL for those who played full time during the 2016-17 season.
Bobrovsky had a .931 save percentage and is also a finalist for both the Vezina Trophy as the league's best goalie and the Hart Trophy as league MVP.
Unfortunately, Bobrovsky's performance in the playoffs was completely opposite from his play in the regular season…
Bobrovsky went 1-4 with a 3.88 goals-against average and an .882 save percentage as the Blue Jackets were quickly eliminated in the first round against the Penguins.
Blue Jackets head coach John Tortorella talked about how important a strong mental game is during the playoffs.
TORTORELLA: "When you get to the playoffs, the physical stuff is kind of out of the way. It's the mental part. And Bob leads the way with a number of our guys in (needing to) improve the mental toughness, of doing whatever you need to do to be that guy in the playoffs."
Bobrovsky agrees that his struggles in the playoffs are mental and has decided to see a sports psychologist or do "other types of mental training" to improve his play in big games.
So, if you are under-performing in big games, take time to improve your mental game too.
Try this tip to raise your performance in big games:
Compare your best regular season games to how you play in big games:
What changes for you?
Are you more nervous?
Do you play tentatively?
Does your confidence seem to vanish?
Does pressure or high expectations overwhelm you?
Next, ask yourself what you can do to improve these areas:
Are you playing it too safe?
Do you need more confidence?
Are you trying too hard?
Playing in big games is the reward for all your hard work during the season. This is the time to relish the opportunity and use the extra adrenaline to your advantage!
When it comes to big games, your mental game plays the greatest role in how you perform.
If you want expert help with this part, contact us today to learn more about mental coaching…
---
Boost Your Self-Confidence And Focus With Expert Mental Game Coaching!
Master mental game coach Dr. Patrick Cohn can help you overcome your mental game issues with personal coaching.
You can work with Dr. Patrick Cohn himself in Orlando, Florida or via Skype, FaceTime, or telephone. Call us toll free at 888-742-7225 or contact us for more information about the different coaching programs we offer!
What are our mental coaching students saying?
"I just wanted to let you know that my son skated this weekend at our Regional Competition.  He worked his mental game and everything you taught him.  He skated two wonderful programs, scored a personal best and ended up with the title of Pacific Northwest Regional Champion at the Intermediate level.  Thank you for your wonderful training.  He had the right focus and had so much fun at this competition.  The title is sweet icing on the cake."
~Pomaika'i, Sports Parent
---
Learn Mental Game Strategies to Boost Your Confidence in Sports!

If you're an athlete who struggles with self-doubt, loses confidence, or cant take "practice confidence" to competition, The Confident Athlete is for you!
Self-confidence is what separates champion athletes from the rest of the competitors…
You can tap into my knowledge and experience to learn how to bring ultimate confidence to competition!
The Confident Athlete CD and workbook program consists of 2 audio CD's that include 14 days of confidence fueling exercises and a simple to follow workbook that guides you through the 14 days, helps you apply the strategies and customizes the exercises to your personal needs.
Remember, confidence is a choice you make. You have to make a conscious effort to proactively seek confidence building thoughts and behaviors. Confident Athletes are proactive when it comes to confidence!
Learn more about one of our most popular CD programs in The Confident Athlete Series…
The Confident Athlete: A 14-Day Plan For Ultimate Self-Confidence
Take control of your mindset and performance today!
What are mental game customers saying about our confidence boosting program?
"We are amazed at how much 'The Confident Athlete' program has helped my niece play her best tennis during matches. She literally made it to the farthest round of a tournament (semifinals) after finishing the CDs/workbook. We are going to do all 3 in the series."
~Jason Bourguignon, Uncle
"I've been doing great!  I've been using your Confident Athlete 14-Day Program and it has really worked for me.  We've achieved great results and excellent consistency in our horseshows. We've had some pretty big wins. Thanks so much. Your program has done wonders for me."
~Diane Wade, Equestrian
---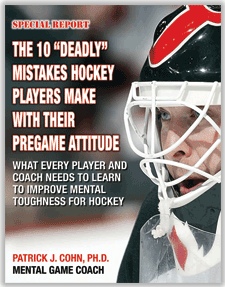 Free Hockey Mental Game Report!
Download our free hockey report and discover "The 10 'Deadly' Mistakes Hockey Players Make With Their Pregame Attitude."
You'll learn:
How your mind can be your best or worst asset on the ice.
One strategy that can help you boost your pregame confidence.
The top mental game skills you need to master to boost your confidence and performance in games and much more!
Discover if you are making one or more of these "costly" mental game mistakes before games:
The 10 "Deadly" Mistakes Hockey Players Make With Their Pregame Attitude
What are sports parents and athletes saying about our tips?
"Peaksports.com website is so exciting. I researched them all and without a doubt your mental training site is the best! The vast amount of programs you provide helps athletes and coaches achieve higher levels of excellence in sports."*
~Doug Bolander, Hockey Coach