Developing a Stable Level of Confidence
Confidence is a tricky thing for most athletes. It can come and go…
Many athletes ride a roller coaster with their confidence, rising and falling with each play, shift, or period.
If you have fragile confidence, you can easily ride the mental roller coaster.
High expectations, perfectionism, doubt, fear of failure or a few bad games can cause your confidence to be more fragile.
As confidence erodes, a vicious cycle emerges… Low confidence will detract from your play on the ice, then that bad game will further decrease your confidence level.
Soon, you will feel deeply trapped in a performance slump, frustrated and questioning if you are cut out for competitive hockey.
The truth is that champion athletes have a stable level of confidence.
Bad games are seen just as that… A bad game, an anomaly, not a sign of a lack of ability.
If you are not proactive with your confidence daily, you're neglecting an important part of the mental game.
Consider the career of right winger Brett Connolly…
Connolly's stellar junior career placed him as one of the top NHL prospects in the world. Connolly was highly confident heading into the 2010 NHL Entry Draft where he was selected sixth overall by the Tampa Bay Lightning.
Unfortunately, Connolly didn't live up to his blue chip status and found it difficult to produce like he did in juniors and the minors.
Connolly only scored 18 goals in 134 games over the course of four seasons with the Capitals and slowly saw his confidence plummet…
Eventually, the Capitals gave up on Connolly and traded him to the the Boston Bruins in 2014. As if the trade wasn't enough, after one full season with the Bruins, Boston decided not to extend a qualifying offer to Connolly last summer.
Connolly, practically devoid of confidence, set out to start anew and signed a free agent contract with the Washington Capitals.
Current teammate and former first round draft pick, Tom Wilson, understands how the pressure of being a blue chip prospect can mess with a player's confidence.
WILSON: "There's a lot of pressure on guys when they go top five, six overall. They come into the NHL, they're expected to produce. He had some tough times early on in his career, a little adversity, moved a couple times."
Connolly has resurrected his career and is on the verge of tying his career high in goals and on pace to shatter his career high in points. Connolly credits confidence as the key to his improved performance.
CONNOLLY: "This game is all about confidence. When you're confident, you're a completely different player and when you don't, you're not a good player. It's just a matter of finding that."
Connolly concedes the pressure got to him as a young highly-touted player but confidence requires a "stick-to-it" attitude and mental ear muffs to quiet criticism from non-relevant sources.
CONNOLLY: "I'm definitely getting an opportunity now and taking advantage of it. It's just a matter of sticking with it. It can be hard sometimes. You've got to have thick skin to play this game. I'm happy I stuck with it. To be doing as well as I am now, I want to keep going."
Tips to Develop Enduring Confidence
Tip #1: Focus on your strengths – Think about the things you do well, your successes, your strengths and abilities. Focusing on the positive will help deflect those occasional bad games and mistakes on the ice.
Tip #2: Turn the channel – Instead of tuning into the negativity of what others say about you, stay in tune to what you need to do each day to be best prepared to play your best hockey.
Learn all my secrets for proactive confidence with The Confident Athlete CD program.
---
Learn 14 Days of Proven Self-Confidence Techniques!
If you're an athlete who struggles with self-doubt, loses confidence, or cant take "practice confidence" to competition, The Confident Athlete is for you!
The Confident Athlete CD and workbook program is 14 days of proven confidence-boosting techniques guaranteed to drastically build self-confidence and improve sports performance.
Learn more about one of our most popular CD programs in The Confident Athlete Series…
The Confident Athlete: A 14-Day Plan For Ultimate Self-Confidence
What are customers saying?
"We love 'The Confident Athlete.' My 10-year-old daughter is an equitation rider and show jumper. We started your program as soon as we received it and got to lesson 6 just before a major competition. Natalie came 4th in the children's open equitation and 3rd in the children's show jumping champs. An amazing achievement on which many people commented… As a parent, it has been great for me as I now am more capable of assisting her in her mental preparation. Thanks so much!"
~Beth MacLarty, Sports Parent
"I first purchased The Confident Athlete to see how the program went and immediately saw results. I then purchased the rest of the confident athlete series and have noticed a dramatic improvement in my level of play or should I say consistency. I currently play NCAA Division 1 baseball for Lamar University, and even my coaches have noticed a change in the way that I approach the game. My attitude and confidence at the plate."
~Tylor Prudhomme
---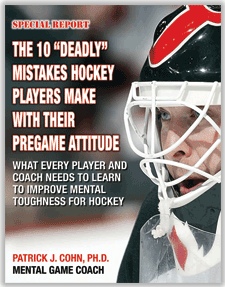 Free Hockey Mental Game Report!
Download our free hockey report and discover "The 10 'Deadly' Mistakes Hockey Players Make With Their Pregame Attitude."
You'll learn:
How your mind can be your best or worst asset on the ice.
One strategy that can help you boost your pregame confidence.
The top mental game skills you need to master to boost your confidence and performance in games and much more!
Discover if you are making one or more of these "costly" mental game mistakes before games:
The 10 "Deadly" Mistakes Hockey Players Make With Their Pregame Attitude
---

Add More Value To Your Mental Training Programs!
This workbook series was designed for coaches and mental coaches to use with their athletes. The Athlete's Mental Edge workbooks complement your existing mental training program. Each of the 15 workbooks in the Athlete's Mental Edge System teaches your athletes a specific mental skill to improve their performance.
Athlete's Mental Edge Workbook System
What are coaches saying?
"I am impressed with the willingness and openness of Dr. Cohn to share all of his assets (intellectual, products, etc.) with the MGCP students. You have developed an incredible model/package for mental training. Even though we are paying for your service, you are passing on a legacy built on your contribution to the world of sports. Thank you for that."
~Tony Melito, MGCP
"I am really pleased with the Athlete's Mental Edge workbooks – they are fitting in really well with my coaching! I find they offer a great framework for doing workshop sessions. I have also used the workbooks with a few individual athletes – for the younger ones (12 and under). They are giving a good structure and framework to our sessions. The workbooks have worked well with all of them!"
~Kerri Morgan, Mental Game Coach
---
Boost Your Self-Confidence And Focus With Expert Mental Game Coaching!
Master mental game coach Dr. Patrick Cohn can help you overcome your mental game issues with personal coaching.
You can work with Dr. Patrick Cohn himself in Orlando, Florida or via Skype, FaceTime, or telephone. Call us toll free at 888-742-7225 or contact us for more information about the different coaching programs we offer!
What are our mental coaching students saying?
"I just wanted to let you know that my son skated this weekend at our Regional Competition.  He worked his mental game and everything you taught him.  He skated two wonderful programs, scored a personal best and ended up with the title of Pacific Northwest Regional Champion at the Intermediate level.  Thank you for your wonderful training.  He had the right focus and had so much fun at this competition.  The title is sweet icing on the cake."
~Pomaika'i, Sports Parent
"Peaksports.com website is so exciting. I researched them all and without a doubt your mental training site is the best! The vast amount of programs you provide helps athletes and coaches achieve higher levels of excellence in sports."
~Doug Bolander, Hockey Coach