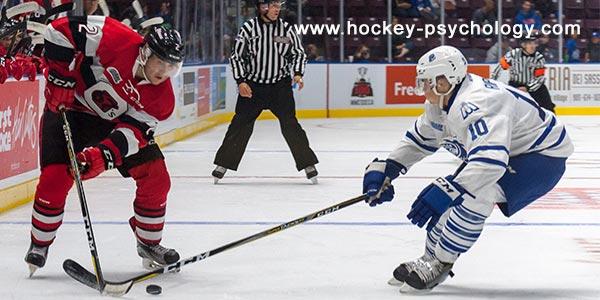 How to Stay Confident After Mistakes
We recently received a question on our hockey survey from a teen-aged hockey player. He asked:
"How do I get my confidence back and stop hesitating with the puck and second-guessing myself?"
This player went on to say… "I play defense on my high school hockey team.
In one mid-season tournament, I made a couple of bad ill-advised passes that led to some scoring opportunities for the other team. My coach really let me have it after the first period."
"The next period, I kept repeating to myself what to not do when I was on the ice. I was so afraid to make another bad pass that I held on to the puck too long and had the puck taken away which led to a goal for the other team."
This is a common challenge for many hockey players…
As a hockey player, indecisiveness leads you to making more mistakes. When you're afraid to make mistakes during your shift on the ice, you'll perform hesitantly and not take risks. Your fear paralyzes you on the ice.
When you don't commit to a pass, hesitate when taking a shot, or fail to go for a loose puck, you are playing scared. In hockey, you have to make quick decisions. Coaches then assess your performance as if you are not focused on the ice.
What causes hesitant play?
Your fear of making a mistake or playing cautiously can lead to making mistakes. When you are afraid of making mistakes, you will try to coach yourself through each play and second-guess your decisions when you have the puck. This indecision results in lack of trust in your skills and making more
mistakes.
Telling yourself what to do during a shift is no different than a coach barking out instructions or giving you negative feedback during the middle of a game.
Those instructions split your focus, lead to tentative play and result in
mistakes.
It's no different than your coach yelling at you the entire shift, shouting out directions and yelling what mistakes to avoid. You would have one ear focused on what the coach is saying, while simultaneously trying to focus on what you are doing during the shift.
For instance, Christian Koelling, the Coach-In-Chief for the Minnesota district of USA Hockey, commented on the problem with information overload.
KOELLING: "You see a lot of coaches shouting instructions from the bench during the game. The odd thing is you don't see any NHL coaches doing that. Even NHL players make mistakes but coaches don't yell the entire game and try to tell them what to do every second."
As you can see, too much self-coaching or too much self-criticism can be a distraction and lead to hesitant play. This undermines your confidence to help your team.
The Key to Playing Freely During Hockey Games
Since hockey is a fast game, there is no time to debate what you should do on the ice. The key to playing at your peak is to make quick decisions in real time.
Quick decisions require that you play intuitively, in the moment, and trust your game. You have to trust your hockey instincts during a game and not second-guess what you are doing.
How do you make quick decisions? You go with the first play that comes to mind. If you have a shot, take it. Don't question if a teammate has a better shot. If you have a chance to win the puck in the corner, go for it. Avoid questioning if you can get to the puck in time.
Trust in your hockey instincts and years of practice and play and then your confidence will return!
---
Improve Concentration in Sports!
If you're an athlete who is frequently distracted, loses focus in competition, or wants to learn more about how to focus better under pressure, The Focused Athlete is for you!
Concentration and the ability to focus under adversity is what championship athletes do best.
It only takes one distraction to enter your mind for you to lose a critical point, miss a putt, or lose a second off your lap time. You cannot afford to let distractions run wild in your mind and cause you to make errors at critical times in the game!
The Focused Athlete is a complete system to teach you how to focus like a champion and harness the power of a zone focus every tie you step on the playing field, court, track or course in practice and games!
This workbook and CD program consists of 2 audio CDs that include 14 days of focus boosting exercises and a simple to follow workbook that guides you through each of the 14 days, helps you apply strategies, and customizes the exercises to your personal focus challenges.
You'll Discover:
How to quickly identify distractions that sabotage your concentration and how to quickly refocus after distractions.
How to use pre-shot routines before shots or serves to help you be more task-focused instead of worrying about results.
How to use pregame routines to help you harness the power of zone concentration before competition.
Learn more about one of our most popular CD programs in The Confident Athlete Series…
The Focused Athlete: A 14-Day Plan For Superior Concentration
What are customers saying about our mental game programs?
"As a result of reading and implementing 'The Confident Athlete Series,' I am once again enjoying golf and letting bad shots roll off my shoulders and appreciating my good shots without attaching expectations. Thanks Dr. Cohn!"
~Stu Blasius, P.G.A. Golf Professional
"Your response to the throwing problem in front of the coach covers so many situations in life…that is the beauty of playing sports…the life learning experiences. Keep up the good work…you are the best mental coach."
~Bill Brennan, sports parent